Pictures of Laolongtou (Old Dragon's Head)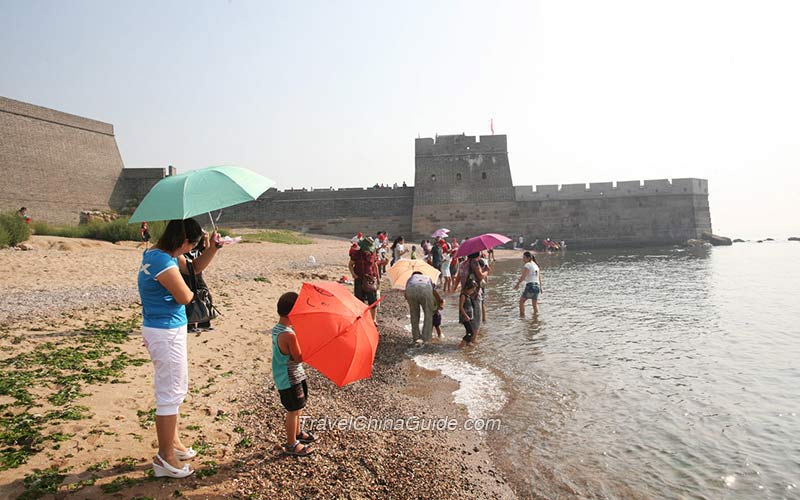 After enjoying the scenes on the Old Dragon's Head section of the Great Wall, tourists come close to the sandbeach and savor the water in person.
Laolongtou, situated on the banks of the Bohai Sea, 5 kilometers (3.1 miles) apart to the south of Shanhaiguan, is the eastern end of the Great Wall extending into the sea. With mountains behind and the sea in front, its terrain here is strategic point for the sea defense in the Ming Dynasty. Qi Jiguang, a military strategist and illustrious general, constructed City Stone Wall Extending to Sea, Jinglutai Watch Tower, Nanhaikouguan Pass, Chenghailou Defense Tower and Ninghaicheng (Army and Navy Garrison Station). Attraction Intro:
Laolongtou (Old Dragon's Head)
- Last modified on Apr. 03, 2017 -
Questions & Answers on Pictures of Laolongtou (Old Dragon\s Head)
Asked by Mr.AVINASH PORE from INDIA | Jan. 20, 2010 22:17

Reply
WHAT WAS REASON TO BUILT THIS GREAT WALL . I MEAN WHY IT WAS BUILT, REASON?
Answers (5)
Answered by Ms.Tina | Jan. 21, 2010 04:42

2

0

Reply
Simply because it was used to stop the invasion from northern nomadic tribes in ancient China.
Answered by Ms.leticia from VANCUVER | Feb. 16, 2010 11:43

2

0

Reply
it was build to keep enimies away from the imporor
Answered by Mr.Potter from UK | Apr. 06, 2010 07:26

2

1

Reply
It was built because the Emperor had many stones and the population was very big and he had to provide work for the people. He should have built a tower instead. He could go on and on and on.
Answered by Ms.ping pong from UKRAINE | Apr. 19, 2010 17:27

3

0

Reply
the reason was to keep out the northern invaders p.s i am only 13 and i know that
Answered by Mr.raghu from INDIA | Aug. 03, 2010 21:20

2

0

Reply
the great wall was built in order to avoid invasion of nomadic tribes from mangolia, it was built by many emperors and was extended by many emperors