Qujiang Polar Ocean Park
Covering an area of 70 mu (11.5 acres), Qujiang Polar Ocean Park of Xi'an mainly consists of Aquarium, Polar Museum, and Golden Coast Business Street areas. It is one of China's largest ocean theme parks, with multiple functions including polar ocean experience, leisure and entertainment, and science education, etc.
Aquarium
Aquarium is the central part of the Qujiang Polar Ocean Park. Its total construction area is 18,600 square meters (4.6 acres). The major sightseeing zones are Ocean Science Hall, Tropical Rainforests Hall, Underwater Tunnel, and Performance Hall, etc. The activities here include performances from "mermaids" (played by human beings), dolphins, sea lions, and sharks, etc.
Occupying an area of over 400 square meters (15.8 square yards), Ocean Science Hall is the largest among all of China's ocean science halls within ocean parks. Moreover, it exhibits a sample of Bryde's Whale. Measuring 13.5 meters (about 44.2 feet) long, it is the longest of all China's Bryde's Whale samples exhibited in ocean parks. By visiting the aquarium, visitors can learn ocean knowledge from professional guides, and observe the growth and developmental events of sea creatures. Children are even allowed to make samples by themselves.
Upon entering the Tropical Rain Forest Hall, visitors will feel like they are in a real rain forest. Based on the growing habits and dwelling environments of tropical plants and creatures, experts have created this rain forest by using not only plants and creatures, but also the sounds and lighting from woods, streams, crawling snakes, rains, dews, lightning, and displaying rain forests backgrounds, etc. It is divided into five thematic zones: Ancient Discovery, Rain Forest Wonder, Human Beings and Nature, Exotic Flavor, and A Walk in the Future. The various creatures here and their living habits and behaviors will give visitors good experiences of rain forest life.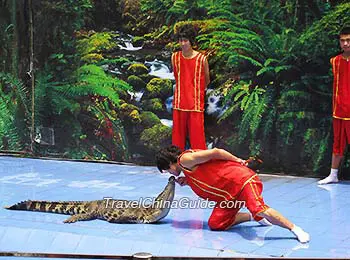 Crocodile Show
The 80-meter-long (about 2,625 feet) underwater tunnel boasts over 90 types of sea species from all over the world, with total amounts exceeding 5,000, from dreadful sharks to dancing skates. In addition to marine lives, there are also some freshwater ornamental fishes. During the trip, visitors can feed the creatures themselves, and dive into the water to have a close communication with ocean creatures.
Polar Museum
Located to the southwest of Aquarium, it has been opened to the public since February 5, 2013. It mainly consists of Polar Science & Experience Zone, Walrus Iceberg, Penguin Island, Polar Bear Gazebo, White Whale Opera House, and Happy Performance Theater, etc. It exhibits the living habits of polar ocean creatures from different angles and in various ways.
Golden Coast Business Street
Occupying an area of over 16,000 square meters (about 4 acres), it consists of seven ocean style buildings. With families and children as the major customers, it is a good place for having meals, shopping, and entertaining.
In addition, there is a crocodile hall where visitors can enjoy an exciting "battle" between the crocodile and human beings.
Timetable of Performances
Performances
Time
Place
Dolphin Show
10:30, 12:30, 14:30, 16:50
Polar Museum
Feeding Fur Seal Show
09:30, 13:30, 16:10
Feeding Penguin Show
09:50, 16:00
Feeding Seal Show
10:00, 13:50, 16:30
Feeding Sharks Show
11:15, 14:00
Aquarium
Feeding Otters Show
12:30, 16:00
Mermaid Show
Monday-Friday: 11:05, 13:30, 15:10, 17:40
Saturday-Sunday: 11:05, 13:30, 15:10, 16:20, 17:40
Science Activities
Ocean Theater: 10:45-11:00, 14:50-15:05
Science Experiment: 13:00-13:30
Science and Education Center: 14:00-14:30
*Note: This timetable is for reference only. The final schedule is subject to notice(s) inside the park.
How to Get to Qujiang Polar Ocean Park
Take bus No. 21, 501, 601, Qujiang Tourist Bus or Tourist Line 8 (No. 610), and get off at Qujiang Haiyang Shijie (Qujiang Polar Ocean Park) Station.
Xi'an Bus / Metro Search
Admission Fee
Full Ticket: CNY 160 (including all performances in Aquarium and Polar Museum)
Children between 1.2-1.4 m (3.9-4.6 ft): CNY 80
Children under 1.2 m (3.9 ft): Free
Opening Hours
Ticket Selling: 08:45-16:30
Aquarium: 09:00-18:00
Polar Museum: 09:00-17:30

Nearby Attractions:

Tang Paradise

Qujiang Pool Park

Cool Cave Heritage Park

Giant Wild Goose Pagoda
&
Da Ci'en Temple

Shaanxi History Museum

Great Tang All Day Mall
- Last updated on Apr. 21, 2020 -
Questions & Answers on Qujiang Polar Ocean Park
Asked by Ian Yusof from MALAYSIA | Dec. 12, 2019 00:56

Reply
Is the Qujiang Polar Ocean Park still in operation, and if so, is it still good or well-maintained?
Last comment 2015 ?
Answers (1)
Answered by Monica from USA | Dec. 15, 2019 17:28

0

0

Reply
It is still in operation. The nearby Tang Paradise is also a great place worth visiting.
Asked by Utsav from INDIA | Jan. 30, 2019 02:57

Reply
Is there any discount in student card for Qujiang Ocean Park?
i am foreign student studying in Xi'an ...
Answers (1)
Answered by Cyrus from DENMARK | Feb. 01, 2019 00:19

0

0

Reply
Yes, but you need to show the valid student ID card. :)
Asked by Elaine fox from CHINA XIAN | Apr. 10, 2015 20:50

Reply
How far from drum tower is to qujiang Ocean park
Answers (1)
Answered by Fenny from UKRAINE | Apr. 10, 2015 20:59

0

0

Reply
The distance between these two places is about 6.2 miles.
You can take public bus no.Tourist Bus 8, and get off at the park directly.
Or you can take a taxi to the destination directly. The fare is CNY 15 to 20.
Asked by sushma from NEPAL | Jun. 21, 2014 23:31

Reply
about ticket price of the Qujiang Ocean Park in Xi'an.
Is the ticket 100 RMB or as given above?can u please make me clear about tickets, i found tickets of 100 rmb in different websites?
Answers (1)
Answered by Miller from UAE | Jun. 22, 2014 01:48

0

1

Reply
If for the Aquarium only, the ticket fare is around 100RMB. If for the Polar Musuem, the entrance fee is around 150RMB per person.
If you want to buy a combo ticket, the fare is around 190RMB. Currently, there is a discount for the combo ticket and the fare is around 160RMB per adult.
Asked by sushma from NEPAL | Feb. 11, 2014 13:16

Reply
is there any discount for children and students as we are foreign students studying in xian for visiting attractions?
Answers (1)
Answered by Bob from USA | Feb. 11, 2014 20:41

1

0

Reply
I am not very sure, because as I know, only the Chinese students from Elementary School to undergraduates with students card can enjoy the discount.
It is suggested to have a try with your student card.