Peasant Painting, Huxian County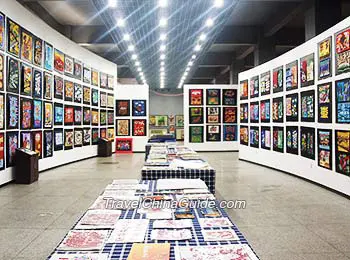 Located 40 km (about 25 miles) southwest of Xi'an City, Huxian County was named the County of Painting by Ministry of Culture in 1988. Bordering Qinling Mountain to the south and the Wei River to the north, Huxian County boasts splendid landscapes and a long history. Now, Huxian County is also renowned as one of the most famous counties of Peasant Painting in China.
Originated from the traditional folk arts such as
paper cutting
,
embroidery
and so on, Peasant Painting in Huxian County first appeared during the 1950s. At that time, most paintings were focused on work. Now, peasants portray almost every aspect in their daily life. Feeding livestock, children playing, local operas, village traditions, ducks swimming, elders playing Chinese chess, and so on are all wonderful topics for painting. By using bright colors and fantastic style, peasants record their everyday life, the beautiful landscape, the great harvests and the busy festivals vividly. Some paintings are bold and unconstrained; some are strong and impassioned, while yet others are ornate and elegant. All of them have a naive charm, clear and full of the feeling of folk life.
After more than fifty years, there are over 2,000 painters now resident in the county. Many famous painters such as Liu Zhide, Liu Zhigui, Fan Zhihua, Wang Wenji and Luo Zhijian have been invited by foreign countries to visit and give lectures, with some even publishing books abroad. Many masterpieces have been exhibited in more than 60 countries. Many of them have been collected by national and international art museums, galleries and individuals. Some artworks have even been used as gifts to the exalted state guests!
As one of the wonderful folk arts of China, Huxian County Peasant Paintings can be admired both in Huxian and Xi'an. Among all, Huxian Farmers Painting Exhibition Hall is the best place to go, where you can appreciate abundant exquisite works. Besides, you can also go to the Peasant Painting Gallery with a good selection of paintings in the eastern outskirts of Xi'an City. Visitors can appreciate a great selection of Peasant Painting, enjoy the performance of folk artists and even try to paint for you yourself!
How to Get to Huxian Farmers Painting Exhibition Hall
1. Take bus No. 911 from Xi'an Bus Station (located on Fengqing Road) to Huxian North Bus Station. Then take local bus No. 805, 910 or 812 and get off at Huazhanjie Station. Walk east along Huazhan Street for around 5 minutes to reach.
2. Take bus No. 928 from Xi'an South Bus Station or No. 930 from Sanfuwan Long Distance Bus Station to Huxian Bus Station. Then take local bus No. 908 and get off at Huazhan Shizi Station and enter the Exhibition Hall via the north gate.
Xi'an Bus / Metro Search
| | |
| --- | --- |
| Admission Fee | CNY 10 |
| Opening Hours | 09:00-18:00 |
- Last updated on May. 06, 2023 by Catherine He -