Terracotta Cavalry Warriors
In Pit 2 of the
Terracotta Army
, a number of cavalry warriors and saddle horses have been unearthed up to now. Based on the current state of the excavation, it is estimated that about 116 pottery saddle horses are buried there in a total, each with a cavalry warrior standing in front. Arranged regularly as a rectangular formation in the pit, these terracotta cavalrymen and horses have perfectly-carved and vivid shape, which have the same dimensions of real human and horses in that time. They are also regarded by historians to be typical representative images of the cavalry army of the
Qin Dynasty
(221 BC – 207 BC). In addition, this large-scale cavalry figures group is rarely found in the world, and the discovery on the cavalry figures can be the great progress in the Chinese archaeological history.
| | |
| --- | --- |
| Terracotta Cavalry Warriors | Cavalry Warrior and Horse |
Cavalrymen
In the ancient Warring States Period (475 BC – 221 BC), cavalries were very important for warfare. To select a qualified cavalryman, there are a lot of strict requirements, and the prominent one is that the solider has to have a strong and healthy body. Inside Pit 2, all of the cavalry figures are 1.8-meter (6-feet) high, with soldierly-looking appearance and majestic manner. This can prove that they are the true portrayal of the cavalrymen in the Qin Dynasty.

For the convenience of the riding and proceeding, these cavalry figures in Pit 2 wear short armors, long tight pants as well as jackboots, with a crossbow and a bridle on the hands respectively. Besides, they also wear a rounded hat, and there is a lace on the hat to fasten it under the chin. The way they dressed is very similar to the Hu people, which are the nomadic people of north China at that time. It is one of the best proofs demonstrating the cultural communication between the ethnic minority and the Han nationality. Near the cavalry warriors in the pit of Terracotta Army, archaeologists also found some bronze arrows, crossbows and residual copper swords, and from this discovery they can assume that the cavalry soldiers are equipped with both the crossbows and swords as the main weapons.
Saddle Horses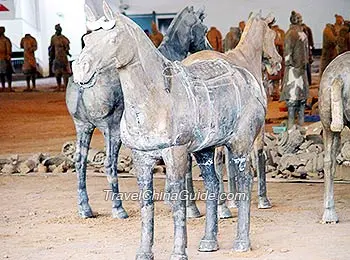 Terracottta Saddle Horse
According to the relevant historical materials, the saddle horses are mainly from the official stables at that time. The dynasty of Qin is especially known for its well-developed horse breeding. The discovered saddle horses in the second pit are almost with the total height of 1.72 meters (5.64 feet), with broad back as well as four super mature legs. All have the strong body to help them play a prominent role in the war.
Significance of Discovery on Terracotta Cavalry Warriors
The discovery and research on these cavalry warriors and horses can greatly promote the development the Chinese archaeological history. It can also provide extra value and important facts for historians to study the true information of cavalry and military of Qin, and the discovered cavalry figures and saddle horses are the rare treasures to both the China and the world.

Infantry Warriors

Cavalry Warriors

Kneeling Archers

Standing Archers

Terracotta Horses
- Last updated on Apr. 12, 2021 -