Terracotta Horses
It is estimated that more than 600 terracotta horses are buried in the three pits of
Terracotta Army
. Among them, 516 are pulling horses for the chariots, and the remaining 116 are saddle horses of cavalrymen. The terracotta chariot horses were first excavated in the
pit 1
in 1976. Later in the same year, saddle horses were found in
pit 2
. Although not all excavated, these unearthed pottery horses provide sound references for people to learn about Qin's war horses and military formation.
| | |
| --- | --- |
| Terracotta Chariot Horses | Head of Terracotta Horse |
Modeled After Real War Horses of Qin Dynasty
The pottery horses can be regarded as the masterpiece of realism arts because of the vivid-carved appearance. These terracotta horses are about 1.7 meters (5.64 feet) in height and 2.0 meters (6.66 feet) in length, similar to the real war horses of the Qin Dynasty (221 - 207 BC). What's more, the eyes are bright to show the good eyesight, the ears are up to show its alertness; the nose is wide and the mouth is big to show its strength. In order to create lifelike horses to be buried in the pits, the craftsmen even remembered to carve the teeth. There are six teeth inside the mouth of each pottery horse. This detail can exactly prove that the horses are three years old and in their prime.

With broad chest, flat back, and rounded haunch, the pottery horses seem to have the large load-bearing capacity of thousands of tons. They can also leave visitors a profound impression by their muscular and vigorous legs. Besides, it is worth mentioning that the ancient craftsmen were clever and innovative enough to take the advantage of light to show the rich levels and vivid images of the horses. The saddle horses of cavalrymen wear some additional harnesses including exquisite headstalls, clean-cut halters as well as saddles with distinct three rows of saddle nails, which are necessary for actual battles, and their tails can be disassembled.

Like thousands of terracotta warriors, these terracotta horses are energetic and passionate to reflect the powerful and prosperous state of Qin.
Manufacturing Processes of the Terracotta Horses
Generally, each part of a horse is made separately at first. Once completed, they will be connected together into an integrated horse by the steps of legs, body, then the neck, head and tail. Secondly, after seamed by mud, the craftsmen will do some detailed carvings and decorative modification on them. Visitors can even see the thin horsehair on the horse back. Then the assembled pottery horse is baked in a kiln. Next, the colored drawing work is required for the final making process.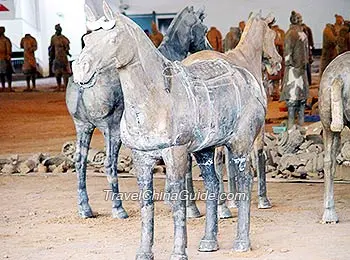 Terracotta Saddle Horse for Cavalryman
The manufacturing process of saddle horses is more complicated than chariots pulling horses because of the decorative job. The elaborated saddle should be carved meticulously on the back with beautiful tassels and belt. The four legs are angular to clearly show the skin, flesh, and the bones.

Qin people have deep relationship with horses because they think that the horses are faithful friends for human beings. The horses also play the significant roles in the frequent occurrence battles. These are two reasons why the ancients make so lifelike and good-looking pottery horses for the Emperor Qin Shi Huang in his afterlife.


Infantry Warriors


Chariot Warriors


Cavalry Warriors


Kneeling Archers


Standing Archers
- Last modified on Jul. 12, 2019 -