Pit K9901 – Acrobatics Figures
Pit K9901, also known as Acrobatics Figures Pit or Baixiyong Pit, is situated at the southeast area in the Qin Shi Huang Mausoleum. Covering around 700 square meters (835 square yards), this accessory pit stretches 40 meters (130 feet) from east to west, which shows the pattern of a Chinese character "凸". Pit K9901 has three passages that were reinforced by wood, but this structure collapsed after a fire leaving only charcoal and ash. The archaeologists found eleven color-painted acrobatics figures and a bronze tripod in the first excavation in 1999. In later excavations, more relics including bronze utensils, bronze hemispheric ware, stoneware and more than 30 pottery figures were been unveiled to the world.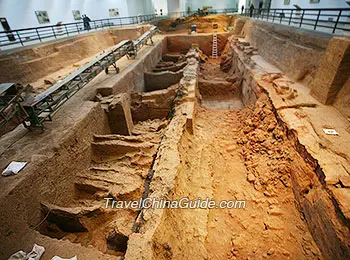 Pit K9901

The discovery of these acrobatics figures in Pit K9901 gives an insight into the art and the entertainment culture in the Qin Dynasty (221 - 207 BC) royal court. Acrobatics, or "Baixi" in Chinese, is the general name for ancient acrobatics and music, which includes different performances, such as pole climbing, wrestling dance, sword wallowing and tripod lifting, among which the tripod lifting is the most popular one. When they were discovered they were no more than piles of broken pottery, but they have been repaired to show their true magnificence. Below are some major excavations in Pit K9901.

Acrobatics Figure No.3 of 1999
Unearthed in 1999, this figure is tough and brave. Measuring 6.2 feet tall, it has strong chest and arm muscles. This figure's belly is slightly bulged, with his right arm lifting upwards and the left thumb tucked into his belt. The left leg is bent forward and the right foot steps on the floor heavily.

Acrobatics Figure No.5 of 1999
Standing 6.6 feet tall, this chap has his hands in front of his stomach. It seems that there could have been a wooden pole in his hand, which has rotted away.
| | |
| --- | --- |
| Acrobatics Figure No.3 of 1999 | Acrobatics Figure No.5 of 1999 |
Acrobatics Figure No.3 of 2012
This headless figure stands1.6 meters (5.2 feet) tall, including the footplate. He stands with legs apart and his hands in front of the stomach. He is naked save for a short skirt.

Acrobatics Figure No.4 of 2012
Again headless, and at a height of 1.57 meters (5.15 feet), this figure is turned slightly to the left, with his left foot forward and left arm lifted. Unique to the other figures, he wears clothing on his upper body, and there are nine rows of circular decorations on the clothing and the cuffs of the clothing are ornamented with several geometric patterns. This acrobatic figure is known as Paoding Figure.

Giant Acrobatics Figure
A giant pottery figure was found in Pit K9901 measuring 2.2 meters (7.2 feet) tall without his head, and even his foot is 0.32 meters (1 foot) long.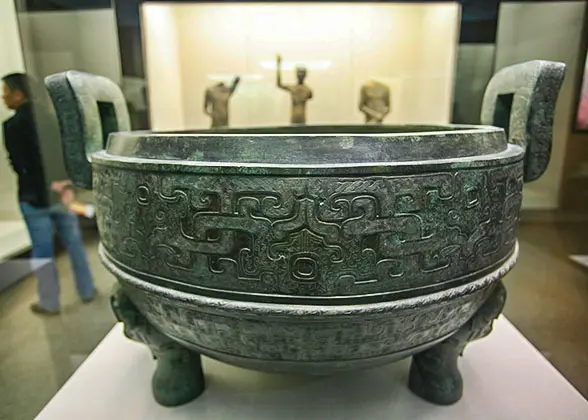 Bronze Tripod
The bronze tripod was carved with exquisite animal and cloud patterns. It is believed to be the heaviest tripod with the weight of around 212 kilograms (467 pounds) in the mausoleum and it is regarded as the first tripod of the Qin Shi Huang Mausoleum. It probably served as a performance tool of the acrobats who played wrestling, weight lifting, and dancing for Emperor Qin Shi Huang.

Stone Dice
The stone dice is called Shiboqiong, and it is quite different from today's dice. With 14 sides, each side carved with a Chinese characters or a number, it is believed to be an entertainment tool of Emperor Qin Shihuang. The experts believe that Shiboqiong could be the original form of today's dice. However, it is still unknown how 14 sides developed into today's six sides.

Travel Information
1. The through ticket of the Terracotta Army has already included the entrance fee of Pit K9901.
2. The free shuttle bus from the Terracotta Army Museum to Qin Shi Huang's Mausoleum Site Park (Lishan Garden) can take you to see this accessory pit.

More Accessory Pits:

Pit K0006 - Civil Official Figures


Pit K9801 - Stone Armor and Helmets


Pit K0007 - Bronze Aquatic Birds



Further Reading: Why are there partition walls in the pit of Terracotta Army?
- Last updated on Apr. 12, 2021 -
Questions & Answers on Pit K9901 – Acrobatics Figures
Asked by Ms.Pennyapple from INDIAHHH | Jul. 27, 2010 19:25

Reply
Hello.
Ms. Pennyapple here.
I went to see the terracotta warriors.
It was good.
If anyone can send me some good pictures of them send them to
hotmail.com|latingansta
Thanks.
Answers (1)
Answered by Mr.JAMESWONG from CHINA | Jul. 27, 2010 23:07

6

8

Reply
I saw a lot of picturs here:
https://www.travelchinaguide.com/picture/shaanxi/xian/terra_cotta_warriors/