Pit K0007 – Bronze Aquatic Birds
In August 2000, the mysterious pit numbered K0007 was firstly found by the farmers in a nearby village. Later excavation, mainly unearthed some bronze aquatic birds, and hence the dig is also called Bronze Aquatic Birds Pit. The pit K0007 of Bronze Aquatic Birds is closed to the public now. Tourists can pay a visit to the Exhibition Hall of Historical Relics of Emperor Qin Shihuang's Mausoleum not far from
Pit 1
to see the unearthed relics from this pit. The entrance fee is included in the through ticket of the
Terracotta Army
.
| | |
| --- | --- |
| Bronze Swan Goose | Bronze Crane |
Located in the northeast corner of the Qin Shi Huang Mausoleum at a distance of 900 meters (0.5 miles) from the outer city, the pit of bronze aquatic birds is about 1.5 kilometers (0.9 miles) away from the center of the mausoleum and considered as the farthest accessory pit discovered at present. With a total area of about 978 square meters (1,170 square yards), this pit K0007 faces to the south, and its flat shape looks like the capital letter "F".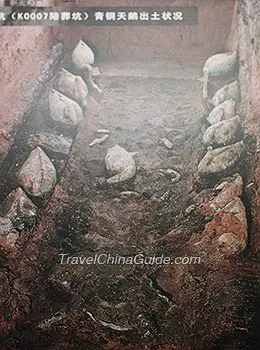 Pit K0007
Like other accessory pits, this pit is one of the indispensable constituents of Emperor Qin Shihuang's Mausoleum. The pit K0007 is presumed to represent the royal garden of Qin Dynasty (221 BC – 207 BC), and it was constructed for the first emperor of Qin to have fun and get relaxed in his afterlife.

Seated in the south shore of the "fish pond", the bronze aquatic birds pit was built with the simulated environment of river and river-bank in order to create a vivid scene. Among the 46 pieces of bronze birds cleaned up by archaeologists, there are 6 cranes, 20 swan geese and 20 lifelike wild geese in the pit. Placed in the north and south of this pit, most of these beautifully and differently shaped birds were arranged from west to east. Paying a visit to this pit, tourists can find that some of the swans are finding food and some are taking a nap, as well as some geese are catching insects or crowing. The professional archaeological conservators guided by the museum curator successfully did the descaling, restoration and protection work for some bronze aquatic birds.

Besides, inside the Pit K0007, 15 terracotta figures for domesticating the bronze birds were also excavated, 7 of them are kneeling terracotta figures, and the other 8 pieces are sitting figures with stretched legs. These two kinds of terracotta figures have the similar dress with soft bowl-shaped hats, long robes, leather belt and a small oblong bag. They also wear long pants, cloth socks but no shoes to show their indoor occupation.
| | |
| --- | --- |
| Kneel-sitting Terracotta Figures | Sitting Figures with Stretching Legs |
In the mind of archaeologists, these unearthed bronze birds have the same historical status as the terra-cotta warriors because both play the equal roles for development of historical research. During the process of repairing, archaeologists noticed that some foundry technology of the bronze birds was different from Chinese traditional craftwork. After years of research, it was deduced that the bronze-casting technique comes from the Mediterranean region. It was the first time that a foreign bronze-casting technique was found adopted in Emperor Qin Shihuang's Mausoleum. This can be regarded as significant evidence to prove that exchanges between eastern and western civilizations start earlier than the opening of the
Silk Road
.

Pit K0006 - Civil Official Figures

Pit K9801 - Stone Armor and Helmets

Pit K9901 - Acrobatics Figures
- Last modified on Apr. 08, 2018 -