Three Layers of City Walls to Protect Qin Shi Huang Mausoleum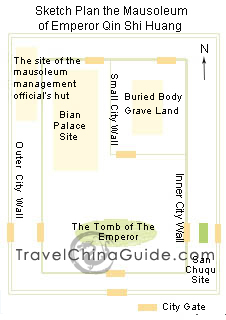 After 40 years of hard work, the archaeologists of Shaanxi Province discovered the enigma of the city walls of Qin Shi Huang Mausoleum.
The whole cemetery of
Emperor Qin Shi Huang
was camouflaged by cities within a city and divided into three-part city walls-the outer city, the inner city and a small city within the inner city. Total length of the city walls was 12 kilometers, close to the length of Xi'an city walls built in Ming Dynasty. The whole city was 2.13 square kilometers. The outer city has 4 city gates, and the inner and small city altogether have 6 city gates. All in all, there were 10 city gates in the Qin Mausoleum city walls. Each city gate was about 70 meters long. The city walls were hard and colored patterns. It was also recorded that the height of the city walls was 10 meters. Within the small city, large number of graveyards, pits for buried bodies, and all kinds of architectural sites were scattered.
In a China mausoleum system, a long time ago, it was originally found out that Lang Fang and other annexes were built inside and outside the city walls. Moreover, the archaeologists have also found a group of San Chuque architectural sites, which was built between the inner and outer walls in eastern mausoleum. San Chuque was the highest symbol of architectural level a long time ago, and it was used by the emperor only.
It was said that each tile used by the annexes was engraved with some characters. Most of the contents of the characters were names of local authorities. Some were personal names. From the characters in the potteries, we can see that the local authorities who were responsible for providing tiles to the Qin Shi Huang Mausoleum were numerous and jumbled. The government offices of Qin central pottery making, basically offered the tiles used in building Lang Fang.
Experts say that the discovery of the city walls was another milestone in the archaeology of Qin Shi Huang Mausoleum. It is of great meaning and importance in studying the China emperor's mausoleum system.
| | |
| --- | --- |
| The Southern Wall of Inner City | The Eastern Gate of Inner City |

Qin Shi Huang Mausoleum (Mausoleum of the First Qin Emperor)


9 Mysteries of Qin Shi Huang Tomb You May Want to Know

Underground Palace of Qin Shi Huang Mausoleum

Has Qin Shi Huang Tomb ever been robbed in the past?

Why Don't They Excavate the Qin Shi Huang Mausoleum?

Hot Topics on Qin Shi Huang Mausoleum

Where was Qin Shi Huang buried?

Pit K0006 - Civil Official Figures

Pit K0007 - Bronze Aquatic Birds

Pit K9801 - Stone Armor and Helmets

Pit K9901 - Acrobatics Figures
- Last updated on Apr. 12, 2021 -