Best Chongqing Tours
Top Chongqing Attractions
Top 10 City Tours
Code: CQ06
Downtown Finding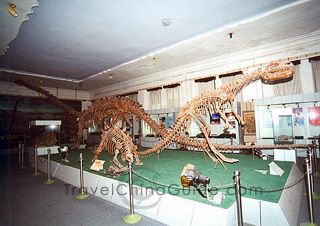 Chongqing Museum
In the morning, visit Ciyun Temple which can be reached by bus No.338, 373 or 375 to Zishuixiaodeng and then walk northward for about 200 meters. Alternatively, take a ferry from Chaotianmen Ferry Terminal to Yemaoxi Ferry Terminal, and walk southward for about 300 meters. The temple was first built in the Tang Dynasty (618 - 907) and was rebuilt in the Qing Dynasty (1644 - 1911). As the only temple having both monks and nuns, it attracts visitors with its five treasures, including a jade Buddha, Buddhist pennant, cassock, Buddhist scripture, and a banyan. The entrance fee is CNY5 and free entry for Buddhists.

Then take a taxi (CNY16) to Chongqing Traditional Chinese Medicine Museum. Located inside the Chongqing Traditional Chinese Medicine Academy, the museum houses a collection of ten thousand medical samples and thousands of medical books. This experience will give you a better understanding of Chinese medicine.

Continue your trip to Chongqing Three Gorges Museum. Take bus No.810 for 12 stops to Dalitang, and walk south along the Renmin Road for about 300 meters to the China Three Gorges Museum, which is also known as the Chongqing Museum. It occupies an area of 23,000 square meters, showing the construction of the three gorges project and its development throughout the ages. Four main exhibition halls (The Glorious Three Gorges, The Ancient Ba-yu Area, The City Road of Chongqing and the anti-Japanese War) with some theme halls are open to the public. You can also watch a film in the annular cinema to learn a more direct and vivid knowledge about the city itself and the important Three Gorges Project. The museum is free to enter and is open from 09:00 to 17:00.
Day 2
Wanzhou District, Chongqing
Street scene
Get up early in the morning and take a coach from Chongqing Longtousi Long-distance Bus Station to Wanzhou District. The bus ride takes 3 – 4 hours and costs CNY120 or so. Upon arrival, check in at a local hotel and have a short rest.

Take a taxi (CNY10) to Taibai Park. Standing on the top of the hill in the park, you will have a panoramic view of the city and the bending Yangtze River. As it has been an attraction since the Tang Dynasty, there are many ancient relics, such as cliff inscriptions, stone tablets, and old temples.

Then take at taxi to Tianzi City, or so-called Tianzi stockade; a sole peak standing upright with four sharp sides and only the door has access to the outside world. This special terrain has become one of the most famous scenery among "Wanzhou Eight Sceneries".

Get back to your hotel. You are advised to have a taste of the famous Chongqing hot pot for dinner.
Day 3
Wanzhou District, Chongqing
Visit the Qinglong Waterfall located in Nanqiao Village, Ganning Town. To get to the attraction, you can take a coach toward Zhongxian County from Wanzhou Coach Station and get off at the Qinglong Waterfall.

The waterfall has a height of 64.5 meters and a depth of 115 meters and enjoys a reputation as the No. 1 Waterfall in Asia. The scenic area is made up of five parts, Qinglong Waterfall, Ganning Lake, Guanfeng Academy of Classical Learning (Shuyuan in Chinese) and Xiaoyao Mountain Villa. The admission fee is CNY80 per person.

Take a bus or carpool a minivan with other travelers back to Wanzhou and catch a bus to Chongqing.

More Related Trips:
Suburb Experience
: Visit Jinyun Mountain, Pianyan Old Town/Northern Hot Spring, Jindao Gorge.
Hechuan and Fuling
: Visit Military Terray of Diaoyu Castle and Laitan Temple; tracing the ancient wisdom of Stone Fish and Fuling Zhou-yi Garden.