Best Chongqing Tours
Top Chongqing Attractions
Top 10 City Tours
Code: CQ07
Outskirts Travel
Hechuan is situated in the center of China, north-north-west of Chongqing. It is a city with a long history and many scenic spots. The most attractive site in Hechuan is the famous ancient battle field, Diaoyu Castle.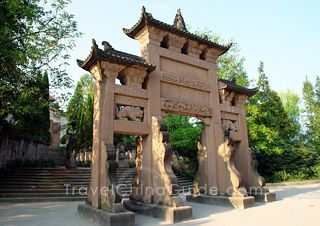 Hechuan Diaoyu Castle
Take a bus to Hechuan District from Chongqing Caiyuanba Coach Station. The bus runs every 30 minutes from 06:30 to 21:45, and reaches the Hechuan in 1 hour at CNY31. Alternatively, you can take a bullet train from Chongqing North Railway Station to Hechuan, taking 28 minutes and costing CNY19.5. From Hechuan Railway Station, take a bus No.201 to Zhongshizi stop and transfer to bus No.111 to Diaoyucheng; from Hechuan Coach Station, you can take bus No.111 to the site directly.

Visit the Diaoyu Castle and experience its precipitous terrain. The well preserved City Gate, Royal Palace, Huguo Temple and Hanging Sleeping Buddha will ensure that your stay is worthwhile. Entrance is CNY60.

Return to Hechuan by bus No.111 and take a bus from Hechuan Coach Station for the 100 minute trip to Laitan Old Town that costs CNY10 per person. Stay overnight there.
Today you have a full day to visit Laitan Old Town. Established in the Song Dynasty (960 - 1279), Laitan is one of the ten most famous old towns and one of the most beautiful towns in China. There are more than four hundred well preserved old houses as well as temples and stone paved streets dating from the Qing Dynasty here. As well as admiring the old houses and temples, you should not miss the delicious local food, such as preserved dried tofu, Qujiang Fish, and chicken. Return to Chongqing after your visit.
Fuling is a district located 149 kilometers southeast of downtown Chongqing. It is known for the famous local product Szechuan pickled vegetable (Zha Cai in Chinese). It is also famous for the White Crane Ridge Underwater Museum.
To get to Fuling, you can take a train from Chongqing North Railway Station at 08:00 and reach Fuling at 09:08 at CNY15.5 for a hard seat. Alternatively, take a coach from Chongqing North (Hongqihegou) Long-distance Bus Station to Fuling. The bus trip takes about 2 hours and costs CNY48 per person. The bus departs every ten minutes from 07:00 to 19:00 daily. Then take a bus No.101 from Fuling railway station to Xiaofangdui and change to bus No.302, 303, or 307 to Baiheliang (White Crane Ridge); or take bus No.113 from Fuling coach station to Baiheliang.
Visit the White Crane Ridge Underwater Museum. The white crane ridge was a natural stone ridge in the Yangtze River, which appeared in dry season and was underwater in rain season. From the Tang Dynasty (618 - 907), people left inscription on the stone ridge, including poems, stories, and hydrologic data of the Yangtze River. There are also stone fish to record the water level of the river. The ridge has been submerged 40 meters below water following the completion of the Three Gorges Project, so it has become an underwater museum.
Continue your visit to Zhouyi Garden by taxi. Located on the north bank of Yangtze River, Zhouyi Garden is a stone cave, excavated by hand, with many ancient inscriptions. The admission fee is CNY20.
After lunch, proceed to the Small Stream Scenic Area by taxi. Not only does the site has beautiful scenery but also is rich in cultural relics from the ancient Ba Kingdom. During your visit, you can also have a taste of the local dishes, such as fresh tofu pudding and Yinhe fish. The entrance fee is CNY20 per person.
Return to Chongqing city by train or bus.

More Related Trips:
Downtown Finding
: Visit the Taibai Garden, Tianzi City and appreciate Yangtze River.
Suburb Experience
: Visit Jinyun Mountain, Pianyan Old Town/Northern Hot Spring, Jindao Gorge.