Jinji Lake
Located in the east of Suzhou, Jinji Lake is the largest city lake park in China. It's a symbol of Suzhou as "New Paradise on Earth", where people can enjoy their leisure time and the beautiful broad view of the lake. Jinji means "golden rooster" in Chinese; this lake was named so because a legend has it that a golden rooster once fell into the lake from heaven. Below are major scenic zones around the lake:
Lakeside Avenue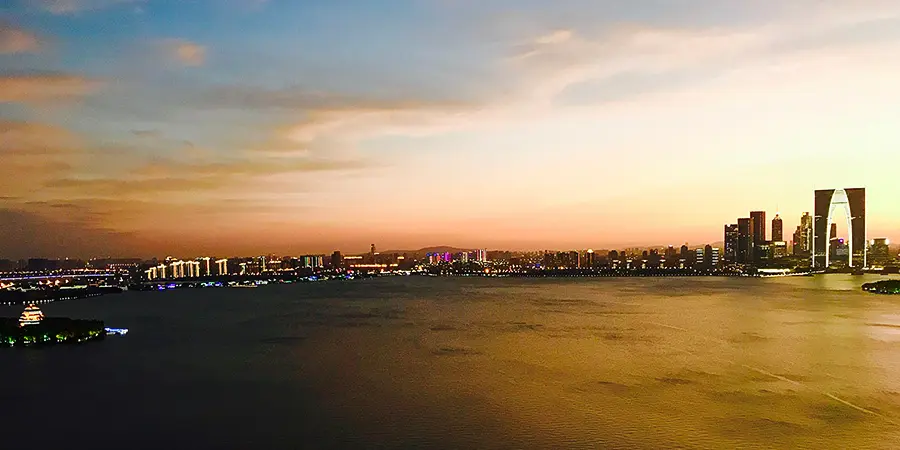 Jinji Lake
Visitors can walk on the wooden Lakeside Avenue on the west side of the lake. The vibrant avenue extends 2km (1.24mi), and connects the nature with the urban view. At the north side of the avenue is "Harmony Sculpture", a work of famous Singapore sculptor, Sun Yuli. Round outside and square in side, this sculpture is an emblem of friendship between China and Singapore, demonstrating the integration of modern and traditional culture.
Li Gong Di Causeway
At the south of the Jinji Lake, lies the Li Gong Di Causeway with the total length of 2.2km (1.37mi). Using several bridges connecting small islands, painted in grey, white and black, and built in traditional Suzhou architectural style, Li Gong Di Causeway shows the south China water town features. At night, glittering lights here make a lively ribbon shining on the lake. Li Gong Di Causeway is a corridor clustered by restaurants from all over the world. Project I, Commercial Street has well-known brands from Italy, France, Germany, Japan, Belgium and Hong Kong, as well as China Time-honored Brands and Suzhou local brands. Project II, Water Alley Neighborhood, has Dai Guan Shan, Xiao Nan Guo and other world chain brands. Project III, Theme Gourmet Island has three special zones, Traditional Chinese Dishes, Fashion Gourmet Zone and Exotic Gourmet Zone.
Ferris Wheel Park
On the east bank of Jinji Lake, Ferris Wheel Park has the highest above-water Ferris wheel in China, the diameter of which is 120m (131yd). Sitting on the Ferris wheel gives the visitor a bird-eye's view of the lake park. Apart from the Ferris wheel, other amusement facilities including a roller coaster with the butterfly-shaped track, a double-level merry-go-round, a 28-seat 4D theater, and thrilling Ghost Ship bring visitors an exciting adventure.
Moonlight Harbor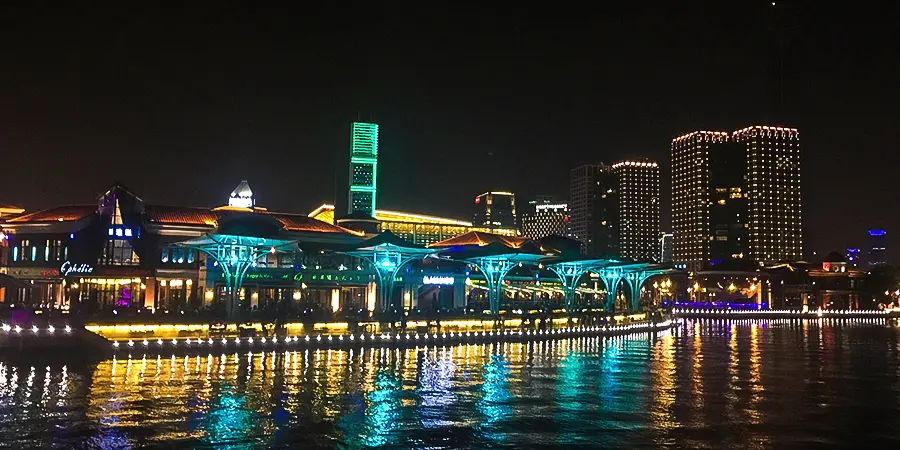 Jinji Lake at night
Moonlight Harbor is a beautiful block on the northeast side of Jinji Lake. From here visitors could have a 270 degree view of the lake scenery, thus it's called the first place to see Suzhou night scenery. European architectures are built in the blocks, including restaurants, clubs, training center, jazz bars, and hotels. Visitors could also take a sight-seeing boat from the harbor to the Peach Blossom Island and Linglong Island in the lake.
Suzhou Culture and Arts Center
Suzhou Culture and Arts Center, also called Suzhou Bird's Nest for its appearance, is a part of Jinji Lake International Exhibition Zone. A Cultural Center, a Grand Hotel, a Performance Hall and Suzhou Arts Cineplex gather in this distinctive building. There are many shows held here every day, and visitors could enjoy ballet performances, dramas, or see a movie here.
Where to go shopping in Jinji Lake
Shinkong Place in Harmony Time Plaza and Jiuguang Mall are two main shopping malls on the east bank of Jinji Lake. This plaza is a well-designed city complex combining shopping, catering, entertainment, business, culture and tourism, covering 510,000m
2
(51 ha). Most domestic and international brands can be found here. The most attractive spot in the plaza is the 500m-long largest LED sky in the world.
How to Have Fun in Jinji Lake
1. There are four entrances to the lake. Generally, most visitors would start the visit from the west entrance, which is close to the Gate of the Orient Station along
Metro Line 1
. Nearby the entrance is the new landmark of Suzhou, The Gate of the Orient and Lakeside Avenue. After visiting the Lakeside Avenue, visitors could take a water bus from the Wanghuge Port to Li Gong Di Port. In Li Gong Di, a free little train is available to take you to major spots in this district.
2. A night cruise on the lake is also recommended. The cruise sets off from Moonlight Harbor and passes by Wanghuge Port and Li Gong Di Port. It's a perfect method to enjoy the night view of the lake and the beautiful buildings surrounding it.
3. It's convenient to rent a bike by the lake. Renting store is outside the Rail Transit station. The road circling the lake is about 15km (8.1mi) long and a full-ride along it takes 3-4 hours.
Hot to Get to Jinji Lake
To the west gate
Take Rail Transit line 1 to Gate of the Orient Station and walk for 500m (547yd).
Take bus no.137, 138, or 307 to Lakeside Avenue Station and walk for about 5min.
To the east gate
Take bus no. 108, 120 east, 120 west or Night 2 to Ferris Wheel Park Station and walk for 5min.
To the north gate
Take Rail Transit line 1 to Culture & Expo Center Station and walk for 5min.
Take bus no. 2, 47, 106, 108, 120 east, 120 west, 127, 156, 206, 215, 219, 812, Fast 2, Night 2 to International Expo Center and walk for 7-8min.
Admission Fee
Free
Ticket to the Ferris Wheel Park costs CNY60.
Opening Hours
All day
The Ferris Wheel Park opens 9:30-17:00.

Top 10 Things to Do in Suzhou
8 Things to Do in Suzhou at Night
- Last updated on Nov. 11, 2020 -
Questions & Answers on Let Me Say about
Asked by Jacob Wimmer from UNITED STATES | Apr. 20, 2019 09:18

Reply
Is the ferris wheel of Jinji Lake still running?
Answers (1)
Answered by Chastity from CANADA | Apr. 24, 2019 01:11

0

0

Reply
As I know, the park is under reconstruction nowadays.