Suqian Travel Guide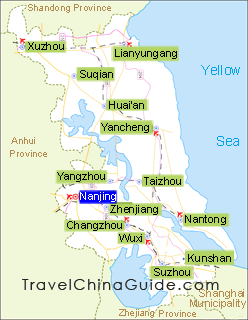 Suqian Facts
Chinese Name: 宿迁 (sù qiān)
Population: 5,916,000
Area: 8,555 square kilometers (3,303 square miles)
Location: in the north of Jiangsu Province, east China
Administrative Division: 2 districts (Sucheng, Suyu); 3 counties (Shuyang, Siyang, Sihong)
Area Code: 0527
Zip Code: 223800
GDP (2019): CNY 309.923 billion (USD 44.923 billion)
Liquor Production Base & Hometown of Chinese Hero - Xiang Yu
Located in the north part of Jiangsu Province, Suqian is bordered by Xuzhou and Lianyungang, sharing the fourth largest freshwater lake in China, Hongze Lake, with Huai'an to the south. Suqian once severed as Emperor Qianlong's stopover place for five times during his six adventures to southern China and its beautiful scenery was greatly praised by the emperor. The palace in which the emperor once stayed is located on the bank of Beijing-Hangzhou Grand Canal and preserved well with convenient transportation and many scenic spots around including Luoma Lake. Suqian also has many parks, tourist resorts and historical sites.

Xiangyu, a Chinses hero in the late Qin Dynasty (221 BC- 207 BC), was born in Suqian. He launched an uprising and then established his own kingdom. Now, visitors can know his stories while enjoying ancient buildings in the Xiangyu Hometown Scenic Area. With a long history of brewing, Suqian produces high-quality liquor. Yanghe Daqu and Shuanggou Daqu are famous liquor brands in Suqian.
Suqian Attractions - Things to Do

Luoma Lake: Situated in the northwest of the city, Luoma Lake Ranks among the four largest freshwater lakes of Jiangsu. It covers a total area of 375 square kilometers (145 square miles), dotted by several natural scenic spots and historical sites.



Qianlong Temporary Palace: This is a well preserved old building complex in the south bank of the Luoma Lake. It was first built around 1684, and the Emperor Qianlong of the Qing Dynasty had been to there three times for worship.



Zhangshan Forest Park: 7 kilometers (4.3 miles) north of the city proper, the park gets a fine management of mountain and water landscape.
How to get to Suqian
1. Although Suqian does not have its own airport, visitors can easily get the aid of surrounding airport. For example, the city is only 60 kilometers (37 miles) east of the Xuzhou Guanyin Airport and 100 kilometers (62 miles) south of Lianyungang Baitafu Airport.
Nanjing (Lukou) International Airport
is a little bit farer. It is about 260 kilometers (162 miles) south of the city. Specially the Xuzhou Guanyin Airport, it is only forty minutes' drive to downtown Suqian.
2. Suqian passenger transport company in Huangyun Road (West), west of the city proper, dispatches buses to cities including Shanghai, Beijing and Nanjing. Generally, visitors can get from Suqian to Nanjing within three hours, to Xuzhou for about one hour.
Weather
-
Enjoying a warm temperate monsoon climate, Suqian has superior light and heat resources. It has clear four seasons and adequate rainfall, with an annual average temperature of 14.2°C (58°F). Generally, the temperature during a year may range from -8°C (17.6°F) to 36.5°C (97.7°F).

When to Go
: every May to October of a year
Suqian Travel Tips

History: The region bears a long history. Archeologist discovered the Xiacaowan Cultural Ruin that human inhabited fifty thousand years ago, and towns of Suqian began to be built in this region nearly 2,300 years ago. One of the emperors of Tang Dynasty (618-907) changed its name from Suyu County to Suqian County in 405.



Physical Features: The general terrain of the city slopes downward from the northwest to the southeast. Except small part of low mountainous and hilly areas, majority of its territory is occupied by plains. Undulant plains, and floodplains created by rivers are also important components of Suqian's landform.



Special Local product: megranate, crystal hawthorn pastry, Baji peanut
- Last updated on Jun. 08, 2020 -
Questions & Answers on Suqian Travel
Asked by Dennis from CANADA | Dec. 10, 2019 02:05

Reply
when will the high speed train from Shanghai / Xuzhou to Suqian be operating ?
Answers (1)
Answered by Luke from NETHERLANDS | Dec. 11, 2019 23:06

0

0

Reply
It is suggested to take bullet train from Hongqiao Railway Station to Xuzhou East Railway Station. The train schedules are from 06:05 to 19:50. Then take a taxi to South Coach Station. There are several direct coaches that can take you to the destination.
Asked by Marko from SERBIA/IRELAND | Aug. 26, 2019 05:09

Reply
speed train to Xuzhou
Hi, where I check prices and schedule for speed train from Shanghai to Xuzhou? And also, where to catch one in Shanghai?

I will arrive on the Pu Dong Airpot on 31st at 10.15AM. So, the plan is to catch the fast train Xuzhou and then somehow to Suqian.

Thanks!
XieXie
Answers (1)
Answered by Gant from AUSTRALIA | Aug. 28, 2019 20:45

0

0

Reply
You can take shuttle bus line 1 to Hongqiao Railway station first with CNY34, from there you can take high speed train to Xuzhou East Railway station. The high speed train departs from 6:05 to 19:50 with interval of 10 minutes to 1 hour.
Asked by Susan from CANADA | Jul. 09, 2018 14:36

Reply
We are in Suqian -Suyu district for 2 weeks- want to see the city centre.
what is the best way to get around?
Answers (3)
Answered by Lisa | Jul. 09, 2018 19:40

0

0

Reply
Take the bus line 310 to Long voyage hotel and walk about 400m you can get the city center.
Answered by Susan Day from CANADA | Jul. 11, 2018 15:14

0

0

Reply
Thank you for this ! We are staying at the Elegance Hotel -do you know where we would catch that bus from here ? And how much is the fare?
Answered by Lisa | Jul. 11, 2018 18:06

0

0

Reply
Walk to north about 200m you can take the bus line 310 and the fare is CNY 1.
Asked by Mylene from JAPAN | Jan. 07, 2018 18:01

Reply
Shanghai Pudong to 7 days inn suqian siyang bus station
Hi I don't speak Chinese and I'll arrive in Shanghai on Friday. I don't know how to go to my hotel. Anyone here can give me a detailed instructions will be much appreciated. And will get blessing for helping me hahaha..
Answers (11)
Answered by Terra from SINGAPORE | Jan. 07, 2018 19:12

1

0

Reply
You can take shuttle bus line 7 to South Railway Station, and then walk east for 2 minutes to South Bus Station. Catch an intercity bus to Siyang Bus Station, and then walk west for about 15 minutes to your hotel.
Answered by Mylene from JAPAN | Jan. 08, 2018 00:06

0

1

Reply
What are the chinese names of the places? Like Siyang bus station Or can they understand me if I say "Siyang"
Answered by Terra from SINGAPORE | Jan. 08, 2018 00:15

1

0

Reply
Generally, they will understand when you say Siyang, and it's '泗阳' in Chinese. As for shuttle bus, you can just take it to the last stop.
Answered by Mylene from JAPAN | Jan. 08, 2018 00:40

0

0

Reply
Thank you very much! You are great help so I am the last stop. And I'm just concerned if I can make it on time because the shuttle bus and the schedule of the first bus to Siyang is the almost the same. What's the best advice? Because I'll arrive in the morning around 3-4 AM so I want to take the earliest schedule.
Answered by Terra from SINGAPORE | Jan. 08, 2018 01:59

1

0

Reply
Glad to help! Well, it seems difficult for you to catch the first bus, since the first shuttle bus leaves at 6:30am and it takes nearly 100 minutes to get to the south station.
The last bus to Siyang leaves at 7:23. So you are suggested to take the bus to Siyang at 11:39.
Answered by Mylene from JAPAN | Jan. 08, 2018 02:35

0

0

Reply
Is there a different way for me to go to the bus station from Shanghai pu dong? And is the exact name of the bus station is Shanghai South railway station? Where can I see the schedule of the buses in English?(online) and the last question is how long is the travel time? From there to siyang.sorry I have a lot of questions
Answered by Maggie from FRANCE | Jan. 08, 2018 19:38

1

0

Reply
Hi, Mylene! You can also take subway line 2 at 5:28 and then switch to line 3 at Zhongshan Park. And then get off at South Railway Station, the south bus station is about 300 meters east of the south railway station. It takes about 90 minutes and 8RMB.
The long-distance bus costs 120RMB and takes about 5h.
Answered by Mylene from JAPAN | Jan. 09, 2018 00:37

0

0

Reply
Thank you very much!
So 90 minutes for 2 stations ? 2 and 3?
Whats the name of the bus station? Long distance bus or south bus station? is line 3 far from line 2? How many minutes walk
Thanks
Answered by Maggie from FRANCE | Jan. 09, 2018 19:35

1

0

Reply
The whole subway journey takes 90 minutes, not 2 or 3 stations. Don't worry, all subway station will be announced by English, just get off at South Railway Station.
The transfer is easily to be done, since there are signs guiding you.
The bus station is South Long-distance Bus Station.
Answered by Sheena from SINGAPORE | Jan. 10, 2018 00:30

0

0

Reply
When I arrived in the bus station.. is there a bus going directly to Siyang Suqian?
I'll go to 7days inn Suqian Siyang bus station.
Thank you very much

Answered by Maggie | Jan. 10, 2018 19:25

1

0

Reply
Yes! The bus goes straight to Siyang Bus Station, which is about 1.2km east of your hotel!