Lianyungang Travel Guide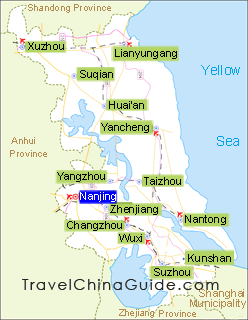 Lianyungang Facts
Chinese Name: 连云港 (lián yún gǎng)
Population: 5,344,000
Area: Land Area: 7,615 square kilometers (2,940 square kilometers); Sea Area: 6,677 square kilometers (2,578 square kilometers)
Location: in the northeast of Jiangsu Province, east China
Administrative Division: 3 districts (Haizhou, Lianyun, Ganyu); 3 counties (Guannan, Donghai, Guanyun)
Area Code: 0518
Zip Code: 222000
GDP (2019): CNY 313.929 billion (USD 45.504 billion)
An Important Port City in East China
In the famous Chinese classical novel Journey to the West (also known as Pilgrim to the West), there is a mountain city named Lianyungang, not far from the sea, embraced by mist and clouds. It is said to be the 'hometown' of the Monkey King, the hero of the novel. Located in the northeast part of Jiangsu Province, Lianyungang faces to Korean Peninsula and Japan to the east over the Huanghai Sea (Yellow Sea), neighboring Xuzhou to the west, and Shandong Province to the north. The development of Lianyungang depends on Lianyun Port to some extent. The port is the largest seaport in Jiangsu and has opened 50 routes to the world's major ports. Lianyungang is awarded the title of Chinese crystal capital as the world's natural crystal raw material distribution center is just situated in Donghai County. As for tourism, the spectacular sea view, green and lush mountains and rich cultural relics will provide visitors a wonderful trip. April to October is the best time to visit Lianyungang.
Known for its pleasant climate and with a variety of natural scenery, Lianyungang is a great place for tourism all year round. In the spring, the flowers are in full bloom all over the mountains around the city. In summer, the sunny beach, with lots of activities and festivals, is the best place for a holiday. Autumn is the best time for hiking in the mountains, and in winter the natural hot springs completely dispel the cold.
Long-distance Bus
City-bus
taxi
Weather
-
Owing to its location, Lianyungang has a warm, humid climate that is neither too hot nor too cold at any time throughout the year.

History: The human activities in this region could be found as early as 2,000 years ago and around 6,000 to 7,000 years ago, there were people inhabited here. In ancient time, the region was called Yingzhou and then officially named as Quxian in the Qin Dynasty (221BC-206BC). In 549 of the East Wei Dynasty, it was renamed to be Haizhou which was used until to 1912 except of the Yuan Dynasty's Hainingzhou. Its current name was given in 1961 officially. Lianyungang was the first port in Chinese history to open up to foreign trade. Early in the Qin Dynasty, the port here shipped cargo to and from various foreign cities. In modern times, as one of the famous eight ports of China, it has become the eastern starting point of the New Eurasia Continental Bridge and plays quite an important role in international trade.
- Last updated on Jun. 05, 2020 -
Questions & Answers on Lianyungang
Asked by Susan from SINGAPORE | Mar. 22, 2019 22:45

Reply
Will be traveling to Lianyungang late March till April. What types of thick clothing to bring?
Answers (1)
Answered by Aiden from FINLAND | Mar. 27, 2019 01:41

0

0

Reply
According to the weather forecast, it will be 5C to 15C in the following days. The weather will be warm and comfortable. You are suggested to prepare jackets, thin sweaters, long sleeved shirts, jeans and sneakers. :)
Asked by Janet from SINGAPORE | Mar. 13, 2018 03:39

Reply
Fare by air to Lianyungang from Shanghai
Answers (1)
Answered by Nancy from NORWAY | Mar. 13, 2018 04:08

0

0

Reply
Hi, Janet! The fare really changes a lot due to many factors, so you are suggested to pay attention to that!
Asked by Bee Hock Yu from SINGAPORE | Feb. 13, 2018 19:51

Reply
can any once to help which easy way from singapore to lianyungang? 4 star hotel in the city?
Answers (1)
Answered by Black from SINGAPORE | Feb. 13, 2018 21:50

0

0

Reply
You are suggested to take a flight, but a transit in Shanghai is necessary. As I know, the whole journey takes about 11-20h.
As for 4 star hotels, you can choose Century Fate International Hotel in 10 Middle Hailian Rd, Xinpu District, Guoxin Shenzhou Hotel in 215 North Haitang Rd, Lianyun District and Manju Hotel in 29 North Yanhe Rd, Haizhou District.
Asked by Tammy from SERBIA | Dec. 20, 2017 13:25

Reply
How to get from Shanghai to Lianyungang, by train or by air?
Answers (1)
Answered by Tom from NORWAY | Dec. 20, 2017 19:51

0

0

Reply
You are suggested to go there from Hongqiao Airport by air, which takes about 1h 30 minutes.