Changzhou Travel Guide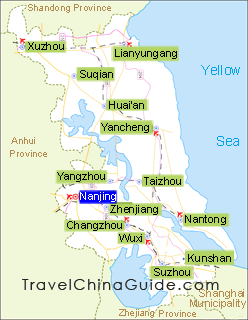 Changzhou Facts
Chinese Name: 常州 (cháng zhōu)
Population: 4,736,000
Area: 4,375 square kilometers (1,689 square miles)
Location: in the south of Jiangsu Province, east China
Administrative Division: 5 districts (Jintan, Wujin, Xinbei, Tianning, Zhonghlou); 1 county-level city (Liyang)
Area Code: 0519
Zip Code: 213000
GDP (2019): CNY 740.09 billion (USD 107.27 billion)
The Star Industrial City with Dinosaur Park
Changzhou lies in the south of Jiangsu Province, Yangtze Delta area, neighboring Taihu Lake and Shanghai to the east, Nanjing to the west, and shares the boundary with Anhui Province to the south. Changzhou has developed national high-end manufacturing industries including new energy vehicles and auto core parts, smart grid and new material industries, especially the graphene technology is leading in the world.

In the process of more than 2,500 years, many historical sites are left in this city. You can appreciate ancient buildings, a wonderful chimes performance in the China Spring and Autumn Yancheng Scenic Area and brick carvings in the Tianning Temple. As Beijing-Hangzhou Grand Canal passes through the central Changzhou, you can take a cruise ship to appreciate the city and know its history and culture. Besides, you can also visit the China Dinosaurs Park, a large dinosaur culture-themed amusement park. Also surprisingly, Changzhou is a food paradise which offers all kinds of cakes, snacks and dishes such as Steamed Buns, Wanton, Silver Noodles and Shrimp Cake. The fish from Tianmu Lake and hairy crab from Changdang Lake should not be missed.
Changzhou Attractions - Things to Do
It is a large dinosaur theme park in the Universal Dinosaur Town, consisting of a dinosaur museum and six entertainment areas with various recreational facilities. Tourists can not only learn more about dinosaurs in the museum, but can relax themselves in the exciting activities.

This historical site was the only ruins of Chinese old town with three city walls and three moats kept from the Spring and Autumn Period. Three thousands years of history not only left people the enigma about the town's ruler but also gave the town big reputation.

Tianning Temple
Built in the Tang Dynasty (618-907), the temple has more than 1,300 years' of history being one of the most famous Buddhist sites in Southeast China. The Emperor Qianlong of the Qing Dynasty (1644-1911) visited Tianning Temple for three times. Apart from halls and towers, the brick carvings of the Five Hundred Disciples of Buddha and twelve jade Buddhas add much luster to the temple.
| | |
| --- | --- |
| Admission Fee: | CNY 80 (including temple and ascending to the pagoda) |
| Transportaton: | take bus no. 11, 23, 25, 53, 62, 78, 80, 220, 902 or 903 to get off Tianningsi Station. |
The lake is located at the north of the Tianmu Mountain, one hour's drive (in Liyang City) from the downtown Changzhou. It is formed by the construction of reservoirs in this region. The lake perfectly complements the surrounding natural sceneries.

Combs Alley
Comb making brought the city great fame since a long time ago. Every family in the Combs Alley made a living as combs maker in Qing Dynasty. Built on the side of the Grand Canal, courier station was established in the alley in the Ming Dynasty (1368-1644).

Other Scenic Area: Maoshan Mountain
How to get to Changzhou
Changzhou Benniu Airport is located in Xinbei District, 18 kilometers (11 miles) from the city center, and operating flights to Guangzhou, Shenzhen, Shenyang, Harbin, Dalian and Xiamen. Visitor can take airport buses from the ticket office in the city's Civil Aviation Building (Min Hang Da Sha).

There are Changzhou Railway Station and Changzhou North Railway Station in the city and they operates both ordinary and high speed trains to/from Beijing, Shanghai, Nanjing, Suzhou, Hangzhou, Hefei, Changsha, Wuhan, Qingdao and so on.

See detailed Changzhou Train Schedule, Beijing to Changzhou Train, Changzhou to Shanghai Train​

Changzhou Bus Station is located at the north square of the railway station, where passengers can take bus from there to Shanghai, Wuxi, Nanchang and other cities.



See also: Best Way to Travel between Changzhou and Shanghai
Weather
-
Changzhou enjoys a humid monsoon climate at the transition area between subtropical and temperate zones. The four seasons varies greatly during a year. Spring and autumn are moderate, while summer and winter go extremely opposite. Summer is torrid, but gathers majority of the rainfall. The plum rain period lasts from June to July. Also during the summer, rainstorm and typhoon are more likely to happen.

When to Go
: The best time to visit Changzhou is in mid-spring and early autumn, for moderate temperature and less rainfall.
Changzhou Travel Tips

History: This area was initially recorded as Yanling in the Spring and Autumn Period (770 BC - 476 BC), and the name was continued to be used for about 350 years. It was changed successively into Piling later on. It gained the name of Changzhou in the Sui Dynasty (581 - 618).



Physical Features: Due to the location in the Yangtze Delta area, fluvial plain constitute the main landform of the city. But the terrain seems more complex. To its west and south are the Maoshan Mountain and Tianmu Mountain. Generally, the land slops slightly downward from the northwest to the southeast with the Grand Canal passing through the city.



Special Local Products: Artware: random stitch embroidery, combs, paper-carving in Jintan

- Last updated on Jun. 11, 2020 -
Questions & Answers on Changzhou Travel
Asked by Git from GERMANY | May. 15, 2017 06:13

Reply
Would anyone know how I go from Changzhou to Liyang?
Don't remember to have heard this name on my travel from Shanghai to Changzhou.
Answers (2)
Answered by Sara from USA | May. 17, 2017 02:19

1

0

Reply
You can take a direct coach at CZ Passenger Transportation Center. This coach operates during 05:45 to 20:00 with the interval of 25-45 minutes. The ticket fare is CNY30/person.
Answered by Git from PAPUABARAT | May. 17, 2017 10:33

0

0

Reply
Sara, Thank you very much. I guess that passenger transportation centre is the coach centre adjacent to the train station, isn"t it?
Asked by Annie from MALAYSIA | Mar. 30, 2016 00:10

Reply
Taxi fare in Changzhou
May i know what is the initial fee and rate per km for taxi?
Answers (1)
Answered by Anne from UNITED KINGDOM | Mar. 30, 2016 03:38

0

0

Reply
The flag down rate within 3.3 km is CNY 10 (including CNY 1 fuel surcharge). Each kilometer between 3.3 km to 6km will be charged CNY 1.8. Each kilometer beyond 6 km will be charged CNY 2.7.

From 23:00 to 05:00, the flag down rate within 3.3km is CNY 13. Each kilometer between 3.3km to 6km will be charged CNY 2.34. Each kilometer beyond 6 km will be charged CNY 3.24.
Asked by Madison Plantier from UNITED KINGDOM | Jan. 10, 2016 13:28

Reply
What is the easiest way to get to Nanshan Zhuhai (Nanshan Bamboo Sea)?
I'll be traveling to China in June and I'd really love to visit Nanshan Bamboo Sea. We'll be visit Hangzhou but it's faster to get a train from Hangzhou to Liyang than it is to get a train from Hangzhou to Changzhou. I've also noticed that CZ is further away from Nanshan Zhuhai than Liyang is.

What is the easiest way to get to Nanshan Zhuhai? Is there are public transport that goes from Liyang city to the scenic area? And are there any hotels in Liyang or at Nanshan Zhuhai where we can stay? We are foreigners so we can only stay at certain hotels.
Answers (2)
Answered by Henry from UNITED KINGDOM | Jan. 10, 2016 20:56

2

0

Reply
Yeah, you are correct. Liyang is nearer to Nanshan Bamboo Sea. Upon arrival at Liyang Train Station, you may take bus line 22 to Liyang General Bus Station, and then change to bus line 109 to Nanshan Zhuhai. For accommodation, you may stay at Tianmu Lake Yushui Hot Spring Hotel at no. 888, Lijiayuan Village, near Nanshan Zhuhai. The hotel receives foreign visitors. Don't worry. :)
Answered by Madison from UNITED KINGDOM | Jan. 11, 2016 03:00

0

0

Reply
Thank you so much! That was very helpful.
Asked by Jo from MALAYSIA | Sep. 16, 2015 08:55

Reply
Cheap and good accomodation in Changzhou
Any recommendations for cheap and good accomodation that takes in foreigners in the city? I'm on a budget trip there. Thanks.
Answers (2)
Answered by Dwen from FRANCE | Sep. 17, 2015 02:09

2

0

Reply
You are suggested to stay at Motel 168 (China Dinosaur Park Yuexing Plaza Branch). The price is about CNY150 per night. This hotel provides clean environment and kind service. And the surrounding transportation is convenient. It's located at 588 Middle Tongjiang Road. Hope you like.
Answered by Jo Chan from MALAYSIA | Sep. 17, 2015 19:45

0

0

Reply
Merci, Dwen. Will check that motel out.