Shanghai Food
Shanghai food is not one of the Eight Major Cuisines of China but is a choice blend of the most appealing aspects of these other national styles of food.

Classification
Shanghai food, also known as Hu Cai, includes two styles - Benbang Cuisine and Haipai Cuisine.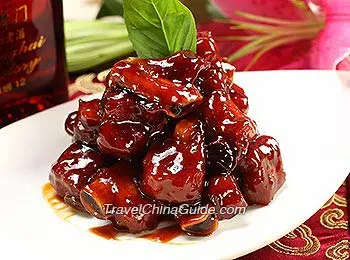 Typical Shanghainese Food

Benbang Cuisine, literally meaning 'local cuisine', is the traditional family style cuisine that appeared in Shanghai over 100 years ago. Using fresh fish, chicken, pork and various vegetables as the main ingredients, it always has a great flavor and a bright color derived from the oil and soybean sauce. Like the food of Suzhou and Wuxi cuisines, Benbang food tastes fresh, mellow and sweet.

Haipai Cuisine, literally meaning 'all-embracing cuisine' is derived from the cosmopolitan culture formed in Shanghai in the end of the Qing Dynasty (1644-1911). It absorbs the advantages of many food from other regions of China and even western food, and then adapts them to suit local tastes. Fresh fish, shrimps and crabs are the main ingredients of Haipai Cuisine. The appearance, flavors and cooking techniques of the Haipai dishes have many variations.
Features of Shanghai Food
The Benbang & Haipai features have many things in common: First, they make great use of fresh meat, chicken, vegetables and especially various marine ingredients such as fish, shrimps and crabs. Secondly, they have a great number of signature dishes made from various seasonal ingredients. Thirdly, a wide range of cooking techniques have been adopted and include steaming, braising, stewing, stir-frying, quick-frying, deep-frying, boiling, marinating, smoking and roasting. Fourthly, strongly hot food hardly ever forms part of Shanghai Cuisine. Most of the Shanghai dishes taste fresh, clear, mellow, sweet or subtly spicy.
In recent years, Shanghai food has been greatly influenced by
Cantonese Cuisine
. Consequently the Shanghainese foods are now less oily and more delicate with the use of more high quality and expensive ingredients. People here have become more concerned about a healthy diet. This means there is an upsurge in the trend towards the use of fresh ingredients and in particular good quality fruit and vegetables.
Top 5 Dishes of Shanghai Food
When you come to Shanghai, do not miss the chance to go to famous
Top 20 Shanghai Cuisines Restaurants
and try the signature local dishes.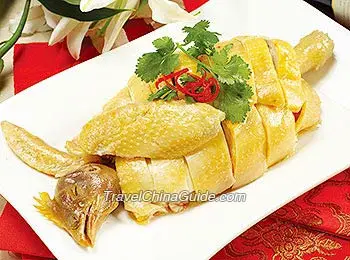 1. Braised Jumbo Sea Cucumber with Shrimp Roe (Xia Zi Da Wu Shen) is noted as the most famous seafood dish in local cuisine. Dried sea cucumber is immersed in water to restore its original size and then stewed with oil, yellow wine, soybean sauce, broth, sugar, shallot, starch sauce and shrimp roe. This Shanghai dish is nutritious with rich protein and minerals and is said to effectively control cancer.
2. Eight Treasures Chilli Sauce (Ba Bao La Jiang) is typical among the few spicy dishes. As one of the top 5 dishes of Hu Cuisine, it is a Benbang dish featuring great flavor and bright color. Bean sauce and chili sauce are blended and stir-fried with shelled shrimps, chicken, chicken stock, pork, pig offal, dried small shrimps, bamboo shoots and various kinds of seasoning. This dish with such a great number of ingredients gives us some idea of how delicate Hu cuisine can be.
3. Flash Fried River Shrimp (You Bao He Xia) is a good choice if you like sea food. Live shrimps are deep-fried and then sir-fried with a special sauce made of yellow wine, soybean sauce, sugar, shallot sauce and ginger sauce. The dish tastes fairly sweet and fresh.
4. Bamboo Shoot Soup with Fresh and Pickled Streaky Pork (Yan Du Xi'an) is a delicious stew. Pork and ham are first steamed and then stewed in a soup with fresh bamboo shoots.
5. Sautéed Mashed Eel (Qing Chao Shan Hu), also known as Xiang You Shan Hu, is an eel dish. Fresh eels are stir-fried with shredded bamboo shoots, yellow wine, soybean sauce, ginger, sugar and starch sauce. After being put on a plate, chopped shallot is sprinkled on the dish and hot oil is poured onto it. Consequently, Qing Chao Shan Hu crackles when it is served at the table.
Besides the dishes mentioned above, the city also provides diners with an extensive
menu
of many other delicious dishes such as steamed crabs, sauted shelled shrimps, braised fish, smoked fish, steamed shad, braised herring liver, braised eel, plain boiled chicken and stewed chicken.
snack streets
in the city have many restaurants and eateries to tempt you. Wujiang Road, Old Town God Temple Snack Street, South Yunnan Road and Xianxia Road are the best among them.
As an all-embracing city, Shanghai offers various delicacies from other regions of China and many foreign countries and areas. No matter how fastidious you are about dining, you can enjoy your time to the full!
You can find Shanghai food guide on recipes in the column of TravelChinaGuide.com:
Chinese Food Cooking Class
Further Reading:
Fu He Hui: The Most Expensive Vegetarian Restaurant in Shanghai
- Last updated on Oct. 30, 2020 -
Questions & Answers on Shanghai Food
Asked by Farooq from PAKISTAN | Apr. 15, 2018 17:24

Reply
Muslim halal food in Nantong
Pls advice Halal Restaurant nearby Holiday Inn Express Hotel (3rd building, Sinho 101 plaza, No. 1101, Xinghu avenue, Nantong 226009)
Answers (2)
Answered by Iris from SWEDEN | Apr. 16, 2018 03:57

1

0

Reply
Yes, about 500m south is a Lanzhou Beef Noodles and you can have a look!
Answered by Farooq Muhammad Hassan from PAKISTAN | Apr. 21, 2018 14:29

0

0

Reply
Thanks alot...
In addition to this, there is also another Muslim Halal Food nearby Wolfs Mountain side...
Asked by Susan from USA | Jun. 27, 2014 14:33

Reply
I must travel to Shanghai for business but I am allergic to shellfish.
How can I tell what will be safe for me to eat?
Answers (2)
Answered by Fiona from CHINA | Jun. 27, 2014 20:26

2

1

Reply
I suggest you not go to Cantonese restaurant, HK restaurants or Hangzhou restaurant, where they usually serve seafood and shellfish. And if you go to a restuarant, show this to the waiter "我不吃海鲜类的菜" and then they won't serve any shellfish.
Answered by Steve from IRELAND | Sep. 04, 2014 16:50

1

4

Reply
Hi Susan, I'm wondering how your trip to this city went?
I'm there on business at the end if September and I'm wondering if there's any shopping, enjoyable things to do when not at meetings.
Steve from Ireland
Asked by yangz from USA | Sep. 12, 2013 16:46

Reply
I like to get my hands on those Dazha Crabs, but I don't like to go to those high end restaurants for that.
I heard of Shanghai Shouning Rd street food where they serve these crabs. I like to know is are they any good? How much do they cost? And what time do some of those stalls open and close?

And also, does anyone know where I can eat wine soaked crabs, not steamed? I had them as kid, very good.
Answers (2)
Answered by Fanny | Sep. 16, 2013 04:20

2

1

Reply
On Shouning Road, I head that Xiangbadao Lobster Restaurant is a nice one, but I did not know the price.
The restaurant does not have the exact opening time and I suggest you to go there at after 16:00 in the afternoon.

Answered by B from CHINA | Jul. 06, 2017 04:37

0

0

Reply
For drunken crab, you can try Old Jesse (老吉士). They may only have crab when it is in season though, from November to January or so.
Asked by Mr.susanto hadi from INDONESIA | Aug. 09, 2010 02:23

Reply
can you tell me where is the most delicious pork cuisine/food restaurant in shanghai ?
Answers (1)
Answered by Mr.David | Aug. 09, 2010 21:30

3

1

Reply
I am not sure about this, maybe you can go to Yuan Yuan Restaurant to have a try. It located at Xingguo Road.

Asked by Mr.Sajid Rizvi from UK | Nov. 10, 2009 17:48

Reply
I have often debated with friends as to why food in Shanghai and neighbouring cities is sweet, ie has a high sugar content. I had thought it had something to do with western influences, but apparently not. Is it then something related to preservation of the ingredients, or is it all just a pure (if whimsical) matter of taste? I suspect there must be a deeper reason, perhaps a scientific one as well, but what can that be? Any thoughts? Thanks in advance!
Answers (1)
Answered by Mr.George Gu from CANADA | Mar. 23, 2010 12:43

0

2

Reply
Oops...too quick submission.

Continue my topics. Shanghai and the around area such as Su Zhou and Wu Xi are rich area during the history. For those wealthy people, labor work was not necessary for them. On the other hand, they had more time and appetite to try different taste of food, not only salted food.