Top 10 American Restaurants in Shanghai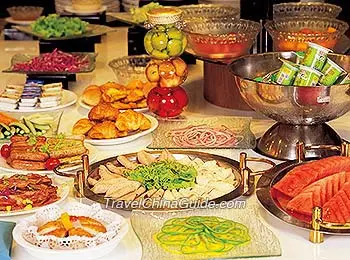 Besides thousands of Chinese restaurants, there are also a large number of foreign restaurants in Shanghai. Delicacies from many countries can be found in the city. American food is one of the most favorable. You can find many American-style restaurants, cafes and delis. They serve authentic steaks, sandwiches, salads and hamburgers in very big portions. English menus and services are usually available in these restaurants. Hereunder the top 10 American restaurants in Shanghai.

1. Element Fresh
Chinese name: 新元素 (xīn yuán sù)
As one of the American chain restaurants in Shanghai, Element Fresh has a spacious and comfortable dining room and some outdoor tables. It serves authentic and fresh American food such as sandwiches, salads and noodles as well as some Asian dishes. This restaurant also offers food delivery service. It has a number of branches in Shanghai and the following are just some for your reference.
Average cost per person: CNY150

K11 Art Mall Branch
Location: Store no. 402, 4F, K11 Art Mall, No. 300, Middle Huaihai Road, Luwan District (near South Huangpi Road)

Garden Commercial Plaza Branch
Location: inside Garden Commercial Plaza, No. 2088, West Yan'an Road, Changning District

South Xizang Road Branch
Location: 6F, Silver Court, No. 98, Shouning Road, Huangpu District

Huaihai Road Branch
Location: 4-5F, K. Wah Center, No. 1028, Middle Huaihai Road, Xuhui District (near South Xiangyang Road)

Grand Gateway 66 Plaza Branch
Location: Store no. 163, 1F, Grand Gateway 66 Plaza, No. 1, Hongqiao Road, Xuhui District

Super Brand Mall Branch
Location: Store no. 17-18, 1F, Super Brand Mall, No. 168, West Lujiazui Road, Pudong New Area (near Fucheng Road)

Kerry Parkside Branch
Location: 1F, Kerry Parkside, No. 1378, Huamu Road, Pudong New Area

West Nanjing Road Branch
Location: Room no. 112, east building of Shanghai Center, No. 1376, West Nanjing Road, Jing'an District

Jing'an Kerry Center Branch
Location: N1-12, N2-11, Kerry Center, No. 1515, West Nanjing Road, Jing'an District
2. Hooters
Chinese name: 猫头鹰美式餐吧 (māo tóu yīng měi shì cān bā)
This restaurant has American-style fast food & chains. Potato chips, sandwiches, chicken wings and chicken hoecakes are all available. The waitresses, with high proficiency in English, will help you a lot and they sometimes present hot dances. 10% service fee is needed if dining here.
Average cost per person: CNY150


Super Brand Mall Branch
Location: Store no. 19, 1F, Super Brand Mall, No. 168, West Lujiazui Road, Pudong New Area


Huaihai Road Branch
Location: No. 1498, Middle Huaihai Road, Xuhui District (near Middle Urumqi Road)

3. KABB Bistro Bar
Chinese name: 凯博西餐酒吧 (kǎi bó xī cān jiǔ bā)
Unlike other noisy eateries, KABB is a quiet restaurant & bar for diners to relax. This bar is on the list of Top 10 American Restaurants in Shanghai. American food and drinks are offered, including steaks, sandwiches, salads, chocolate cheese cakes, banana milk shakes and mellow wine. Delicious brunch offered on weekends is highly recommended.
Average cost per person: CNY200


Xin Tian Di Branch
Location: House no. 5, North Block of Xin Tian Di, Lane 181, Taicang Road, Luwan District (near Madang Road)


International Commerce Center Branch
Location: Store LG1-142, International Commerce Center IAPM Building, No. 999, Middle Huaihai Road, Xuhui District


Jing'an Kerry Center Branch
Location: Store no. S1-04, Kerry Center, No. 1515, West Nanjing Road, Jing'an District

4. JW's California Grill
Chinese name: 加州扒房 (jiā zhōu pá fáng)
California Grill, located on the 40th floor of JW Marriott Hotel, boasts a great bird's-eye view of the surroundings. American steak and lobster soup are recommended. A special dessert named Cuban Cigar is also worth trying. It is made of caramel pudding, ice cream and cigar-shaped chocolate sticks. Buffet set is the best part of this restaurant, for which 15% service fee is required.
Average cost per person: CNY400
Location: 40F, JW Marriott Shanghai Tomorrow Square, No. 399, West Nanjing Road, Huangpu District (near North Huangpi Road)

5. Blue Frog Bar & Grill
Chinese name: 蓝蛙 (lán wā)
As one of the top 10 American restaurants in Shanghai, Blue Frog serves tasty western dishes in generous portions. You will have a wide selection of food and drinks here. The lights of this restaurant are adjusted to different colors for different dining atmospheres between daytime and night.
Average cost per person: CNY150


Daning Branch
Location: Room no. 102A - 103A, Tower 6, Life Hub @ Daning, No, 1918, Gonghe New Road, Zhabei District (near Daning Road)


Novel Place Branch
Location: B1 Floor, Novel Place, No. 131, Tianyaoqiao Road, Xuhui District


Kerry Parkside Branch
Location: Store no. L131, B1 Floor, Kerry Parkside, No. 1378, Huamu Road, Pudong New Area


Hongmei Branch
Location: No. 30, Hongmei Leisure Street, No. 338, Hongmei Road, Minhang District


Jinqiao Branch
Location: 1F, Green Sports & Leisure Center, No. 633, Biyun Road, Pudong New Area


SWFC Branch
Location: Room no. B109, B1 Floor, SWFC, No. 100, Century Avenue, Pudong New Area (Near Dongtai Road)


Fucheng Road Branch
Location: No. 14, Fucheng Road, Pudong New Area

6. Madison Kitchen
Madison offers great American food, becoming one of the top 10 American restaurants in Shanghai. An amazing brunch is served on weekends to attract many diners.
Average cost per person: CNY150


Donghu Road Branch
Location: No. 38, Donghu Road


Tianshan Road Branch
Location: 2F, City Shop Department Store, No. 341, Tianshan Road

7. Laya Burger
Chinese name: 拉亚汉堡 (lā yǎ hàn bǎo)
All kinds of American burgers are served in this restaurant. Beef burger with hash browns and BBQ beef burger are very popular. You are also recommended to take the Thai sweet & chili chicken wings.
Average cost per person: CNY100


Jinhongqiao Branch
Location: 1F, Jinhongqiao International Center, No. 179, Maotai Road


Shangcheng Road Branch
Location: No. 889, Shangcheng Road, Pudong New Area

8. Cheesecake Factory Shanghai
Chinese name: 芝乐坊餐厅 (zhī lè fǎng cān tīng)
Average cost per person: CNY200
Location: No. 720, Lane 225, West Shendi Road

9. Green & Safe
This restaurant offers American fast food in Shanghai.
Average cost per person: CNY200


Dongping Road Branch
Location: No. 6, Dongping Road


Xintiandi Branch
Location: 1F, No. 22, Xintiandi, Lane 181, Taicang Road


Hongqiao Tiandi Branch
Location: B1, Building E, Hongqiao Xintiandi, No. 17, Suhong Road


Gaodaowu Branch
Location: 4F, Gaodaowu, No. 1438, Hongqiao Road

10. The Isles Fish & Chips
Chinese name: 小岛鱼薯 (xiǎo dǎo yú shǔ)
Average cost per person: CNY150


Wujiaochang Wanda Plaza Branch
Location: 1F, Wanda Plaza, Wujiaochang, No. 600, Handan Road


Middle Huaihai Road Branch
Location: H1, No. 1, Middle Huaihai Road


Laifushi Square Branch
Location: 1F, East Zone, Laifushi Square, intersection of Changning Road and Kaixuan Road