Indian Food in Shanghai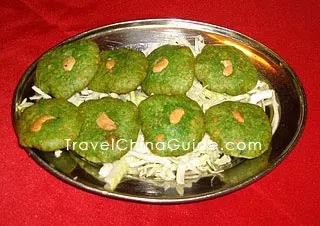 Hara Bara Kabab
Indian food features simple ingredients like chicken, mutton, seafood and vegetables. Its cooking methods are not complicated either. However, the uses of various spices make the dishes unique and delicious. Curry, cumin, pepper, red pepper and masala (a special mixed seasoning in India) are frequently used.

There are many Indian restaurants in Shanghai. Most of them are decorated in Indian style and play their traditional music. Authentic Indian food and drink are served, including curry and tandoori dishes, naans, samosas, yogurt and masala tea.
Recommended Restaurants:

Tandoor
Specialties: As the name suggests, it serves authentic tandoori food. Curry dishes and yogurt are worth trying. The special decor, appealing music and attentive service all offer its customers a memorable experience.
Operating hours: 11:30 - 14:00, 17:30 - 22:00
Average cost per person: CNY 100 - 200
Address: the lobby of the south building, Jinjiang Hotel, No. 59, South Maoming Road, Luwan District (near Changle Road)
Bus routes: Nos. 26, 146 (get off at Changle Road, South Shaanxi Road)
---

PUNJABI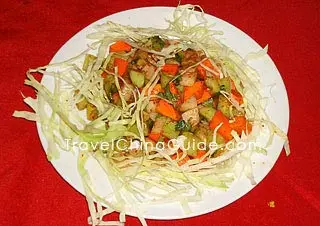 Aloo Ka Chaat
Specialties: PUNJABI serves authentic Indian food including naans, yogurt, curried mutton and chicken and tandoori food. A buffet dinner is available here! Indian music can also be enjoyed while dining.
Average cost per person: CNY 80 – 130
Meihua Road branch: Store no. 102, Expo Square, No. 1079, Meihua Road, Pudong New Area (near Fangdian Road)
Operating hours: 11:00 – 23:00
Bus/Metro routes: No. 1013 (get off at Meihua Road, Shinan Road); metro line 7 (get off at Huamu Road)
Middle Huaihai Road branch: 5F, No. 627, Middle Huaihai Road, Luwan District
Operating hours: 11:30 – 23:30
Bus routes: Nos. 42, 146, 167, 198, 320, 911, 920, 926, 986 (get off at Middle Huaihai Road, Sinan Road)
Hongmei Road branch: No. 203, Lane 3215, Hongmei Road, Minhang District
Operating hours: 10:30 – 23:30
Bus route: Gumei Ring Line (get off at Hongmei Road, Humin Road)
---

Indian Kitchen
Specialties: This is a popular restaurant with an open kitchen, allowing diners to clearly see the chefs cooking. The tender tandoori chicken and curry mutton with coconut milk are highly recommended. Also you can try the delicious naans, masala tea and yogurt.
Average cost per person: CNY 100 - 200
Pudong branch: No. 480, Minsheng Road, Pudong New Area
Operating hours: 11:00 – 14:30, 17:00 – 23:00
Bus routes: Nos. 639, 787, 819, 970 (get off at Shancheng Road, Minsheng Road); Nos. 522, 573, 790, 791, 794, 983 (get off at Minsheng Road, Shenjianong Road)
Hongmei Road branch: No. 8 Villa, 3911 Leisure Street, SOHO, No. 3911, Hongmei Road, Changning District Operating hours: 10:30 – 14:00, 17:00 – 23:00
Bus routes: Nos. 519, 757 (get off at Hongmei Road, West Yan'an Road)
---

Lin's Garden • East Muse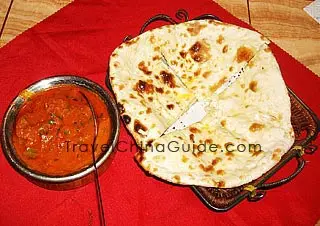 Chapati

Specialties: East Muse features numerous curry dishes. The diced beef, curry crab and curry prawn are worth a taste. Naans are also recommended! Since it is located in the Tangqiao Park, it is pleasant to enjoy the scenery over dining!
Operating hours: 11:00 – 22:00
Average cost per person: CNY 80 - 150
Address: inside of Tangqiao Park, No. 1260, Dongfang Road, Pudong New Area
Bus routes: Nos. 169, 219, 451, 583, 610, 639, 746, 785, 798, 819, 871, 936, 970, 989, 995, Pudong Line 11, Tunnel Line 9 (get
off at Dongfang Road, Eshan Road)
---

Bukhara Indian Grill & Lounge
Specialties: Through an open kitchen, customers can see theauthentic Indian food being cooked by Indian chefs. Curry, yogurt and naans should not be missed here. This restaurant is very popular with foreign diners.
Operating hours: 10:00 - 14:00, 17:00 - 22:00
Average cost per person: CNY 120 – 200
Address: No. 3729, Hongmei Road, Minhang District (near West Yan'an Road)
Bus routes: Nos. 519, 757 (get off at Hongmei Road, West Yan'an Road)
---

Masala Art Indian Cuisine
Specialties: Masala Art serves Indian dishes with thick sauces. Grilled fish with black pepper sauce, curried mutton, cheese with spinach and yogurt are truly delicious. Indian waiters provide excellent service. Its second floor is decorated Indian style!
Operating hours: 11:00 - 14:30, 17:00 - 22:30
Average cost per person: CNY 100 - 200
Dagu Road branch: No. 397, Dagu Road, Jing'an District (near Chengdu Road)
Bus routes: Huqing Express Line, Huzhu Special Line (get off at North Old Chengdu Road, Dagu Road); Nos. 36, 253, 869 or Nanxin Special Line (get off at North Chengdu Road, East Yan'an Road); Pudong Airport (PVG) Shuttle Bus Line 5 (get off at Middle Yan'an Road, East Yan'an Road (only available for the trip from PVG to the downtown))
Kangding Road branch: No. 1018, Kangding Road, Putuo District
Bus route: No. 23 (get off at Kangding Road, Wanchun Street)
---

Vedas Indian Cuisine & Lounge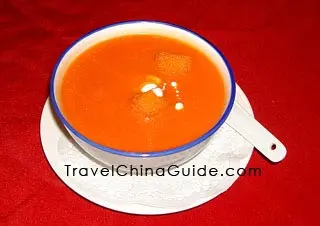 Tomato Soup
Specialties: As a pure Indian restaurant in Shanghai, Vedas serves distinctive barbecue, curry, naans and desserts. Roasted lamb chops and grilled chicken cannot be missed.
Operating hours: 11:30 - 14:00, 17:30 - 23:00 (last order should be before 22:30)
Average cost per person: CNY 100 – 200
Address: 3F, No. 83, Changshu Road, Jing'an District (near Julu Road)
Bus/Metro routes: Nos. 15, 40, 45, 49, 93, 94, 315, 321, 327, 824, 830, 927 (get off at Changshu Road, Huashan Road); No. 40 (get off at Changle Road, Changshu Road); metro line 7 (get off at Changshu Road to walk around 360 meters (394 yards) from
exit 8)
---

Kaveen's Kitchen
Specialties: This is a small but comfortable restaurant. Waiters wear traditional Indian costumes. Dishes have a typical northern Indian style. Tandoori chicken, naans, curry samosas and yogurt are recommended.
Operating hours: 11:30 - 15:00, 17:30 - 23:30
Average cost per person: CNY 80 - 150
Address: 2F, No. 231, Huashan Road, Jing'an District
Bus/Metro routes: Nos. 45, 48, 93, 94, 113, 327, 328, 824, 830, 927 (get off at Huashan Road, Middle Yan'an Road); Nos. 71, 311, 548, 925, 936, Huqingying Special Line, Huzhu Special Line, Pudong Airport Shuttle Bus Line 6 (get off at West Yan'an Road, Huashan Road); subway line 2 (get off at Jing'an Temple to walk around 330 meters (361 yards) from exit 5)
---

Kebabs on the Grille
Specialties: Tandoori dishes, creamy gravies, rice, dals and authentic Indian desserts are mouthwatering here. It offers an exciting experience with grilled Indian cuisine.
Operating hours: 11:30 - 21:30
Average cost per person: CNY 100 - 150
The Bund branch: inside of the Cool Docks, No. 505, South Zhongshan Road, Huangpu District
Bus routes: Nos. 55, 65, 305, 324, 576, 736, 801, 868 (get off at South Zhongshan Road, East Fuxing Road); No. 930 (get off at Baidu Road, South Zhongshan Road)
People's Square branch: 1F, Central Plaza, No. 227, North Huangpi Road, Huangpu District (near West Nanjing Road)
Bus routes: Nos. 23, 49 (get off at Wusheng Road, North Huangpi Road); No. 109 (get off at Weihai Road, North Huangpi Road)
Biyun Road branch: inside of Green Sports & Leisure Center, No. 633, Biyun Road, Pudong New Area
Bus route: No. 987 (get off at Biyun Road, Yunshan Road)
---

Lotus Land Indian Foods
Specialties: Authentic Indian food served here include tandoori chicken, lotus land barbecue special, creamy gravies with red, yellow and green sausages, all kinds of naans, Biryani, home-made yogurt and masala tea.
Operating hours: 11:00 - 23:00
Average cost per person: CNY 100 - 150
Address: No. 12 (Tianzifang), Lane 274, Taikang Road, Luwan District (near Ruijin 2nd Road)
Bus/Metro routes: Nos. 17, 24, 04, 864 (get off at Middle Jianguo Road, Ruijin 2nd Road); subway line 9 (get off at Dapuqiao and then walk around 100 meters (109 yards) from exit 1)
---

Bollywood
Specialities: It serves delicious Indian food including vegetable samosa, chicken tikka, mutton seekh kabab, butter chicken, roti, lassi, rice pudding and masala tea.
Operating hours: 11:00 - 23:00
Average cost per person: CNY 80 - 150
Address: No. 326, Hongfeng Road (near Biyun Road), Pudong New District
Bus routes: Nos. 609, 1052 (get off at Hongfeng Road, New Jinqiao Road)
---

Saffron
Specialties: With fabulous decor and pleasant music, this restaurant offers classical and modern Indian delicacies including tandoori chicken, chicken tikka, salmon tikka, tandoori brocolli, lamb tikka, saag curry, vindaloo curry, goan curry, tikka masala curry and saffron cream curry. There are usually many foreign diners here.
Operating hours: 11:00 – 14:00, 17:30 – 22:30
Average cost per person: CNY 120 - 250
Address: No. 21, Dongping Road, Xuhui District (near Hengshan Road)
Bus routes: No. 816 (get off at Dongping Road); No. 93 (get off at South Urumqi Road, Dongping Road); Nos. 15, 167, 198, 315, 824, 830, 927 (get off at Hengshan Road, Middle Fuxing Road)
---

Grand Taj
Specialties: Decorated in Indian Style, the waiters, chefs and many customers are from India. Naans and curry dishes are worth a try. Over dining, you can also enjoy Indian dance and music here. On weekdays, they serve buffet lunch at the cost of CNY40 per person, pretty reasonable!
Operating hours: 11:00 – 14:30, 17:00 – 22:30
Average cost per person: CNY 40 – 100
Address: Lane 555, Gubei Road, Changning District (near Xianxia Road)
Bus routes: Nos. 69, 309 (get off at Loushanguan Road, Xianxia Road); No. 69, 158 (get off at Gubei Road, Xianxia Road)
---

G Water Front
Specialties: King crabs, puddings and yogurt are recommended. There are also menus for vegetarians. From the windows, there is a great view of the Huangpu River. Additionally, free WIFI is available here!
Operating hours: 11:30 – 14:00, 17:30 – 23:00
Average cost per person: CNY 100 - 200
Address: Room no. 112, 206, Warehouse 3, the Cool Docks, No. 601, Waimalu, Huangpu District
Bus routes: Nos. 55, 65, 305, 324, 576, 581, 736, 801, 868 (get off at South Zhongshan Road, Dongjiadu Road)