Vegetarian Diet in Shanghai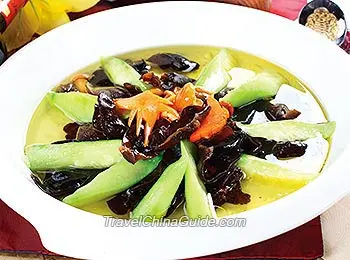 Braised Sponge Gourd with Black Fungus
An increasing number of people choose to be vegetarians throughout the world. Aside from the original reasons of religion, animal protection and environmental protection, people now believe that this sort of diet has many other benefits.

A vegetarian diet is healthy. It is proved to lower blood pressure and cholesterol. As a result, it is effective in reducing heart disease and cancer. The glutamate and vitamin B in the diet help activate one's brain and enhance one's concentration. Vegetarian diet also benefits beauty to help people lose weight and smooth and soften one's skin.

As an international metropolis, Shanghai attracts a large number of visitors including many vegetarians, so vegetarian restaurants have become increasingly popular in the city. The maigre diet is tasty and usually at a comparatively low price. Various Chinese and western vegetarian dishes satisfy all the vegans, lacto-ovo & lacto vegetarians, semi-vegetarians and fruitarians.

Recommended Vegetarian Restaurants:

Chunfeng Songyue Restaurant
Specialties: Located near the Old Town God Temple, this restaurant is very popular with visitors after visiting the temple. It serves vegetarian dishes, noodles and snacks. The vegetable stuffed buns and eight treasures in hot sauce are highly recommended.
Operating hours: 11:00 - 20:00
Average cost per person: CNY 20 - 60
Address: No.99, Jiujiaochang Road, Huangpu District
Bus routes: Nos. 66, 306, 929, 969, 980 (get off at South Henan Road Fuyou Road)
---

Godly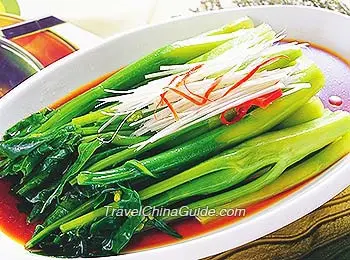 Specialties: This is an old vegetarian restaurant in Shanghai, decorated in traditional Chinese style. The quiet and pleasant environment makes it popular with many seniors. You are recommended to taste the maigre duck, tofu with crab meat, Godly chow mien and fried fish slices with distilled grains sauce.
Average cost per person: CNY 40 – 120
Life Hub @ Jinqiao branch: No. 309, building no. 8, Life Hub @ Jinqiao, No. 3611, Zhangyang Road, Pudong New Area
Operating hours: 11:00 – 22:00
Bus routes: Nos. 573, 874, 991, Shangchuan Special Line (get off at Jinqiao Road Zhangyang Road); No. 993, Pudong Line 6, Shilao Special Line (get off at North Zhangyang Road Jinqiao Road)
West Nanjing Road branch: No. 445, West Nanjing Road, Huangpu District (near North Chengdu Road)
Bus routes: Nos. 20, 112, 330, 921 (get off at West Nanjing Road North Chengdu Road); Nos. 36, 869, 933, 974, Hujia Special Line (get off at North Chengdu Road West Nanjing Road)
Carlton Building branch: 2F, Carlton Building, No. 21, Huanghe Road, Huangpu District
Operating hours: 11:00 – 14:00, 17:00 – 20:30
Bus/Metro routes: Nos. 20, 37, 330, 921 (get off at Jiujiang Road, Huanghe Road); No. 451 (get off at West Nanjing Road Middle Xizang Road); metro line 2 (get off at People's Square and walk out from exit 8)
Shanghai South Long-distance Bus Station branch: 2F, Shanghai South Long-distance Bus Station, No. 399, Laohumin Road, Xuhui District
Bus routes: Nos. 144, 164, 315, Nanchuan Bus Line, Nannan Bus Line, Shangfeng Special Line, Shangjia Bus Line, Shangzhu Bus Line (get off at South Long-distance Bus Station (the south square)); No. 180, 718, 820 (get off at North Longchuan Road Shilong Road)
Other branches:
Huijin Department Store branch: B2, Huijin Department Store, No. 900, Tianshan Road, Changning District
Nandan Road branch: No. 350, Nandan Road, Xuhui District
Wukang Road branch: No. 303, Wuyuan Road, Xuhui District
---

Lucky Zen Vegetarian Restaurant
Specialties: It is exquisitely decorated to show a pleasant environment for the diners. Dishes served are mainly made of mushrooms.
Operating hours: close on Mondays; 11:00 – 21:00 from Tuesday to Sunday
Average cost per person: CNY 50 – 100
Address: 2F, Madang Road, Luwan District, Luwan District (near Hefei Road)
Bus route: No. 146 (get off at Madang Road East Jianguo Road)
---

Vegetarian Life Style
Specialties: This restaurant serves tasty and healthy vegetarian food without MSG. Jujube jelly and Chang Xiang Si (eternal love), a sausage-like dish, are worth trying. Its Yuanshen Sports Center branch provides delivery service.
Operating hours: 11:00 - 14:00, 16:00 - 21:00
Average cost per person: CNY 50 - 120
Jiangning branch: No. 258, Fengxian Road, Jing'an District (the intersection with Nanhui Road)
Bus/Metro routes: Nos. 15, 21, 41, 112, 301, 315, 927, 955 (get off at West Beijing Road Taixing Road); Nos. 23, 112 (get off at Jiangning Road West Nanjing Road); metro line 2 (get off at West Nanjing Road and walk out from exit 1)
Huaihai branch: 1F, Shanghai Palace, No. 77, Songshan Road, Huangpu District (near Middle Huaihai Road)
Bus routes: Nos. 42, 167, 320, 911, 920, 926, 932 (get off at Middle Huaihai Road Songshan Road); No. 109 (get off at South Huangpi Road Middle Huahai Road); Nos. 109, 581, 781, 932, Tunnel Line 8 (get off at Songshan Road Middle Huaihai Road)
Yuanshen Sports Center: 3F, north area of Yuanshen Sports Center, No. 1458, Zhangyang Road, Pudong New Area
Bus/Metro routes: Nos. 169, 170, 339, 630, 736, 783, 790, 791, 961, Pudong Line 21 (get off at Zhangyang Road Taolin Road); subway line 6 (get off at Yuanshen Sports Center and walk out from exit 2)
---

New Age Veggie
Specialties: The decoration of this restaurant definitely shows the vegetarian culture. Dishes here that taste good include Bibimbap, eggless veggie cake and vegan steak. For years, New Age Veggie keeps the convention of no wine, no smoking, no meat, no egg and no spicy & hot flavor to attract many vegans.
Operating hours: 11:00 - 22:00
Average cost per person: CNY 60 – 130
Address: 5F, No. 988, Middle Huaihai Road, Xuhui District
Bus/Metro routes: Nos. 24, 41, 104, 146, 301, 304, 955 (get off at South Shaanxi Road Middle Huaihai Road); Nos. 42, 167, 198, 320, 911, 920, 926 (get off at Middle Huaihai Road South Shaanxi Road)
---

Jade Buddha Temple Vegetarian Restaurant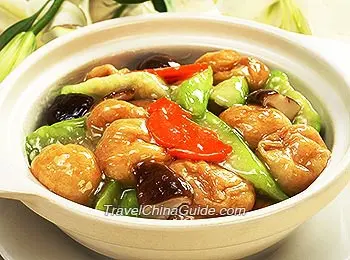 Braised Wheat Gluten and
Vegetable en Casserole
Specialties: It is a good choice for vegan dining after visiting the Jade Buddha Temple. Vegetarian dishes, snacks and noodles are served here. It is inexpensive if you only have noodles. Noodles with double-sort mushrooms are most popular, for which you may need to line up!
Operating hours: 06:30 – 20:30 (last order should be no later than 20:00.)
Average cost per person: CNY 15 – 80
Address: No. 999, Jiangning Road, Putuo District (near Anyuan Road)
Bus routes: Nos. 19, 206, 316, 328, 738 (get off at Jiangning Road Anyuan Road); Nos. 76, 113 (get off at Changhua Road Anyuan Road)
---

Longhua Temple Vegetarian Restaurant
Specialties: It is famous for its delicious vegetarian noodles. The maigre duck, chicken and ham are also tasty. In addition, it sells some packaged vegan products.
Operating hours: 09:00 – 17:00
Average cost per person: CNY 15 – 50
Address: inside Longhua Temple, No.2787, Longhua Road, Xuhui District
Bus/Metro routes: No. 933 (get off at Longhua Station);
metro
line 11 (get off at Longhua)
---

Pure & Whole
Specialties: This is a western style vegetarian restaurant. Organic vegetables and fruits are the major ingredients! You are highly recommended to taste the matchstick spaghetti, spring rolls, vegan hamburger and natural salad.
Average cost per person: CNY 70 – 150
West Nanjing Road branch: room no. 104, No. 1376, West Nanjing Road, Jing'an District
Operating hours: 11:00 – 21:00
Bus routes: No. 206 (get off at Xikang Road West Nanjing Road); No. 323 (get off at Tongren Road West Nanjing Road)
Kerry Parkside branch: Room no. B111, Kerry Parkside, No. 1378, Huamu Road, Pudong New Area
Operating hours: 11:30 – 21:30
Bus/Metro routes: No. 1013 (get off at Meihua Road Shinan Road); Huamu Line 1 (get off at Fangdian Road Huamu Road);
metro
line 7 (get off at Huamu Road and walk out from exit 5)
Yanping Road branch: building C, No. 98, Yanping Road, Jing'an District
Operating hours: 11:30 – 22:00 (delivery service from 11:30 to 21:00)
Bus routes: Nos. 40, 93, 113, 328, 830 (get off at Xinzha Road Yanping Road); Nos. 23, 93 (get off at Wuding Road Yanping Road); No. 136 (get off at Xinzha Road Jiaozhou Road)
---

Veggie Dot
Specialties: This restaurant is exquisitely decorated, showing a purple hue. Mexican Tostada, Italian vegetable soup and VeggieDot special baked lavender rice are worth trying.
Operating hours: 11:00 – 21:00
Average cost per person: CNY 50 - 120
Address: No. 1196, West Beijing Road, Jing'an District
Bus routes: Nos. 15, 21, 315, 927 (get off at West Beijing Road North Shaanxi Road); Nos. 24, 104, 206, 304 (get off at North Shaanxi Road West Beijing Road)
---

IVegan
Specialties: The dishes here are very delicious so that people usually need to queue, but not for long! You are recommended to taste the shish kebab with cumin, which actually is made from vegan materials. Chinese yam with blueberry sauce is also its signature dish.
Operating hours: 11:00 – 14:00, 17:00 – 21:00
Average cost per person: CNY 50 - 100
Address: No. 87, Songlin Road, Pudong New Area (between Zhangyang Road and Shangcheng Road)
Bus/Metro routes: No. 975 (get off at Yuanshen Road Shangcheng Road); subway line 6 (get off at Yuanshen Sports Center and get out from exit 4)