10 Best Vegetarian Restaurants in Shanghai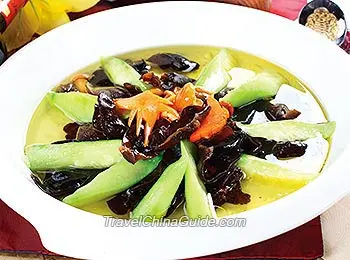 Braised Sponge Gourd with Black Fungus
An increasing number of people choose to be vegetarians throughout the world. Aside from the original reasons of religion, animal protection and environmental protection, people now believe that this sort of diet has many other benefits. As an international metropolis, Shanghai attracts a large number of visitors including many vegetarians, so vegetarian restaurants have become increasingly popular in the city. The maigre diet is tasty and usually at a comparatively low price. Various Chinese and western vegetarian dishes satisfy all the vegans, lacto-ovo & lacto vegetarians, semi-vegetarians and fruitarians.

10 Best Vegetarian Restaurants in Shanghai
1. Chunfeng Songyue Restaurant
Chinese name: 春风松月楼 (chūn fēng sōng yuè lóu)
Located near the Old Town God Temple, this restaurant is very popular with visitors after visiting the temple. It serves nice vegan food, noodles and snacks. The vegetable stuffed buns and eight treasures in hot sauce are highly recommended.
Average cost per person: CNY30
Location: No.23, Bailing Road
2. Godly Restaurant
Chinese name: 功德林 (gōng dé lín)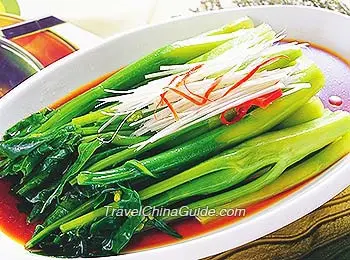 As one of the 10 best vegetarian restaurants in Shanghai, it is decorated in traditional Chinese style. The quiet and pleasant environment makes it popular with many seniors. You are recommended to taste the maigre duck, tofu with crab meat, Godly chow mien and fried fish slices with distilled grains sauce.
Average cost per person: CNY70

West Nanjing Road Branch
Location: No. 445, West Nanjing Road, Huangpu District (near North Chengdu Road)

Wukang Road Branch
Location: No. 303, Wuyuan Road, Xuhui District

Wuyuan Road Branch
Location: No. 82, Wuyuan Road

South Yunnan Road Branch
Location: No. 10, South Yunnan Road
3. Lucky Zen Vegetarian Restaurant
Chinese name: 吉祥草 (jí xiáng cǎo)
It is exquisitely decorated to show a pleasant environment for the diners. Vegan food served are mainly made of mushrooms.
Average cost per person: CNY85
Address: 2F, No. 428, Madang Road, Luwan District, Luwan District (near Hefei Road)
4. Vegetarian Lifestyle Shanghai
Chinese name: 枣子树 (zǎo zi shù)
This restaurant serves tasty and healthy vegan food without MSG. Jujube jelly and Chang Xiang Si (eternal love), a sausage-like dish, are worth trying. Its Yuanshen Sports Center branch provides delivery service.
Average cost per person: CNY100 - CNY150

West Nanjing Road Banch
Location: No. 258, Fengxian Road, Jing'an District (the intersection with Nanhui Road)

Middle
Huaihai Road Branch
Location: 1F, Shanghai Palace, No. 77, Songshan Road, Huangpu District (near Middle Huaihai Road)

Yuanshen Sports Center
Location: 3F, north area of Yuanshen Sports Center, No. 1458, Zhangyang Road, Pudong New Area

5. Jade Buddha Temple Vegetarian Restaurant
Chinese name: 玉佛寺素斋 (y
ù fó sì sù zhāi
)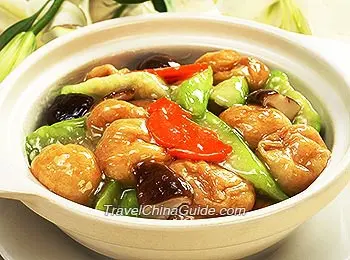 Braised Wheat Gluten and
Vegetable en Casserole
It is a good choice for vegan dining after visiting the Jade Buddha Temple. Vegetarian dishes, snacks and noodles are served here. It is inexpensive if you only have noodles. Noodles with double-sort mushrooms are most popular, for which you may need to line up!
Average cost per person: CNY30
Location: No. 999, Jiangning Road, Putuo District

6. Longhua Temple Vegetarian Restaurant
Chinese name: 龙华素食 (l
óng huá sù shí
)
It is famous for its delicious
vegan in Shanghai
. The maigre duck, chicken and ham are also tasty. In addition, it sells some packaged vegan products.
Average cost per person: CNY30

Longhua Temple Branch


Location: inside Longhua Temple, No. 2787, Longhua Road, Xuhui District




Yuanming Branch
Location: No. 156, Zhenning Road

Chinese name: 素宿 (s
ù sù
)
This is a western style vegetarian restaurant. Organic vegetables and fruits are the major ingredients! You are highly recommended to taste the matchstick spaghetti, spring rolls, vegan hamburger and natural salad.
Average cost per person: CNY120

West Nanjing Road Branch
Location: Room no. 104, No. 1376, West Nanjing Road, Jing'an District

Kerry Parkside Branch
Location: Room no. B111, Kerry Parkside, No. 1378, Huamu Road, Pudong New Area

Average cost per person: CNY80
Location: 1F, No. 388, South Shanxi Road

Chinese name: 蔬事 (shū shì)
Average cost per person: CNY90

Xingye Taiguhui Branch: No. 789, West Nanjing Road

Kaide Branch: No. 268, Xujiahui Road

Shimao Guangchang Branch: No. 829, East Nanjing Road
10. Da Shu Wu Jie Vegetarian Restaurant
Chinese name: 大蔬无界 (d
à shū wú jiè
)
Average cost per person: CNY250


Location: No. 392, Tianping Road, Xujiahui
- Last modified on Oct. 15, 2018 -