Top 10 Shanghai Street Food
Refreshments and snacks from all over China and the world are available in Shanghai. The top 10 Shanghai street food have their specialties and should not be missed. The following are some typical Shanghai snacks and recommended restaurants for your reference:

Top 10 Street food in Shanghai
1. Nanxiang Steamed Stuffed Bun (Nan Xiang Xiao Long Bao)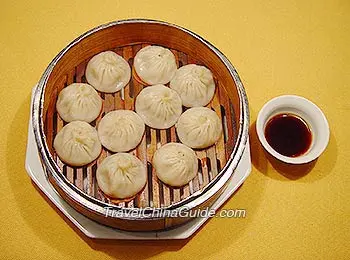 It is a famous and popular one originating from Nanxiang Town in the northern Jiading District of the city. Dating back over 100 years, Nanxiang Steamed Stuffed Bun features the typical Shanghai flavor. It is famous for its thin wrap, big stuffing, strong flavor and tender meat.
Besides the use of refined flour and pork, Nanxiang Steamed Stuffed Bun has many special ingredients. Water, salt, sugar, soy, sesame and ginger are added to make the stuffing. Even without MSG, shallot or garlic, the buns stay fresh with a delicious flavor. The main pork stuffing is mixed with various seasonal ingredients: bamboo shoot for spring, shrimp for summer and crab for autumn. It's hard to believe that the stuffing is two times larger than the wrap. Miraculous, isn't it?
The prepared buns with translucent thin wraps are as small as water chestnuts. The appealing appearance of the buns may make you feel hungry. However, if you are hasty you will probably be hurt by the hot buns. Here are tips for tasting it: bite carefully, sip the soup and dip into special Zhenjiang vinegar. "Wow, yummy!" is then an understandable reaction.
The Hong Kong film Leaving Me Loving You, featuring Hong Kong pop stars Leon Lai and Faye Wong, made this snack known to a wider audience.

Recommended places to try Nanxiang Steamed Stuffed Bun:
Guyiyuan: No.238, Guyiyuan Road, Nanxiang Town, Jiading District
Nanxiang Mantou Restaurant: No. 85, Yuyuan Road, Huangpu District

2. Crab-Yellow Pastry (Xie Ke Huang)
This round yellow pastry looks like the shell of a cooked crab, therefore it is named Crab-Yellow Pastry. The main raw material is oil-mixed dough. The dough is split into small pieces, stuffed and squashed to form a flat round cake. It is then wrapped with a layer of sesame and finally baked in an oven.
The Crab-Yellow Pastry usually has a salty or sweet flavor. The salty pastries are stuffed with shallot oil, pork, crab or shrimp; the sweet ones with sugar, roses, sweetened bean paste or Chinese date paste.
The prepared pastries are crisp and tasty. As early as the beginning of 20th century, this snack prevailed in local teahouses. Today the Crab-Yellow Pastry becomes increasingly popular with the locals.

You can try this best street food in Shanghai Wuyuan Bakery:
No. 255, Yanping Road, Jing'an District
No.1530, West Beijing Road, Jing'an District

3. Fried Stuffed Bun (Sheng Jian Man Tou)
As one of a top 10 Shanghai street food with nearly 100 years' history, it is a typical indigenous snack of Shanghai. The wraps of the buns are made of semi-fermented paste, and the stuffing is made of pork, shallot, ginger, soy, pepper, and sesame oil. The stuffed buns are put in rows in a big pan and fried, being sprayed with water several times during cooking. Finally, sesame and shallot are sprinkled on the buns, and then the wonderful Fried Stuffed Buns are prepared!
With a thin and soft wrap, a golden-colored and crispy bottom, and delicious meat, it tastes best when served hot.
Fried Stuffed Buns were first served in many teahouses. Special fried stuffed bun restaurants began to appear in 1930s. At present, there are hundreds of such restaurants. The stuffing is varied to include chicken, crab and shrimp.

Recommended places to try Fried Stuffed Bun:
Xiaoyang Shengjian (Yang's Fry Dumpling): No. 54 and No. 60, Wujiang Road, Jing'an District
Fengyu Shengjian Eatery: No. 48, Guangling 2nd Road, Hongkou District
Youlian Shengjian: No. 45, Xinzha Road, Putuo District
Feilong Shengjian: 1F, Dongtai Plaza, No. 2002, North Sichuan Road, Hongkou District
Dahuchun Eatery: No. 4-6, Lane136, Pudong Avenue, Pudong New Area

4. Chop Rice Cake (Pai Gu Nian Gao)
Chop Rice Cake is an economic and distinctive snack in Shanghai. It can be regarded as one of the most authentic Shanghai snacks. It is a fried dish mainly made of a big pork chop and rice cakes. There are two restaurants that are famous for Chop Rice Cake - Shuguang (formerly known as Xiao Chang Zhou) and Xi'an De Lai. They have been famous since the 1930s. Chop Rice Cakes offered by them are prepared in completely different ways therefore each has its own unique taste. It is hard to tell which is better. So better to taste both!
Locations of the two restaurants:
Shuguang: at the intersection of Middle Sichuan Road and Fuzhou Road, Huangpu District
Xi'an De Lai: No. 69, South Yunnan Road, Huangpu District

5. Vegetable Stuffed Bun (Su Bao Zi)
As the name suggests, this is without meat but the flavor is not reduced at all. For veggies, these buns, stuffed with greengrocery, mushroom, bamboo shoots and dried bean curd, are a good choice.

Where to taste:
Chunfeng Songyue Vegetarian Restaurant: No.99, Jiu Jiaochang Road, Huangpu District (near Bailing Road)

6. Leisha Dumpling (Lei Sha Yuan)
This is a kind of glutinous rice dumpling stuffed with meat, sweetened bean paste, or sesame. Covering with a layer of adzuki bean powder, it is tastier and keeps longer.

Where to taste:
Qiaojiashan Snack Store: No. 313, South Xiangyang Road, Xuhui District

7. Won Ton (Hun Dun)
Won Ton is one the list of Top 10 Shanghai Street Food. Shanghai people, in particular, have a very clear opinion dividing won tons into big ones and small ones. The big ones are stuffed with shepherd's purse and pork while the small ones are stuffed with meat alone. A half kilo of wrapping is sufficient for 50 big won tons or 70 small ones. So you can imagine how thin the wrap is! The soup is also a key element. Generally, broth is for the big won tons and chicken soup for the small ones.

Recommended Restaurant:
Jin Shifu Won Ton: No. 78, Sinan Road, Huangpu District

8. Date Paste Pastry (Zao Ni Su Bing)
Date Paste Pastry, one of a best street food in Shanghai, is made of pastry and black dates. Its golden color, exquisite shape, crisp skin and sweet flavor are welcomed by Hong Kong, Macau and Japanese tourists.



Recommended Restaurant:
Lu Xi He: No. 1543, North Sichuan Road

9. Gaoqiao Muffin (Gao Qiao Song Bing)
Shanghai Gaoqiao Muffin is a delicious Shanghai cuisine. It is produced in Gaoqiao Town, Shanghai, China with refined white powder, cooked lard, white sugar, red beans, sweet-scented osmanthus as raw materials.



Recommended Restaurant:
Wang Tai He Gao Qiao Muffin: No. 53, Datong Road

10. Yangchun Noodles (Plain Noodles)
Yang Chunmian is one of a type of Su-style noodle, also called plain noodles or smooth noodles. It is a famous and traditional pasta snack in the Jiangnan region, becoming a major feature of Shanghai nowadays.



Recommended Restaurant:
Yi Gui He Yangchun Noodles: No. 290, Ji'an Road

In addition to the above, there are many other snacks worth trying, including Sauced Cold Noodles, Glutinous Rice Dumpling, Fruit Sponge Cake, Cream Spiced Beans, and Mint Cake. In some ancient towns of the region such as Qibao in Minhang District, Zhujiajiao in Qingpu District, and Fengjing in Jinshan District, you can also try many snacks of a distinctive flavor.
- Last updated on Nov. 22, 2019 -
Questions & Answers on Top 10 Shanghai Street Food
Asked by kambalah from PHILIPPINES | Oct. 12, 2015 01:10

Reply
Hi, what subway line shall I ride going to old city God temple street in Shanghai? Ty
Answers (1)
Answered by Harrison from SPAIN | Oct. 12, 2015 02:41

0

0

Reply
Take subway line 10 and get off at Yuyuan Station. Leave from exit 3 and walk to the snack street.
Asked by Ho Li Yoke-Olivia | Jun. 09, 2015 03:00

Reply
Jia Jia Tangbao- Good xialongbao in Shanghai?
Hi,

I been googling. Seems like alot people recommend Jia Jia Tangbao for xiaolongbao.

Is it really Good? Any other nearby eateries to try around Jia Jia Tangbao?

I am staying at Ramada Encore Shanghai, 555 Gongkang Road. Any recommendation for nearby eateries also welcome.
Answers (3)
Answered by Wendy from ICELAND | Jun. 09, 2015 22:20

1

0

Reply
Yes, it is really good, delicious and fresh. The nearest Jiajia Tangbao is located at No. 388 of Xijiangwan Road, Hongkou District. You can take a taxi from the hotel to reach there, and there cost is about CNY35.

As I know, just right in your hotel, there are favorable food provided, maybe you can have a try.

Answered by Ho Li Yoke-Olivia | Jun. 10, 2015 07:07

0

1

Reply
Hi Wendy,

Might you by any chance know the nearest Yang's Fry Dumplings branch from Shanghai Ramada encore hotel ; 555 Gongkang Road
Answered by Windy from ICELAND | Jun. 14, 2015 01:49

0

0

Reply
I only know one restaurant located at No. 188-27 of Jinxian Road. It is quite far from your hotel. You can walk to Gongkang Road subway station to take the line 1 to People's Square, where you can transfer to line 2 to Chuansha Station. Take the Exit 1 and walk about 0.9 miles to the restaurant. In case of getting lost, you can take a taxi to reach.

Actually, if you really like to eat dumplings, you are suggested to go to Old City God temple, there you can find fry dumplings.
Asked by meisnack edi from MALAYSIA | Aug. 27, 2012 11:00

Reply
We will be staying at 719 East Nanjing Road. Please name some local restaurants with local snacks.
Answers (1)
Answered by Emily | Aug. 27, 2012 23:12

0

0

Reply
I know one named Carnation located at No. 505 of Nanjing Road Pedestrian.
Asked by Ms.Tu from USA | Dec. 26, 2010 18:03

Reply
Hi there, I'm currently visiting Shanghai from NY city for the first time and I'd like to bring back some local food/snacks to my American colleagues. Can you recommend some favorable and distinctly snacks or packaged food products that they can appreciate? If would be preferable that they are not easily perishable thru the journey back to the US. Thanks!
Answers (3)
Answered by Ms.ICEBLUE from CHINA | Dec. 26, 2010 20:08

0

1

Reply
For snacks, you should not miss Crab-Yellow Pastry, Chop Rice Cake, Leisha Dumpling, Fruit Sponge Cake, Cream Spiced Beans, and other things. But, all of these are better for you to eat on spot. If you want to bring to your country, you'd better to go to the supermarket to buy the packaged local food product, like Spiced Dry Bean and Li Gao (pear paste) sugar.
Answered by Ms.Tu from USA | Dec. 27, 2010 10:01

0

0

Reply
Thanks for the suggestions. I certainly would like to try most of these authentic local snacks out. Do you recommend any particular marketplace for these local packaged food products?
Answered by Cindy from INDONESIA | Jun. 13, 2015 19:49

0

0

Reply
The best place for the snacks is the Old City God Temple Street, where you can find all the famous snakcs.