10 Best Chinese Foods for First-time Visitors to China
A large amount of non-Chinese think the best Chinese dishes are General Tso's Chicken, Sautéed Beef with Sesames, and so on. However, these dishes are not popular in China at all. Here, we list the 10 best Chinese foods recognized by many locals. Remember to try them when you come to China.

Chinese Name: 北京烤鸭 běi jīng kǎo yā


Flavor: salty, crispy, sweet

Peking Roast Duck is a must-eat food in Beijing, China. The process of eating the roast duck is somehow ceremonially ritual. The chef will present the whole roast duck in front of you and then slice it. A Peking Roast Duck can be cut into 120 thin slices, each with both tender duck meat and crispy skin. After, you can pick up a lotus-leaf-like pancake, wrap in several slices of duck dipped with sauce, shallot shreds and cucumber shreds and enjoy. Where to eat Peking Roast Duck? The most famous is Quanjude Restaurant; Bianyifang is affordable for most people; and Da Dong is higher-ended.
| | |
| --- | --- |
| Peking Roast Duck | Red Braised Pork |
2. Red Braised Pork

Chinese Name: 红烧肉 hóng shāo ròu


Flavor: salty, sweet

Red Braised Pork is titled the best Chinese food by many locals and non-Chinese who once tried it. It was also the favorite of Chairman Mao Zedong. Although the cooking methods differ from one place to another, all taste juicy but not greasy. The cooked dish has a red brownish color, which has an auspicious meaning of prosperity and happiness in Chinese culture, hence a must in family reunion dinner on Chinese New Year's Eve. Chinese people eat it commonly in daily life as well.



Read more: Recipe - How to Make Red Braised Pork
3. Kung Pao Chicken

Chinese Name: 宫保鸡丁 gōng bǎo jī dīng


Flavor: aromatic and spicy, sour, a little sweet

Kung Pao Chicken is one of the best Chinese dishes with great notability and is a representative of Sichuan cuisine. It tastes spicy, sour, sweet and salty with a fresh chicken flavor. The price is cheap so that everyone can afford it. In addition to chicken, the other common ingredients are peanuts and shallots.



Read more: Recipe - How to Make Kung Pao Chicken
| | |
| --- | --- |
| Kung Pao Chicken | Steamed Dumplings |
4. Dumplings

Chinese Name: 饺子 jiǎo zi


Flavor: salty, sour, spicy…

Dumplings are the best-known Chinese traditional food worldwide. It is a must food on Chinese New Year, Winter Solstice and other traditional Chinese festivals. When you come to China, dumplings cannot be missed. The fillings can be various meat and vegetables. The most frequently used cooking method is boiling and people eat boiled dumplings with dipping sauce or together with sour soup. In addition to boiled ones, the pan-fried and steamed dumplings are also yummy. Last but not least, if you pay a visit to Xi'an, a variety of fancy dumplings in Xi'an Dumplings Banquet are also worth trying.



Read more: Recipe - How to Make Chinese Dumplings

5. Hot Pot

Chinese Name: 火锅 huǒ guō


Flavor: spicy and salt mostly, umami...

Hot Pot is one of the best Chinese foods that is popular all over China. Various food materials can be boiled in hot pot, including meats, seafood, vegetables, mushrooms, bean products, egg foods and different vermicelli made from bean, potato or sweet potato, etc. You can take the well-boiled food out from boiling soup and eat them directly, or dip some sauce then eat. There are many kinds of hot pot in China. If you love spicy food, you should try the Sichuan Hot Pot. If you like mutton, the Old Beijing Instant-Boiled Mutton Hot Pot is your best choice. If you prefer light flavor, Chaoshan Beef Hot Pot is suitable for you…

6. Ma Po Tofu

Chinese Name: 麻婆豆腐 má pó dòu fu


Flavor: numb and spicy, salty

Ma Po Tofu is also one of the best Chinese dishes belonging to Sichuan cuisine, extremely popular both at home and abroad. Cooked with thick broad-bean sauce, soft tofu, beef or pork mince, chili and peppercorns, it has the obvious flavor of numb and spicy. It is a hot dish that demands you to eat when it is still warm, unless it has not the taste as good as the hot ones.



Read more: Recipe - How to Make Ma Po Tofu

7. Sweet and Sour Pork

Chinese Name: 咕噜肉 gū lu ròu


Flavor: sweet and sour

Sweet and Sour Pork is popular among both Chinese and non-Chinese. This dish is cooked ingeniously: the outermost layer is covered by sugar and vinegar sauce, so it tastes sweet and sour. The meat inside is starched with flour and then deep-fried, crispy outside and tender inside. You will fall in love with its rich taste once you make the first bite. Sweet and Sour Pork is a pleasant dish that can be matched with other food, such as pineapple, apple and tomatoes. The most popular one is Sweet and Sour Pork with Pineapple.
| | |
| --- | --- |
| Sweet and Sour Pork | Barbecue and Skewers |
8. Barbecue and Skewers

Chinese Name: 烧烤、烤串儿 shāo kǎo, kǎo chuàn ér


Flavor: spicy, numb and spicy, cumin flavor

In China, the fresh food is barbecued on fire directly, or on a metal sheet; roasted directly or threaded on skewers to be roasted. The main food of barbecue and skewers include varied meat, seafood, and vegetables, like chicken wings, chicken legs, pork chop, chicken chop, beef, steak, mutton and corns, shellfishes, different sausages, meat balls, potato slices, sweet potato slices, shrimps, eggplants, soaked mushrooms, chili, etc. They are especially popular at summer nights among the young people. If you want to experience the night life of young Chinese, make an appointment with barbecue and skewers and some beers.

9. Lanzhou Hand-Pulled Beef Noodles (Beef Lo Mein)

Chinese Name: 兰州牛肉拉面 lán zhōu niú ròu lā miàn


Flavor: numb and spicy, or light flavor, beef flavor

Lanzhou Hand-Pulled Beef Noodles is one of the best Chinese foods with light soup, tender beef and chewy and smooth hand-pulled noodles. It is very popular for the great taste and cheap price. The beef soup is boiled in advance for a long time, but the noodles are pulled with hands just before boiling. There are round, prismatic, and plat noodles with different thickness respectively. Some people regard the Beef Lo Mein as Chinese fast food, for it takes only a few minutes to cook it.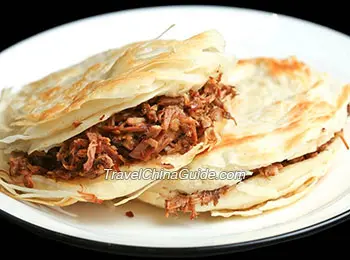 Xi'an Rou Jia Mo
10. Xi'an Rou Jia Mo (Chinese Hamburger)

Chinese Name: 西安肉夹馍 xī ān ròu jiá mó


Flavor: salty, aromatic, pork flavor

This is the Chinese version of hamburger, originating from Xi'an. Different from the western hamburgers, the meat, usually pork is stewed in a pot with more than 20 condiments, including ginger, clove, peppers, aniseeds, Chinese cinnamon, and rock candy and so on forth. After, it is chopped and put inside the two halves of a special baked flatbread. Some of the soup of the stewed pork is poured on the chopped pork at the same time to enrich the flavor. The pork is tender, and the flatbread is crispy with a thick flour aroma.



Read More: Top Rou Jia Mo Restaurants in Xi'an
- Last updated on Apr. 21, 2021 -