Hong Kong Hung Hom Station
Previously known as Kowloon Station, Hung Hom Station has trains connecting with major Chinese cities, including Beijing, Shanghai and Guangzhou. It is also the last stop on the MTR East Rail Line and West Rail Line thereby providing route interchanges.

Address: West Kowloon Reclamation area of Yau Tsim Mong District and next to the Hong Kong Coliseum



Opened in 1975, the station consists of four floors. On the top floor there are fast food restaurants, cafés, a bakery, a snack bar, fashion shop and travel agencies. Here you can enjoy food, drink and relax and maybe read to kill time.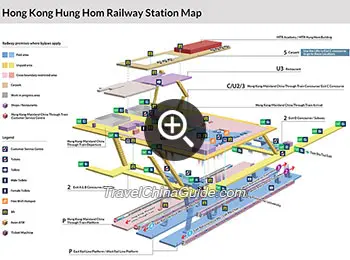 Hong Kong Hung Hom Railway Station Map
Floor G is the through train concourse, and where Exit C is located. There are two ticket offices and a customer service center in the front of the lobby. A bus stop, green minibus stops and taxi stands lie in the west of the concourse. The departure and arrival offices face each other. There are Hong Kong Immigration Department and Customs and Excise Department checkpoints on this floor to offer aid to passengers. Toilets and pay phones are located at the rear of the lobby. Passengers have free access to two WI-FI hotspots. MTR shops, vending machines, ATMs and electronic lockers are also available. The Exits A1, A2 and A3 lead to Hong Kong Polytechnic University, Cross-Harbour Tunnel Bus Stops and the Universal Funeral Parlour. The Exits C 1-3 lead to Zhifu Metropolis, the Harbour Front Horizon Hotel and Tsim Sha Tsui Promenade.

Below floor G, floor M is the Exit A & B Concourse. This concourse mainly serves as a public transport interchange for Hong Kong. There you can buy tickets from two ticket offices, also two customer service centers are open between 06:30 and 20:05 should you have any problems. There is a footbridge linking the Exit A & B Concourse and the Exit D concourse. There is a convenience store located by Exits D. B1 and B2 lead to the Royal Peninsula, Whampoa Garden and Metropolis Residence. The Exit D 1-6 provides access to the Hong Kong Coliseum, Hong Kong History Museum, Tsim Sha Tsui East, Hong Kong Science Museum and International Mail Center.

Seven platforms are located on floor P, and each is equipped with LCD to indicate times and appropriate platforms. East Rail Line towards Lo Wu or Lok Ma Chau departs from platform 1 & 4, and West Rail Line towards Tuen Mun from platform 2 & 3. Only platforms 2 & 3 have toilets. On platforms 5 & 6, passengers can take the Intercity trains for Zhaoqing, Shanghai, Guangzhou or Beijing. Platform 7 is handles freight and it is a restricted area so far as passengers are concerned.

Hung Hom Railway Station Through Train Schedule

Hong Kong - Guangzhou: runs hourly from 07:25 to 20:01.


Z97/Z98 (Hong Kong - Beijing): runs every other day and the approx journey time is 24 hours.


Z99/Z100 (Hong Kong - Shanghai): runs every other day and the approx journey time is 19 hours.



Note: Due to the outbreak of Covid-19, Z97/Z98 and Z99/Z100 have stopped running. It is still unknown when they will come into service again.

Transportation

By bus
Take the bus 101, 102p, 103, 104, 106, 106p, 107, 107p, 109, 110, 111, 112, 113, 115, 115p, 116, 118, 170p, 170, 171, 182, 182p, n118 or n121, and get off at Cross-Harbour Tunnel Bus Stops.
Take the minibus 8 and get off at Kowloon Station.
Take the bus a21 from Hong Kong Airport, and get off at Hung Hom Station.

By MTR
Take East Rail Line or West Rail Line, and get off at Hung Hom Station.

By taxi
It takes about one hour and costs HKD 300 from
Hong Kong Airport
.
Further Reading:
Hong Kong Trains
How to Travel between Hong Kong and Dongguan
Print

- Last updated on Jul. 09, 2023 by Brenda Lian -
Questions & Answers on Hong Kong Hung Hom Station
Asked by Eman from MALAYSIA | Nov. 05, 2023 09:27

Reply
Can I use the 144 hours visa from Hong Kong to Shenzhen ? if yes, where can I buy the Visa ?
Answers (1)
Answered by Gloria | Nov. 05, 2023 23:50

0

0

Reply
I'm afraid Malaysian passport holders are not eligible for the 144-hour visa-free transit policy. As for the 5-day Shenzhen VOA, it is also easy for them to get rejected. So it is recommended to obtain a Chinese visa in advance.
Asked by William from HK | Jul. 07, 2023 22:49

Reply
Are trains Z97, Z98, Z99 and Z100 running yet. If not , when they start? Thank you.
Answers (1)
Answered by Lisa | Jul. 09, 2023 23:56

0

0

Reply
No, they have not been resumed yet and there is no info about when they will start running again.
Asked by Polard from KOREA | May. 20, 2020 18:24

Reply
I will stay near Hung Hom station next month, does anyone know how to get to Disney land by metro?
Answers (1)
Answered by Andrew WEISS from HK | May. 24, 2020 18:10

0

0

Reply
Take subway (To Tuen Mun direction) for three stops and get off at Nanchang station, and then change to Tung Chung Line (To Tung Chung direction) for another three stops and get off at Xin'ao station. Where you can find the subway line to Disney Land.
Asked by Lavish wadhwa | Dec. 11, 2019 08:13

Reply
Want to know gow to travel
Anyone know how to travel from guangzhou east railway station to chungking mansion hongkong then chunking mansion to hongkong international airport terminal 1 because my flight from hongkong at 7:10 Am so how to reach atleat 5am
Answers (1)
Answered by Jevon | Dec. 12, 2019 17:57

0

0

Reply
In this situation, it is better if you depart from Guangzhou one day in advance and stay near the airport for one night. You can take the last direct train from Guangzhou East to Hung Hum then had to the airport. Or you can take a train to Shenzhen station first and then cross Luohu board before 00:00 at midnight then had to the airport. By the way, if your flight is for 7:10am, maybe it is better if you can be there at 4:30am.
Asked by Jun from SINGAPORE | Oct. 25, 2019 09:10

Reply
Is there a train from Hongkong to Guangzhou East Station on christmas day? 25th Dec 2019
I only see Guangzhou South Station but not East Station. Thank you!
Answers (2)
Answered by Erasmo | Oct. 28, 2019 00:33

0

0

Reply
The train runs everyday. There are 9 rides a day to East Station. You need to search by Hong Kong [Hung Hom] Station istead of West Kowloon. West Kowloon Station only has trains to South Station.
Answered by Jun from SINGAPORE | Oct. 28, 2019 03:03

0

0

Reply
Thank you for the information!