Hong Kong West Kowloon Railway Station
Hong Kong West Kowloon Railway Station, or Hong Kong High Speed Rail Station or Express Rail Link West Kowloon Terminus, operates over 110 pairs of short-distance high speed trains to/from Guangzhou and Shenzhen, with an average interval of 30 minutes and 15 minutes respectively. In addition, it operates 13 pairs of long-distance high speed trains to/from Beijing, Shanghai, Kunming, Guilin, Changsha, Wuhan, Fuzhou, Xiamen, Chaoshan and so on.
The Hong Kong High Speed Rail Station is the biggest underground train station all over the world, connecting with MTR Austin Station and Kowloon Station.
Address: West No.1, Austin Road, Mong Kok

Schedule of Hong Kong West Kowloon High Speed Rail Station
(Last Update on Apr 25, 2023)
To
Trains
Duration
Ticket Fare (CNY)
First/ Second Class Seat

Guangzhou

G6552, G6582, G6510, G306...
33 departures from 08:06 to 22:50
0h46m - 1h42m
CNY 261/ 187
USD 38/ 28

Shenzhen

G5624, G5820, G5610, G6382...
94 departures from 07:03 to 22:50
0h14m - 0h29m
CNY 109/ 68
USD 16/ 10

Beijing

G80 at 11:00
8h30m
CNY 1,888.5/ 1,179.5
USD 278/ 173

Shanghai

G100 at 11:25
8h00m
CNY 1,452.5/ 894
USD 214/ 131

Guilin

G320, G408 at 11:54 and 12:05
4h00m
CNY 581/ 363
USD 85/ 53

Kunming

G408 at 12:05
8h45m
CNY 1,167/ 717
USD 172/ 105

Changsha

G306, G80, G6114 from 09:48 to 17:18
3h10m - 3h59m
CNY 848/ 529
USD 125/ 78

Wuhan

G306, G80 at 09:48 and 11:00
4h31m - 4h59m
CNY 1,082.5/ 678.5
USD 159/ 100

Hangzhou

G100 at 11:25
7h10m
CNY 1,335.5/ 821
USD 196/ 121

The above schedule is for reference only. For real-time schedule and ticket booking, please click the arrival stations.

Popular High Speed Trains from Hong Kong West Kowloon to:

See
Maps of Hong Kong High Speed Trains
Station Plan of West Kowloon High Speed Rail Station
West Kowloon Train Station consists of a 7-storey terminal building, with 3 floors above ground and 4 floors underground. Looking afar, the V-shape frame of the terminal building is like towering trees with branches stretching out. A large-scale ground plaza is built for passengers to easily reach the ground floor, MTR Kowloon Station and Austin Station.



2F: Sky Corridor / Sightseeing Deck


1F: Footbridge to MTR Austin Station and Kowloon Station


Ground Floor: Bus Terminal, Taxi Stands, Green Plaza, Left Luggage


B1: Ticket Concourse, taxi drop-off stands


B2: Arrival Concourse, taxi pick-up stands, underpass to MTR Austin Station


B3: Departure Concourse, Customs, duty free outlets, food and beverage outlets


B4: Platforms
Map of
West Kowloon Railway Station

How to Take Train
at West Kowloon Station
Departure and Arrival Process at West Kowloon High Speed Rail Station
Departure Process: 4 Steps
Step 1: Buy or collect ticket at B1
Step 2: Ticket check and security check at B1
Step 3: Go down to B3 to pass customs
Step 4: Go down to B4 to get onboard
Arrival Process: 3 Steps
Step 1: Get off at B4
Step 2: Go up to B2 to clear customs
Step 3: Go up to B1 to leave the station
"Cooperation immigration check" is carried for passengers traveling between Hong Kong and China by high speed train. The Immigration Control Points for both exit and entry procedures are set at the West Kowloon Train Station, which means passengers only need to queue for one time to finish the custom clearance of both sides.
How to get to Hong Kong West Kowloon High Speed Rail Station

By MTR
Passengers can take MTR to Kowloon Station or Austin Station first, and then walk to West Kowloon Rail Station through pedestrian zones, footbridges and underground passages. It takes 8 - 10 minutes from Kowloon Station and 2 or 3 minutes from Austin Station.



By city bus: 36B, 36X, 42A, 46, 60X, 63X, 69X, 81, 95, 268X, 271, W1, W2, W3…
They have a stop either at the bus terminus of West Kowloon Railway Station or nearby roadside.



By Taxi
Passengers will be dropped off on B1 and be picked up on B2.

Estimated Taxi Cost between West Kowloon Train Station and:
| Destination | Cost | Destination | Cost |
| --- | --- | --- | --- |
| Victoria Peak | HKD130-140 | Peak Tram Lower Terminal | HKD100 |
| Ocean Park | HKD130 | Star Ferry Pier, Central | HKD110 |
| Disneyland | HKD200 | Airport | HKD260 |
| Ngong Ping 360, Tung Chung Station | HKD250 | Hong Kong-Zhuhai-Macau Bridge, Hong Kong Port | HKD270 |
| Causeway Bay | HKD90 | Hong Kong-Macau Ferry Terminal, Sheung Wan | HKD110 |
| Repulse Bay | HKD140 | Yau Ma Tei | HKD25 |
| Mong Kok | HKD35 | Tsim Sha Tsui | HKD35 |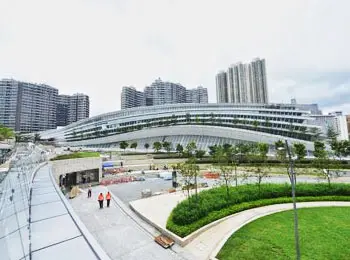 Hong Kong West Kowloon Railway Station
How to Get to West Kowloon High Speed Rail Station from Hong Kong Airport
1. Take Airport Express train to Kowloon Station, take the C1 Exit, and then enter the station via footbridge or underpass. The travel time is about 25 minutes and ticket price is HKD100 for a single trip.

2. Take bus A12 to Western Harbour Crossing Toll Plaza, then walk to nearby Austin Road West to take bus 215X to get there. The duration is about 45 minutes and ticket price is about HKD50.



Further Reading:
Hong Kong Trains
How to Buy High Speed Train Tickets in Hong Kong
How to Travel between Hong Kong and Dongguan
How to Travel between Hong Kong and Foshan
Print

- Last updated on Apr. 25, 2023 by Brenda Lian -
Questions & Answers on Hong Kong West Kowloon Railway Station
Asked by Andy Lu from THAILAND | May. 20, 2020 18:25

Reply
Are trains to Mainland China available at the moment?
I will have to go to Beijing from Hong Kong next week.
Answers (1)
Answered by Mr. Noel from GERMANY | May. 24, 2020 18:13

0

0

Reply
All trains to and leave from Hong Kong are still not on their track, you can take a flight instead. Or, you can get to Shenzhen or Guangzhou firstly by bus, and then take train to Beijing if you want.
Asked by Andres from AUSTRALIA | Nov. 27, 2019 16:19

Reply
Arriving from airport express MRT
Hi, I'll be arriving via airport express to Kowloon station on Saturday morning. What would be the easiest way to collect my tickets to mainland and how long do you think it will take to collect the tickets and then to pass through all security/customs clearances? Thanks
Answers (1)
Answered by Elbert from UGANDA | Nov. 28, 2019 18:40

0

0

Reply
There is ticket counters inside the west kowloon station, it is easy to use for ticket collection. Considering the time need for immigration and ticket collection, it should be better to have 1.5 hours there.
Asked by Pablo from BELARUS | Jul. 24, 2019 02:58

Reply
Do they accept foreign credit card payment at ticket counter?
If I go to Kowloon West Station to buy ticket on the day, can I pay with my credit card? Or you only accept cash payment?
Answers (1)
Answered by Andrew from USA | Jul. 24, 2019 18:36

0

0

Reply
If you are buying a ticket from HK to China mainland there, you can pay by your credit card. It works.
Asked by Christina from PHILIPPINES | May. 06, 2019 19:17

Reply
HK West Kowloon Station Ticket counter hours?
At the Hong Kong West Kowloon Railway Station, are the ticket counters for collection of tickets (both for transits beginning from Kowloon and from other China stations like Guangzhou south)open 24 hours? What time are they operational? Also are the waiting area and lounge 24 hours open? We will be arriving at Hong Kong International airport at 11pm and plan to take the Airport express to the West Kowloon station and pick up our train tickets as soon as we can. We plan to purchase online the early morning train to Guangzhou south(8:30am) and connecting train from Guangzhou south to Yangshuo (10:30am giving us 1 hour to transfer at the Guangzhou south station). Is this a good idea? Thank you.
Answers (1)
Answered by Harriet | May. 07, 2019 20:18

0

0

Reply
I think the open time of station and ticket office are both 6am to 11pm. Tthey will not work 24 hours a day. I suppose you are not able to stay inside overnight. The time for buying a ticket next early morning is still possible.
Asked by Kristina from GREECE | Mar. 04, 2019 01:57

Reply
Is there any direct train from HK to Shantou? Thank you.
Answers (1)
Answered by Haywood from NEW ZEALAND | Mar. 04, 2019 18:04

0

0

Reply
No, there is no direct one to Shantou station, but OK to Chaoshan Station. It is the nearest one to Shantou city. You can then change to taxi or bus to Shantou city or even change to another train from Chaoshan Station to Shantou station.