Hong Kong Shopping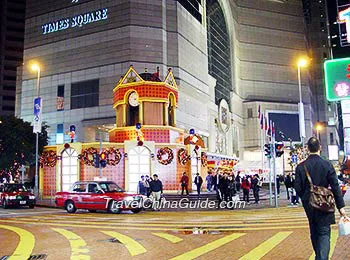 Times Square, Causeway Bay
Hong Kong, as a free port, showcases commodities from all over the world without tariff and usually accompanied by seasonal sales. This long known Shopping Paradise sates every taste and budget.

Hot Areas
Shopping areas are roughly divided into Hong Kong Island and Kowloon. The highlights are Central, North Point, Admiralty and Causeway Bay in Hong Kong Island and Tsim Sha Tsui, Yau Ma Tei, Jordan and Mong Kok in Kowloon together with Sheung Wan, an epitome of the city's unique culture. Besides the plethora of commodities, tourists also enjoy courteous and professional service at reasonable prices.

Style
Malls and department stores are widely distributed in all districts of Hong Kong. They are usually very accessible, with relaxing atmospheres dotted with cafes and wide-variety of restaurants. All the world's designer counters and signature brands could be found here from dresses, leather wares, watches to jewelries. Grand fashion shows are hosted during season change to impress tourists with the latest trends and styles. Here we recommend some popular ones for your reference.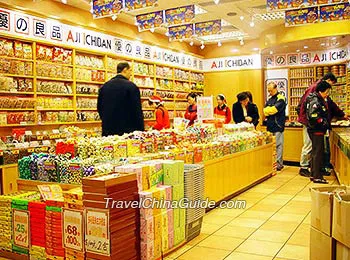 A food store in SOGO
IFC Mall
Address: 8, Finance Street, Central
Opening hours: 10 a.m. - 10 p.m.
Transportation: Hong Kong Station, MTR or Airport Express, Exit A or E1

Pacific Place
Address: 88, Queensway, Admiralty
Opening hours: 10 a.m. - 8 p.m.
Transportation: Admiralty MTR Exit F

SOGO (Causeway Bay Branch)
Address: 555, Hennessy Road, Causeway Bay
Opening hours: 10 a.m. - 10 p.m.
Transportation: Causeway Bay MTR Exit D

Times Square
Address: 1, Matheson Street, Causeway Bay
Opening hours: 10 a.m. - 10 p.m.
Transportation: Causeway Bay MTR Exit A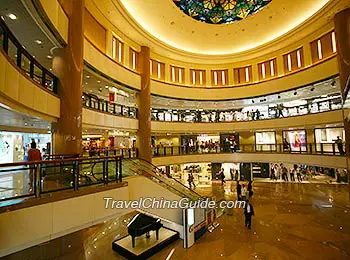 Harbour City, Kowloon
Harbour City
Address: Canton Road, Tsim Sha Tsui, Kowloon
Opening hours: 10 a.m. - 9 p.m.
Transportation: Tsim Sha Tsui MTR Exit A1 and walk along Haiphong Road for five minutes, or take Star Ferry from Central or Wan Chai to Tsim Sha Tsui

DFS Galleria
Branches: T Galleria by DFS at East Tsim Sha Tsui and on Canton Road, T Galleria Beauty in Causeway Bay, DFS in Hong Kong International Airport
Opening Hours:
Canton Road Branch: 10:00 - 23:00;
East Tsim Sha Tsui Branch: 11:00 - 21:00;
Causeway Bay Branch: 10:00 - 22:00 from Sunday to Thursday; 10:00 - 23:00 from Friday to Saturday;
Airport Branch: 6:30 - 12:30

Wing On Department Stores (Jordan Store)
Address: Wing On Kowloon Centre, 345, Nathan Road, Jordan, Kowloon
Opening hours: 10:30 a.m. - 10 p.m.
Transportation: Jordan MTR Exit A

Commodities in Central are slap-up as well as its accompanying prices. The locals usually frequent areas in Causeway Bay and Tsim Sha Tsui. In Yau Ma Tei and Mong Kok prices of most commodities go down with the quality.

Visa, Master Express, JCB and other known major credit cards are acceptable in most stores while bargaining is limited to small stores, markets and fairs.

Street-side stands have become an unforgettable scenario in Hong Kong. Clothes and specific items are gathered and bargained in Central, as well as in Ladies Street, Temple Street night market, and Jade market in Yau Ma Tei.

Shops of identical category are usually clustered in a per-street-basis in Hong Kong. Nathan Road in Kowloon is for gold; Sai Yeung Choi Street in Mong Kok is for audio and video equipments; and Hollywood Road is famous for its antique stores.

Ladies Street, the most famous shopping area in Mong Kok, is a must for most tourists. Clothes, clothing accessories, and leather wares are inexpensive but always trendy. The highlight starts at dusk until around 10 o'clock in the evening if the weather permits. Stores and stands at back streets must not be forgotten either where cheaper pairs of shoes and CDs could be sought out. Colorful shops and endless dai pai dongs will be great fun for those who want to taste and relive the experience of old Hong Kong.

Distribution
A store selling electronic products,
Times Square
The following specialty items are well distributed in corresponding suggested places all around the city:
Computers and Accessories: Sham Shui Po, Wan Chai, Causeway Bay and Mong Kok
Dresses and Leather Wares: Mong Kok, Jordan, Causeway Bay, Central, Tsim Sha Tsui
Makeup: Tsim Sha Tsui, Causeway Bay and Mong Kok
Dried Seafood: Des Voeux Road West, Sheung Wan
Gold and Silverwares: Nathan Road in Mong Kok, Queen's Road Central in Central, King's Road in North Point
Hardware: Mong Kok, Canton Road
Household Appliances: Mong Kok, Causeway Bay
Household Products: Causeway Bay, Admiralty, Central, Tsim Sha Tsui, Yau Ma Tai, Mong Kok
Sports Goods & Fashion Accessories: Mong Kok
Stamps: Mong Kok
Watches and Cameras: Mong Kok, Causeway Bay

Tips
1. Bargaining can be fun in small shops and market stalls. As the Chinese saying goes, 'Compare three shops before buying', and remember to drop by different shops to check the average prices first, or call the Consumer Council at +852 2929 2222 for suggested retail prices or for any other concerns.
2. We suggest you know more about the articles you want, including model, features, prices and accessories and the regional coverage of the warranty before you make a decision to buy it.
3. Please inspect products before paying and ensure you have all the accessories that should be included.
4. Keep your receipts.
5. Most restaurants accept credit cards. We suggest customers keep the records. Some credit cards companies or banks may charge a currency-exchanging fee for overseas purchases. Please check before use.



You May Like:
8 Major Cities in China for Enthusiastic Shoppers​
- Last updated on Dec. 31, 2020 -