Hong Kong Travel Tips

Foreign Consulates in Hong Kong

Hong Kong Visa & Passport
Visitors entering the city must have a valid passport. Passport holders from certain countries DO NOT need a visitor's visa for short stays.


Hong Kong Visa/Entry Permit Application Form


Non-Visa to Hong Kong for Foreign Countries/Areas

Related Link: Chinese Embassies Abroad



Area Code 00852
Zip code 999077
More on HK Area Code & Zip Code
Note: No zip code is used on the island. But if you have to fill in one, it is suggested to write down 999077.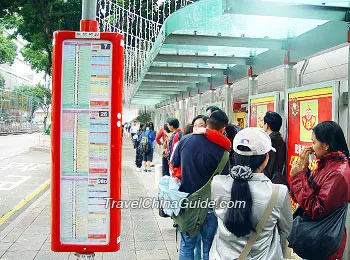 Bus Stop in the City
Currency
It is HK Dollar. As the old saying goes, 'more banks than rice stalls in HK': moneychangers are everywhere. Please check the exchange rate and the service fee. Customers with AMEX cards can draw HK Currency through ATMs directly and those with VISA and Master cards can draw local currency from ATMs marked for Visa or MasterCard electronic currency.
Telephone System:
Public telephones in the city belong to the following 6 types:
Yellow telephones only for local calls: accepting 1- or 2- HKD coins
Yellow telephones for international calls: accepting 1-, 2- or 5- HKD coins
Silver telephones: accepting 1-, 2- or 5- HKD coins
Telephones accepting magnetic cards and coins for international calls
Silver telephones accepting credit cards and coins
New telephones accepting magnetic cards, credit cards and coins.

Information directory desk
1018 English 1083 Cantonese 1088 Mandarin Chinese 1013 International directory

Emergency call 999

Useful numbers
Complaint hotline (including taxi complaint): 2527 7177
Tourist Hotline of HK Tourism Board: 2508 1234
The Immigration Department of the Government of the HK Special Administrative Region: 2824 6111
Postal Directory Hotline: 2921 2222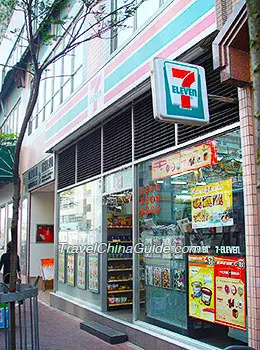 7-Eleven convenient store
Internet
Internet is offered in many hotels. Cafes, shopping centers, subway stations and public library also offer free related Internet facilities. If you have your own laptop, you can connect with the Internet at some emporiums or cafes. Modem users should buy BT-to-RJ transformers, since the BT system is gradually being replaced by the RJ system.
Work Hours of Government and Office
9a.m to 5p.m (dinner time from 1p.m to 2p.m) Monday through Friday and 9a.m to 1p.m Saturday
Work Hours of Banks
9a.m to 4p.m (no break), Monday through Friday and 9a.m to 12.30p.m Saturday
Toilet
Toilets can be found on street corners, in parks, malls and parking lots, free of charge.
Smoking
Smoking is forbidden in public transportation tools and certain public places.
Post offices
HK General Post Office: 2, Connaught Place, Central
Office hours: 08:00 - 18:00 (Mon. to Sat.) 09:00 - 14:00 (Sun.)
Kowloon Central Post Office: 405, Nathan Road, Yau Ma Tei, Kowloon
Office hours: 09:30 - 18:00 (Mon. to Fri.) 09:30 - 13:00 (Sat.)
Shatin Central Post Office: 1, Sheung Wo Che Road, Shatin, New Territories
Office hours: 09:00 - 17:00 (Mon. to Fri.) 09:00 - 13:00 (Sat.)
Hospitals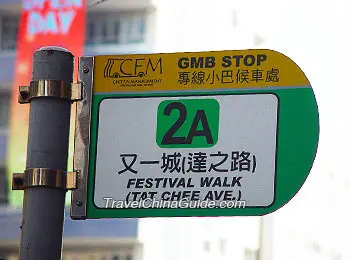 Sign of a minibus stop

Hong Kong Island:
St. John Ambulance Brigade: 2576 6555
Tang Shiu Kin Hospital
Tel: 2831 6800
Address: 282, Queen's Road East, Wan Chai
Queen Mary Hospital
Tel: 2855 3111
Address: 102, Pokfulam Road

Kowloon:
St. John Ambulance Brigade: 2713 5555
Caritas Medical Centre
Tel: 2746 7911
Address: 111, Wing Hong Street, Sham Shui Po, Kowloon
United Christian Hospital
Tel: 2379 4000
Address: 130, Hip Wo Street, Kwun Tong, Kowloon

New Territories:
St. John Ambulance Brigade: 2639 2555
Pok Oi Hospital
Tel: 2486 8000
Address: Au Tau, Yuen Long, New Territories
Tuen Mun Hospital
Tel: 2468 5111
Address: Tsing Chung Koon Road, Tuen Mun, New Territories
Famous Universities
University of Hong Kong
Address: Pokfulam Road
Chinese University of HK
Address: Shatin, New Territories
Hong Kong University of Science and Technology
Address: Clear Water Bay, Kowloon
Hong Kong Polytechnic University
Address: Hung Hom, Kowloon
More Tips
1. Some hotels and restaurants levy a 10% service charge while customers may add other 5% tip. For restaurants that don't levy a service charge, a 10% tip is expected. Tip taxi drivers, bellboys, and restroom attendants.
2.
Time zone
is GMT plus 8 hours that is the same as most places in Mainland China.
3.
Voltage
is 220V. Many hotels provide transformers.
4.
Tap water
is drinkable. It meets the WHO standard.
Getting to know more tips for visit in China, please visit
China Travel Advice
.

Recommended Itinerary:
Hong Kong Island Tour
: 3 Days Visit of the City
More
Hong Kong Tours

Top 10 Things to Do in Hong Kong

Best Time to Visit Hong Kong
- Last updated on Jan. 18, 2021 -
Questions & Answers on Hong Kong Travel Tips
Asked by smithda from USA | Aug. 31, 2020 05:35

Reply
Is NT required as part of the postal address for Kwai Chung"
I'm needing to know if NT is required as part of the postal/delivery address for Kwai Chung, N.T., Hong Kong.

I have the below address that I'm needing to format correctly.
7022-7023W, 7/F, ATL LOGISTICS CENTRE A, BERTH 3,
CONTAINER PORT ROAD, KWAI CHUNG, N.T., HONG KONG

Answers (1)
Answered by Elena | Sep. 03, 2020 02:27

0

0

Reply
Don't worry. Your address format is correct.
Asked by sanjeev agarwal from INDIA | Oct. 04, 2019 22:08

Reply
hong kong to macau by bus
i am comming hongkong on 17th november 2019. can I have a direct bus from hongkong airport to macau
Answers (1)
Answered by Camron from AUSTRALIA | Oct. 11, 2019 22:44

0

0

Reply
You can take bus at Mainland/ Macao Transport Centre, Arrivals Level (L3), Terminal 2.
Asked by Yetunde from CHINA | Apr. 29, 2019 06:23

Reply
Hello, i bought a ticket from wenzhou to nigeria.
My ticket says from Wenzhou to HK, from HK to doha, from doha to nigeria. My question is do i need a HK visa to transit?. Thank
Answers (1)
Answered by Emma from CANADA | Apr. 29, 2019 22:41

0

0

Reply
If you hold NIGERIAN passport, you need to apply for A VISA in advance.
Asked by Stacey Trapster Azim from UNITED STATES | Nov. 28, 2018 18:10

Reply
I will fly from USA to Hong Kong and from HK to Japan.
While I'm in HK I would like to tour mainland China. Can I get a transit Vise is I fly from HK to Shanghai, then catch a bullet train to xian, then catch another train to Beijing and then fly from Beijing back to HK?
Answers (1)
Answered by Cal from FRANCE | Nov. 30, 2018 00:25

0

0

Reply
No, you need to apply for a Chinese visa before your trip.
Asked by Adelaide from AUSTRALIA | Mar. 06, 2018 01:35

Reply
Will be heading to HK in two weeks time. Is the weather good for shorts or jeans?
Answers (1)
Answered by Isabelle from NORWAY | Mar. 06, 2018 20:06

0

0

Reply
It may be rainy and a little cold, the temperature is 20-25C. You are suggested to take shirts, thin coat and jeans.