Holidays in Hong Kong
Hong Kong has a holiday system different from the one of Mainland China. Due to its previous special status as a British colony and its present status of special administrative region of China, the city is influenced by a blend of Eastern and Western cultures. As a result, Hong Kong people celebrate some traditional Chinese festivals as well as some important western festivities.

Generally speaking, Hong Kong people do not work on Sundays. Besides, they legally enjoy public or statutory holidays. There are altogether 17 days' public holidays each year, on which days the employees of banks, educational institutions, social institutions and government departments are free from work. Usually, those so-called 'white collar workers' are also given public holidays. Employees from the other industries, or so-called 'blue collar workers' only enjoy 12 days off per year, which are called statutory, labor or factory holidays. However, this is not absolute. Some employers of the 'blue collar industries' also give their employees 17 days off each year.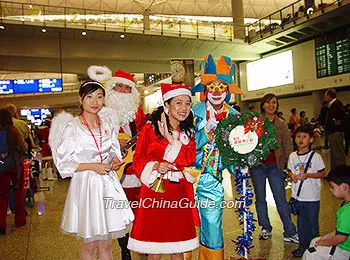 Christmas in Hong Kong
The 12 days' statutory vacation include New Year's Day, Chinese New Year (Spring Festival) and the two days following it, Qingming Festival, May Day, Dragon Boat Festival, Hong Kong Special Administrative Region Establishment Day, the day following the Chinese Mid-Autumn Festival, National Day, Chongyang Festival, Christmas Day (or Winter Solstice). The public vacations include the above statutory days off and another five days: Good Friday and the day following it, Easter Monday, Buddha's Birthday and the first weekday after Christmas Day.

Some employers may give their employees a day off on the Chinese Winter Solstice instead of Christmas Day, which is legally allowed. If any of these holidays fall on a Sunday or another holiday, the employees can be entitled to a day off on the following weekday.

Hong Kong Public Holiday Calendar
Festival
Date
Days Off
2020
2021
2022
* New Year's Day
Jan. 1
1 day
Jan. 1
Jan. 1
Jan. 1
* Chinese New Year
Jan. 1 according to lunar calendar
3 days
Jan. 25 - 27
Feb. 12 - 14
Feb. 1 - 3
* Qingming Festival
Apr. 4 or 5
1 day
Apr. 4
Apr. 4
Apr. 5
Good Friday
Friday immediately preceding Easter Sunday
2 days
Apr. 10-11
Mar. 26-27
Apr. 15-16
Easter Monday
Monday after the first Sunday after the full moon following the northern hemisphere's vernal equinox
1 day
Apr. 13
Mar. 29
Apr. 18
Buddha's Birthday
Apr. 8 according to lunar calendar
1 day
Apr. 30
May 19
May 8
* May Day
May 1
1 day
May 1
May 1
May 1
* Dragon Boat Festival
May 5 according to lunar calendar
1 day
Jun. 25
Jun. 14
Jun. 3
* Hong Kong Special Administrative Region Establishment Day
Jul. 1
1 day
Jul. 1
Jul. 1
Jul. 1
* The day following Mid-Autumn Festival
Aug. 16 according to lunar calendar
1 day
Oct. 2
Sep. 22
Sep. 11
* National Day
Oct. 1
1 day
Oct. 1
Oct. 1
Oct. 1
* Chongyang Festival
Sep. 9 according to lunar calendar
1 day
Oct. 25
Oct. 14
Oct. 4
* Christmas Day
Dec. 25
1 day
Dec. 25
Dec. 25
Dec. 25
The first weekday after Christmas
Dec. 26
1 day
Dec. 28
Dec. 27
Dec. 26
* statutory holidays

According to unwritten rules, some institutions close early or do not open at all on the following days (although neither of them are legal holidays): Saturdays, Chinese New Year's Eve, Mid-Autumn Festival, Winter Solstice, Christmas Eve and New Year's Eve.
- Last modified on Dec. 05, 2019 -
Questions & Answers on Holidays in Hong Kong
Asked by Travelfaargo from SINGAPORE | Mar. 27, 2019 20:52

Reply
Where is the most popular place to get Hong Kong souvenirs?
Answers (1)
Answered by Anna from CANADA | Apr. 02, 2019 20:36

0

0

Reply
The Temple Street in Yau Ma Tei is recommended.
Asked by Anita Napa from UNITED ARAB EMIRATES | Mar. 16, 2015 01:20

Reply
Banking Hours in Hong Kong - March Equinox
Good day, please advise what would be the banking hours in HK during March Equinox on Friday, March 20, 2015
Answers (2)
Answered by Keith from USA | Mar. 16, 2015 01:25

1

2

Reply
The banks are open from 09:00 to 17:00 on workdays (from Mon. to Fri.) and 09:00 to 13:00 on Sat. On Sundays and public holidays, they are close.
Answered by Anita from UNITED ARAB EMIRATES | Mar. 16, 2015 05:13

2

0

Reply
Thank you for the info. Have a good day.
Asked by Joanne | Jan. 25, 2015 21:34

Reply
Hong Kong - Good Friday
Hello
Will tourist attractions such as Disneyland, Ocean world, the peak etc in HK be extra busy on Good Friday? Does the general population take the day off work? Thanks Joanne
Answers (2)
Answered by Kelly from FRANCE | Jan. 26, 2015 00:20

2

1

Reply
Yes, the local people take that day off work. So there may be more people go to those attractions than usual.
Answered by Joanne from AUSTRALIA | Jan. 26, 2015 03:08

1

3

Reply
Thanks for your speedy reply. I shall plan my trip accordingly.