China High Speed Railway Map
China High Speed Railway Map/ Bullet Train Running Map (Last Update: July, 2022)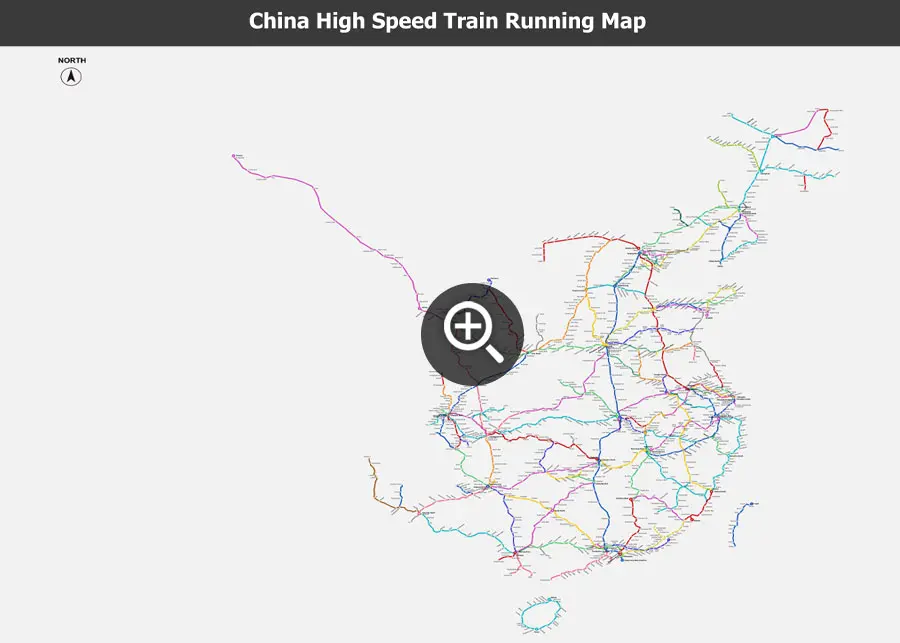 China High Speed Train Running Map PDF Download
Map of China Cities with High Speed Train Service (Last Update: July, 2022)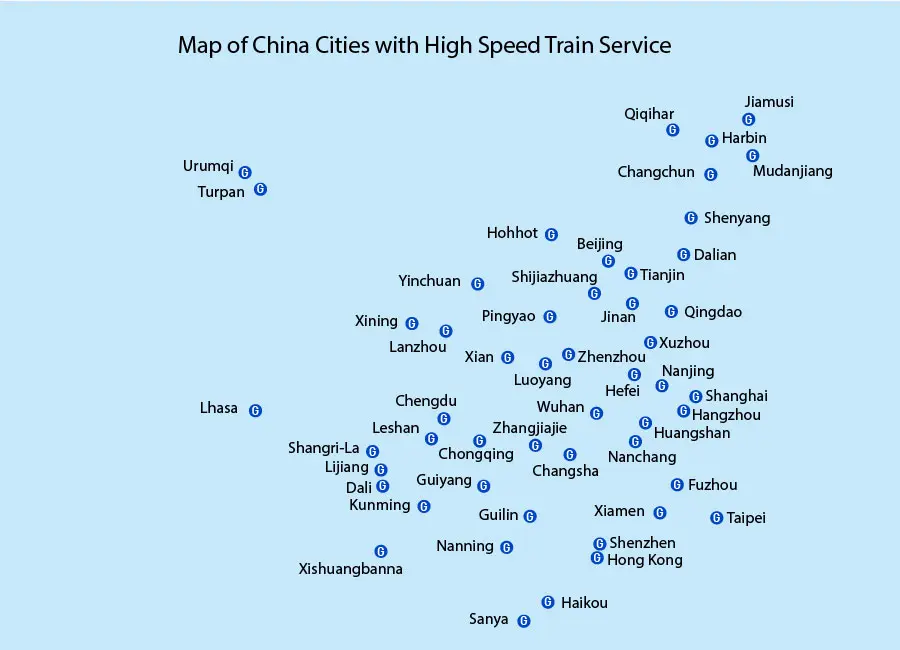 Further Reading: China High Speed Trains



See More: China Railway Maps
- Last updated on Jan. 16, 2023 by Brenda Lian -
Questions & Answers on China High Speed Railway Map
Asked by David Kong from SINGAPORE | Sep. 24, 2023 17:40

Reply
How to travel from Yongchun County to chengdu by hi-speed train?
Answers (1)
Answered by Olivia | Sep. 25, 2023 23:18

0

0

Reply
Is this Yongchun that one in Fujian province? There is no direct train from Yongchun to Chengdu. You need to go to Fuzhou at first, and then take a high speed train to Chengdu. FYI: it takes about 12 hours by high speed train from Fuzhou to Chengdu, quite long; so you may also think about plane.
Asked by Theresa from USA | May. 15, 2020 05:43

Reply
How to travel high speed train from Beijing to HK?
Is it just running on odd days of month?
How to pay?
Answers (1)
Answered by TravelChinaGuide | May. 17, 2020 18:41

0

0

Reply
The high speed trains are available every day, they leave from Beijing West station and arrive at Hong Kong West Kowloon station, the train journey takes about 9 hours. For the through train between these two cities, it is available every other day and take about 24.5 hours. Now all trains are stopped due to the COVID-19
Asked by Shivakumar from INDIA | Dec. 29, 2019 12:01

Reply
I want to travel Huashan town huadu district
Dear sir
I want to travel china stay in Huashan town huadu district baiyun international airport to huashan town how to travel any bullet train is there any other option please sujjest me iam from india
I need one more doubt hongkong to huashan town shanghai to Huashan town , beijing to huashan town guangzhou to huashan town direct bullet train is there
Answers (1)
Answered by Drew from UNITED KINGDOM | Jan. 01, 2020 18:22

0

0

Reply
Do you refer to the place of Mt Huashan? If for Mt. Hushan, there are direct bullet trains from Guangzhou South, Beijing West and Shanghai Hongqiao to Huashan North Station. No direct one from HK, but you can go from HK to Guangzhou first and then head to Huashan.
Asked by Iz from SINGAPORE | Nov. 30, 2019 18:26

Reply
Xuzhou to shanghai station
Do i need to transfer if i travel from XuZhou east station to Shanghai station. Is the transfer easy
Answers (1)
Answered by Tina | Dec. 01, 2019 17:06

0

0

Reply
There are direct trains from Xuzhou East to Shanghai, you don't need to transfer at another city.
Asked by Ba from HAN | Sep. 14, 2019 19:14

Reply
Shanghai to Xiamen bullet train available
Answers (1)
Answered by Howard | Sep. 16, 2019 04:23

0

0

Reply
Yes, 20 high speed D and G rides a day from Shanghai to Xiamen