Sleepers on Chinese High Speed Trains
Sleepers are provided on some long-distance
high speed trains in China
with a journey time of more than 10 hours. Usually, these trains run overnight, allowing the passengers to lie down to sleep during the journey.
Currently, three types of sleepers are provided on Chinese high speed trains: traditional style soft sleepers, with four berths in each cabin; new style sleepers, with the berths arranged lengthwise along the aisle; and deluxe soft sleepers with two berths in each cabin.
Among the three types of sleepers, the deluxe soft sleeper tickets are the most expensive, and the new style sleeper tickets are the cheapest.
On an overnight high speed train, carriage No.2 to carriage No.15 are usually the soft sleeper carriages. These carriages are divided into 10 small cabins, each with two double-deck berths. Every cabin has a sliding door to separate the cabin and the corridor, to create a private space for the passengers inside. Each berth is 190cm (75 in) in length and 75cm (30 in) in width.

Inside the cabin, a thermos is provided to allow the passengers to fetch hot water from the end of the carriage. On each berth, there is an LCD TV, a reading lamp, clothes hangers, a pair of disposable slippers and headphone prepared for the passenger. Passenger can also charge their electronic products by the socket on the wall.

Due to their privacy and generous space, soft sleepers are recommended for families traveling with children, or groups of friends.
These came into service in 2017 and are only available on D311 and D312 running between Beijing and Shanghai currently. This type of sleeper is arranged parallel to the running direction of the train. This is designed with an emphasis on maximizing passenger comfort: passengers no longer get nauseous from sleeping in a position transverse to the running direction of the train. Each berth is 195 cm (77 in) in length and 75 cm (30 in) in width and includes a shade curtain to create a private space. Additionally, each berth has an independent exterior window. Inside the berth, there is a small rack for passengers to put luggage, and a small table to put things like snacks or a laptop. Passengers can also put their larger luggage under the lower berth. Each berth has a reading lamp with both warm light and cold light and a socket to charge their electronic products.

The prices of the new type soft sleeper tickets are the cheapest among the three types. It is recommended more for solo travelers.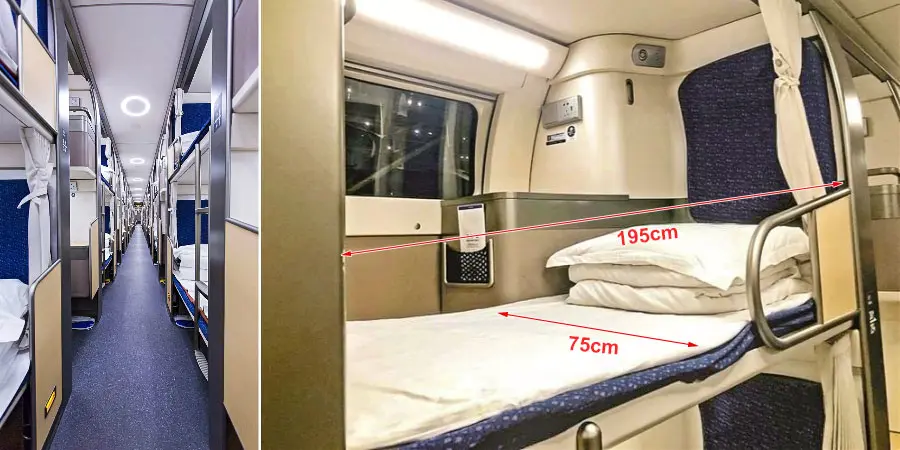 This type of sleeper is on very few trains. Each cabin only has one double-deck berth to ensure a large living space for the passengers. Each berth is 200 cm (79 in) long and 80-85 cm (31-33 in) wide. The cabin also has a lockable door to create a quiet and private environment. Besides the reading lamp, clothes hangers, disposable slippers, headphone and other facilities which also can be found in traditional soft sleeper cabins, this kind of cabin also has a sofa, a closet and a private restroom with western-style toilet.

It is the most expensive and comfortable type on high speed trains. This type of sleeper is usually the choice of businessmen and couples with high comfort requirements and sufficient travel budgets.
5 Tips for Travelling on the Sleepers of Chinese High Speed Trains
1. The fare for some high speed sleeper trains fluctuate from time to time. The prices are usually higher on weekends, holidays and festivals.
2. Some of these high speed sleeper trains are not operated daily, but only every Friday, Saturday, Sunday and Monday.
3. A free snack-box may be provided to the passengers of sleeper carriages on a few trains, but it is normally not enough to satisfy a grown person. So, we recommend you eat before boarding, or take some food with you.
4. All sleeper berths come with a sheet, a pillow and a quilt.
5. Except for the deluxe soft sleeper carriages, the washrooms are at the end of the carriages and shared by all passengers in the carriage. Toilet paper is provided but it may not last, so it is recommended you bring some with you. No shower facilities are provided, but there are a few wash-basins for passengers to wash hands and face. Wash supplies are not provided either, so bring them also.

Why travel by Chinese high speed sleeper trains?
Though the overnight high speed sleeper train takes more time than flying, it still enjoys their own advantages:
1. It leaves more time for sight-seeing or working during the day.
2. It provides more moving space than an airplane and passengers can lie down to travel more comfortably.
3. It runs steadily on land, so passengers do not need to worry about flight height, upper air pressure and turbulence.

General Introduction on China High Speed Trains:

Hot Rail Routes with High Speed Sleepers:

See more:
- Last updated on Jul. 31, 2023 by Brenda Lian -