Ticket Types on High Speed Trains
The bullet/ high speed trains are classified into C, D and G trains in China. Their tickets are divided into six types: second class seat, first class seat, business class seat, VIP seat, soft sleeper, and deluxe soft sleeper.

First class seat and second class seat are the most popular among travelers. Business class seat is expensive but more comfortable, similar to the business class on an airplane. VIP seat is not seen frequently. Soft sleeper and deluxe soft sleepers are only available on the overnight bullet trains; they are good choices for an overnight journey.

Second Class Seat
A China bullet train second class seat carriage has five chairs in a row - two on one side of the aisle and three on the other. The space is like the economy class on an airplane, with chair being about 17 inches (42 cm) wide and the leg room 16 inches (40 cm) between two rows. The second class seat ticket price is the lowest of all others on high speed trains.

The seat can turn 180 degrees so all passengers can sit towards the trains' moving direction. The seatback can also be adjusted to a comfortable angle and the arms between two seats can be folded up. There is a foldable tray table attached to the backrest. Power for a laptop or mobile phone is available at the bottom of the seats by aisle in most second class carriages.

The five chairs in a row of a second class seat carriage are numbered A, B, C, D and F. A, B and C are on the three-seat side with A by the window and C by the aisle; D and F are on the two-seat side with D by the aisle and F by the window. Including the row number, a seat number can be , for example, 5D, 8B, or 9A.
First Class Seat
In the China high speed train first class seat carriage, each row has two chairs on either side of the aisle, one less than the second class carriage. It thus is roomier than the second class seat carriage: the seat is wider, 19 inches (47 cm) and the distance between two rows is bigger, 16-20 inches (40-50 cm). The seats and seatback can also be rotated and adjusted per your needs. In addition, a foldable footrest is available and a small pillow is attached to the back of these C, D or G train first class seats. We suggest this first class train to foreign passengers, especially the "big guys".

There is a small foldable table in the arm of each seat. Moreover, there are headset jacks and volume buttons on the arm. Electric power is also available in first class carriages. The first class train ticket is of course higher than that of second class.

The chairs in each row of a first class seat carriage are numbered A, C, D and F. A and F are by the windows, and C and D are by the aisle.

| | |
| --- | --- |
| | |
| First Class Seat | Second Class Seat |
| --- | --- |
| 4 seats in a row; the seats are bigger and more comfortable than second class seats, recommended for larger passengers. | 5 seats in a row; the seats are similar to those in economy class of an airplane. |
| Footrest available | No footrest |
| Foldable table inside the armrest | Foldable table attached to the seatback in front |
| 20%-40% more expensive than second class seats | Cheapest among all classes on a high speed train |
Business class seats are the most luxurious and expensive seats on some, but not all of the high speed trains. They are like first class on an airplane. There are three seats in a row of the business class train - two on one side and one on the other side of the aisle. The space between the two rows is 6.6 feet (two meters). The sofa-like leather seat can be adjusted flat to as long as 5.9-6.2 feet (180-190 cm), so passengers can lie down comfortably as on a sleeper.
Business class seats of C, D or G trains are equipped with complete facilities. A mini LED TV set with many movies is folded in the left arm of each seat, and there is a power outlet under each seat. A tray table is hidden in the armrest. Some trains also offer free snacks, drinks, disposable slippers, back cushions and blankets.
VIP carriages are set on a few high speed trains. These are very comfortable with enough space and good facilities. There are three chairs in a row, two on one side and one on the other side of the aisle. The seats, generallly like those in the first-class carriage, can turn 360 degrees and the backrest can be ajusted. There are reading lamps, and radio and video facilities.

* Sightseeing Area
On a few high speed trains, there is a sightseeing area in the business class carriage or VIP carriage, which is in the front or the rear of a train, just next to the operation cab and separated from the common business class carriage by a toilet, a locker room and a bar. The sightseeing area usually has only five reclining chairs. Passengers who are luckily assigned to this area can enjoy the beautiful scenery on the way through the extra large windows.


Note: There are overnight high speed trains on some long-distance rail journey, for example, the ride bewteen Beijing and Shanghai. Sleepers are arranged on such overnight lines.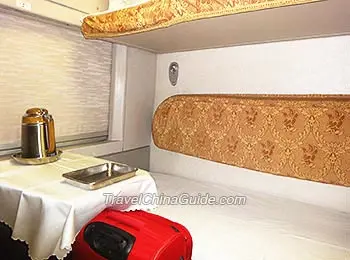 Apart from the comfortable seats, there are also soft sleeper berths on some long-distance D trains. A soft sleeper compartment has four berths, two upper and two lower, a small table between two lower berths, thermos, a dustbin and a tray for litter. The bed is 75cm wide and 190cm long. Though it is not as large as a deluxe soft sleeper berth, it should be enough for a mother and a child under 1.2m (3.9 feet). Each berth has its own LCD TV, volume regulating, lighting and air conditioner control buttons inlaid on the wall of the compartment. A control plate with an adjustable reading light, TV on/off, volume, channel, and reading light control buttons, as well as headset jacks is also laid on the wall at bedside. In addition, the attendants are always ready to help if you push the calling button in the compartment.

A soft sleeper coach has both squat-type and western style toilets. An emergency calling button is available in the toilets. There are also diaper changing tables in the western style toilets.

Note: there is no luggage closet in the soft sleeper compartment, so you can only place your luggage under the table or the lower berths.

These berths are available on some D trains, including D3101, D3102, D3103, D3104, D313, and D314. A deluxe soft sleeper compartment has two berths, one upper and one lower, a table, a sofa, a closet, and an independent toilet. As in the soft sleeper compartment, there are also lighting, air conditioner, volume, TV, and calling buttons in deluxe soft sleeper compartment.

The sleepers are arranged at two sides of the carriage in accordance with the train's moving direction to enable a more comfortable ride. Each sleeper has a socket, a headlamp, a reading lamp, an independent desk, and a coat rack. A curtain is also provided for privacy. The height between the upper berth and the ceiling is tall enough for passengers to sit up. Luggage can be placed below the lower berth. Each train has 16 carriages, accommodating 880 passengers at one time. However, they are currently only available on D311 and D312 between Beijing and Shanghai.

Standing Room
They are only sold to some D and C types after all tickets are sold out. The price is the same as a second class seat and its holders can only stand in the aisle or the connection of a second class carriage.
It is a prepaid card that enables the holders to take bullet trains without purchasing a paper ticket. Passengers only need to swipe the card on the self-service check-in machine at both the departure and arrival stations. It is only applied to a few journeys, such as from Beijing to Tianjin, Shanghai to Hangzhou and Nanjing, Guangzhou to Zhuhai, and Haikou to Sanya.

Tips
1. If you love to talk to different people and communicate with Chinese people, you are advised to buy a second-class seat ticket. People in the carriages tend to be more active and you can see many Chinese here. Some of TCG's clients prefer second-class as they have met interesting and jolly people, and they believe the seats are as comfortable as the first-class.

2. Buy a first class ticket if you expect a good rest during the journey. Mr.Martyn, a TCG client from UK, wrote in his feedback email, "First Class is filled with foreign visitors and with Chinese who are reluctant to speak to their travel companions".

General Introduction on China High Speed Trains:

High Speed Rail Lines between Major Cities:

High Speed Train Worldwide
- Last modified on Sep. 23, 2020 -