Jiuzhaigou Long-Distance Bus
Aside from flight, long-distance bus is the major transportation to/from Jiuzhaigou at present. Two long-distance bus stations in Jiuzhaigou operate hundreds of buses daily to/from popular attractions such as Huanglong Scenic Area, Ruoergai Grassland, and neighboring cities including Chengdu, Dujiangyan, Mianyang, Deyang, Wudu, and Wenchuan.
Jiuzhaigou Goukou Bus Station
Located around 800 meters (875 yards) to the east of the entrance of Jiuzhaigou National Park, this bus station operates coaches to/from Deyang, Guangyuan, Wenxian, Yaodu, Zhaohua, Linxia, Zoigê, Wudu, Bazhong.
Hotline: +86 0837-7739900

Jiuzhaigou County Long-Distance Bus Station
Close to No.301 Provincial Road, this bus station is located inside Jiuzhaigou County, about 40 kilometers (25 miles) from Jiuzhaigou National Park. It mainly operates long-distance buses to/from Chengdu, Mianyang, Wenchuan, Guangyuan, Deyang and other cities in Sichuan Province.
Hotline: +86 0837-7726030

How to get to Jiuzhaigou National Park from Nearby Cities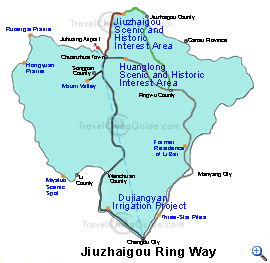 Tourists can reach Jiuzhaigou Valley by direct long-distance buses from Chengdu and Mianyang cities. A newly opened circle bus line operates between Chengdu downtown and Jiuzhaigou National Park, covering a distance of about 913 kilometers (567 miles). As an important tourist route in Sichuan Province, it contains East Line and West Line. These wide and smooth expressways make the journey to Jiuzhaigou National Park shorter than before. Nowadays, the duration is just 9 to 10 hours. Local government ensures that the expressway system can be used all year round.



East Line: This section runs for about 520 kilometers (323 miles) totally, passing the nearby cities such as Guanghan, Deyang, Mianyang and Jiangyou, as well as nearby counties like Pingwu, Jiuzhaigou and Huanglong. Along this route it is possible to enjoy a great amount of beautiful and well-preserved natural scenery.



West Line: Running along Min River, it is regarded as one of the most popular routes for long-distance buses. Passing Dujiangyan, Wenchuan, Maoxian, Songpanand Chuanzhusi, the West Line also covers several local attractions. This bus route not only offers chances to get to Dujiangyan Irrigation Project, Mt. Siguniangshan, Mounigou Valley, Huanglong National Scenic Reserve, but also provides opportunities to witness traditional culture of the Tibetan and Qiang people.
From Chengdu:
| From | To | Duration | Ticket Fare |
| --- | --- | --- | --- |
| Chadianzi Bus Station | Jiuzhai County/Jiuzhai Valley | 9 hours | CNY157 |
| Xinnanmen Bus Station | Jiuzhai Valley | 10 hours | CNY141 |

Note: The ticket fare varies based on the different coach type.
From Mianyang:
| From | To | Duration | Ticket Fare |
| --- | --- | --- | --- |
| Pingzheng Bus Station | Jiuzhai County | 5 hours | CNY98 |
From Chongqing:
| From | To | Duration | Ticket Fare |
| --- | --- | --- | --- |
| Longtousi South Coach Station | Jiuzhaigou Valley | 13.5-14 hours | CNY222 |
From Huanglong:

Tips:
1. Purchase bus tickets in advance one day before you plan to travel.
2. Make sure that you arrive at bus station 30 minutes in advance of the departure time.
3. Take some food and water for the long journey. Fresh fruits are recommended. In general, the bus driver will make a stop about every two hours. Passengers can make full use of this time to take a rest and find a nearby restaurant to eat some food. If tourists are traveling during the harvest season, it will be easy to buy some delicious fruits from roadside vendors. If buying from the roadside, don't forget to bargain for reasonable prices.
- Last modified on Dec. 29, 2019 -
Questions & Answers on Jiuzhaigou Long-Distance Bus
Asked by Linda from TAM | Dec. 27, 2019 03:03

Reply
Hi, what are the most convenient train and bus routes from Xi'an to Jiuzhaigou?
If there is what are the train and bus schedules and how long are the rides? Thank you.
Answers (1)
Answered by Fiona from USA | Dec. 29, 2019 22:37

0

0

Reply
You can take high speed train from Xi'an North Railway Station to Chengdu East Railway Station with around 4 hours on the way. The train departs from 7:10 to 19:50 with frequency of 5-40 mins. Then take direct bus from Chengdu Xinnanmen Bus Station to Jiuzhaigou scenic area at 8:00 with around 9 hours.
Asked by Winnie Wong from MALAYSIA | Jun. 13, 2017 07:58

Reply
How's the weather in Jiuzhaigou in end August? Is the road very winding?
Answers (1)
Answered by Eliza from FRANCE | Jun. 14, 2017 02:04

0

0

Reply
It will be cloudy and rainy at that time. The temperature will change from 60F to 85F. The Road is not very winding and the road condition is good at that time.
Asked by Ty from SINGAPORE | Feb. 09, 2017 04:34

Reply
Hi what is the latest bus from Jiuzhaigou to Chengdu City?
Answers (1)
Answered by Isabella from USA | Feb. 09, 2017 20:33

0

0

Reply
The bus schedules to Chengdu are from 06:50 to 09:30. As I know, the ticket fare is CNY 137 or CNY 152 per person. Or you can also hire a private car to go back to Chengdu. Generally speaking, the fare would be around CNY 1,500 for the single trip.
Asked by Ramraj Kulkarni from INDIA | Jan. 10, 2017 01:36

Reply
Is there a bus from Xi'an to Longnan and Longnan to Jiuzhaigou?
Answers (1)
Answered by Rhonda from UNITED KINGDOM | Jan. 11, 2017 02:19

1

0

Reply
There is only one bus from Xi'an Bus Station, opposite to Xi'an Railway Station, to Longnan, leaving at 10:30. The bus price is CNY193 and the duration is around 10h.
You can take a bus from Longnan Wudu Bus Station to JZG and there is also one bus at 8:30. It costs CNY80 or so and takes 6h.