Zigong Travel Guide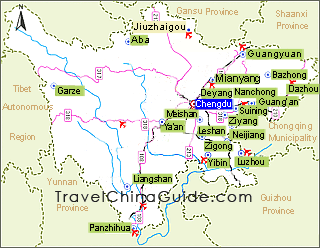 Zigong Facts
Chinese Name: 自贡 ( zì gòng)
Population: 3,200,575
Area: 4,381 square kilometers (1,692 square miles)
Location: in the south of Sichuan Province, southwest China
Administrative Division: 4 districts (Ziliujing, Da'an, Gongjing, Yantan); 2 counties (Rongxian, Fushun)
Area Code: 0813
Zip Code: 643000
GDP (2019): CNY 142.849 billion (USD 20.706 billion)
City of Salt and Dinosaur Fossils with Spiciest Sichuan Food
Zigong City is located in the south part of Sichuan Province, neighboring Leshan to the east and Yinbin to the south. Zigong is a city set up for developing the salt industry with more than 2,000 years of drilling salt wells. The words "Zi" and "Gong" come from the names of two salt wells: Ziliu Well and Gong Well. Visitors can see various drilling tools and the well salt production technology in the Zigong Salt History Museum.

Zigong is also known as the hometown of dinosaurs as many dinosaur fossils have been found in this city. It has Zigong Dinosaur Museum, one of the three largest dinosaur museums in the world which shows several complete dinosaur fossils and a large area of excavation sites. If you love spicy food, then you cannot miss the spiciest Zigong cuisines characterized by salty and rich flavors and the representative dishes include Spicy Rabbit and Poached Sliced Beef in Hot Chili Oil.
Zigong Attractions - Things to Do

Zigong Dinosaur Museum: It is one of the three biggest dinosaur museums in the world built on the site of a group of dinosaur fossils. The museum stores nearly all species of dinosaurs living in Jurassic.



Giant Buddha: The statue, located in the eastern suburb of Rongxian County, was carved in Tang Dynasty (618 - 907). Located next to the Leshan Giant Buddha, it is the second largest Buddha stature in China. It is seated in a niche carved into the cliffs and measures 131 feet high, 51 feet wide, and 45 feet deep. The majestic Buddha statue is regarded as the art masterpiece and great intellectual achievement of Chinese ancient laboring people. The Buddha looks graceful and facile with broad forehead, high nose and big ears. The left palm faces upward and the right one touches the knee. It is 120 feet tall. The head is 29 feet long, the shoulders 42 feet across, and the feet are 11.5 feet wide. The feet step on the two lotus flowers before the "Diamond Thrones".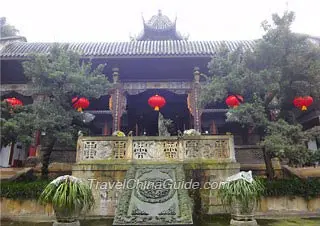 Salt History Museum
Pavilions have been erected around the Giant Buddha to ensure that it avoids being eroded by winds and rains. If you want to have a full view of the Buddha, you will need to walk into the temple in front of the Buddha. Now, the Buddha statue and the temples as well as some nearby attractions such as the statue of Maitreya and some Buddhism stone inscriptions are combined to one scenic spot. Visitors can appreciate all these places using one entrance ticket. The scenic spot is open from 09:00 to 18:00 and the admission fee is CNY60.

Transportation: Visitors intend to reach the Buddha need to reach Rongxian County first. Buses for Rongxian County can be found at North Bus Station, Beimen Bus Station or Shiyangchang Bus Station in Chengdu. Upon reaching Rongxian Bus Station, one can take a taxi to reach the Buddha and the taxi fare is around CNY5.

Other Scenic Spots
:
Zigong Salt History Museum
and
China Color Lantern Museum
, together with the Dinosaur Museum, are the most characteristic museums here. In addition,
Shuangxi Landscape
and
Feilongxia Scenic Area
are excellent attractions for appreciating the natural beauty of Zigong.
How to Get to Zigong
During the visit, the nearby spots, such as Leshan Giant Buddha, and the Dazu Rock Carvings, can also be listed in visitors' schedule. From Zigong passenger transport terminus, there are nearly ten buses daily running to Leshan and two buses to Dazu County.
Weather
-
The city belongs to the subtropical zone enjoying a humid monsoon climate. Generally speaking, Zigong weather is temperate with enough rainfall but without sufficient sunshine. The spring usually comes early, and high temperature and most of the rainfall concentrate on the summer. The autumn is relatively shorter in the four seasons. But the winter is not very cold and rarely rainy. Spring is the best time to pay a visit for local festivals.
Zigong Travel Tips

History: The history of Zigong is tightly connected with salt industry and the city is well-known for its 1,900 years of salt manufacturing history. People here began to drill wells to obtain well salt in the Eastern Han Dynasty (25-220). It has made a name for itself as a salt capital since the Western Jin Dynasty (265-316). In 1835, it had the first salt well in the world which exceeded one thousand meters deep at which time the salt manufacturing of the region reached its peak.



Physical Features: Low mountains, hills, channels and vales comprise the main features of the city's terrain. The land slopes downward from the northwest to the southeast.



Local Highlights: Zigong Lantern Festival (early February to early March, around Spring Festival); Zigong International Dinosaur Lantern Show (between January and March, usually lasting one month); Well salt, dinosaur, and color lanterns are the highlights of the city. They are the records of the area's time-honored history.



Special Local Products:
Handicrafts: paper cuttings, tie-dyeing, Gong Fans (fans knitting with sawali)
Foods: beef, fragrant chili sauce
- Last updated on Apr. 25, 2023 -
Questions & Answers on Zigong Travel
Asked by John Albrecht from USA | Nov. 18, 2019 17:34

Reply
Distance from Zigong to Harbin
Answers (1)
Answered by Ross from CANADA | Nov. 20, 2019 19:35

0

0

Reply
It is around 3,100km.
Asked by Famke from BELGIUM | May. 13, 2018 05:09

Reply
How to get from Chongqing to Zigong? In which bus station can we catch a bus?
how long would it take and at what time do buses leave?
Thank you!

Answers (1)
Answered by Johnson from AUSTRIA | May. 18, 2018 04:46

0

0

Reply
You can find the buses at Chongqing Bus Station, and the duration is around 3h. It's available from 7:00 to 19:10.
Asked by chinonso from NIGERIA | Sep. 18, 2017 17:51

Reply
How much will it cost me from Chengdu to Zigong?
Answers (1)
Answered by Michelle from CANADA | Sep. 19, 2017 19:38

1

0

Reply
You are suggested to take a bus from Chadianzi Bus Station, and the buses are available from 9:30 to 17:00 and cost CNY70 per person.
Asked by James from NIGERIA | Aug. 07, 2017 04:22

Reply
Please how do i reach zigong city from beijing?
Answers (1)
Answered by Hedy from USA | Aug. 07, 2017 21:10

0

0

Reply
First, take a plane from BJ Captial Airport to Chengdu, it's avaiable from 6:25 to 22:30.
Then take the direct long distance buses at the airport to the destination, which are available at 11:20, 12:20, 13:20, 14:20, 15:20, 16:50, 19:00 and 20:30.