Guang'an Travel Guide
Guang'an Facts
Chinese Name: 广安 (guǎng ān)
Population: 4,622,000
Area: 6,339 square kilometers (2,448 square miles)
Location: in the central area of Sichuan Province, southwest China
Administrative Division: 1 district (Guang 'an); 3 counties (Yuechi, Wusheng, Linshui); 1 county-level city (Huaying)
Area Code: 0826
Zip Code: 638000
GDP (2019): CNY 125.04 billion (USD 18.12 billion)
The Hometown of Deng Xiaoping – Chief Architect of China's Reform and Opening-up
Guang'an City lies in the east of Sichuan Province, northwest of neighboring Chongqing. Other nearby cities include: Nanchong, Suining and Dazhou. Guang'an is the hometown of Deng Xiaoping, the chief designer of China's reform and opening up and socialist modernization construction. Deng Xiaoping spent his childhood and youth here. His main activity place is now built into a tourist attraction. In addition, the exhibition hall is established to show his legendary life devoted to revolution and the reform and opening up. In Guang'an, tourists can also see an ancient castle built of tens of thousands of tons of stones, caves and waterfall groups in Tianyi Valley Scenic Area, and the sea of clouds, stone forests in Huaying Mountain.
Guang'an Attractions - Things to Do

Huaying Mountain: Renowned for its beautiful landscapes, northeastern Sichuan's Huaying Mountain has been a Buddhist shrine site since the Tang Dynasty, and is sometimes referred to as 'Little Mt. Emei'. Visitors are rewarded with views of bamboo forests, clouds, snowy scenes and - providing you arrive early enough - an awe-inspiring sunrise.

Gaodeng Mountain: The famous Stone Forest is located towards the southwest of the Gaodeng Mountain, Huaying's highest peak. Remnants of the ancient Gaodeng Temple can still be found near the forest.

Qujiang River: Should you decide to venture up the Qujiang River from Guang'an Garden, you will no doubt be charmed by the fascinating riverside scenery. A highlight of the journey is passing through the Old Town of Xiaoxi, which contains an ancient-style dock, characteristic of the Ming (1368-1644) and Qing (1644-1911) dynasties.

Deng Xiaoping's Former Residence: Guang'an is the hometown of Deng Xiaoping, the top leader of China from 1978 to 1989. He put forward the policy of "reform and opening up", helping the Chinese citizens live a better life. Deng Xiaoping's Former Residence is located in the suburb of the city, where you can see the bronze statue, memorial hall, and exhibition museum of Deng.



Other Scenic Spot: Jincheng Mountain
| | |
| --- | --- |
| Statue of Deng Xiaoping | Deng Xiaoping Memorial Park |
How to Get to Guang'an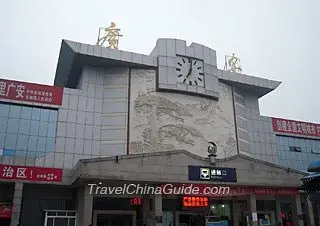 Railway Station
The city does not have airport, yet the local expressways provide convenient access to such facilities outside of the city. Chongqing Jiangbei International Airport or Nanchong Airport can be reached in around one hour and half an hour respectively.
Guang'an Railway Station is located in Guang'an District's Qianfeng Town. The city also has numerous road links, with Chengdu, the capital city of Sichuan, about two and a half hours' drive. The surrounding districts, counties and cities can all be accessed within 30 minutes by car.
Guang'an Central Bus Station: 88, Jian'an Nan Lu, Economic and Technical Development Zone.
Weather
-
The city is subject to a subtropical monsoon climate; Guang'an weather is generally humid with warm winters and hot summers. It rarely rains during winter or spring, although heavy precipitation is common in the summer months. The average annual temperature is around 15.8℃-17.7℃ (60.4℉-63.9℉). Guang'an is suitable for visits throughout the year, however it worth noting that special temple fairs are held on the nineteenth day of the third, sixth and ninth lunar months. The temple fair of the sixth lunar month in Huaying Mountain represents the largest of these events. Those interested in the local folk-customs are recommended to come here during this period.
Guang'an Travel Tips

History: In the 11th century BC, the Ba Tribe moved to eastern Sichuan and established the Ba Kingdom; its capital was situated in present-day Chongqing, with Guang'an falling under its jurisdiction. During the Qin Dynasty (221BC-206BC), this area became part of the united China and ethnic groups from the central plains moved and settled into the area.



Physical Features: Guang'an is situated on a giant incline which slopes from east to west. The Huaying Mountain divides it into two regions: the eastern gorge area and western hilly area. Two main rivers, the Qujiang and Jialing, flow from north to south through central and western part of the area.



Special Local Products: painted bamboo scrolls, navel oranges, pomelos, Huangjin (Gold) pears, litsea cubeba oil, beef, Yongshou Temple dried bean curd and herb and fungus products from the Huaying Mountain
- Last updated on Jul. 12, 2022 -