Deng Xiaoping's Former Residence
Bronze Statue of Deng Xiaoping
Deng Xiaoping's Former Residence is located in the suburb of Guang'an in Sichuan. Deng Xiaoping (Aug. 22nd, 1904-Feb 19th, 1997) is a great Marxian, Proletarian Revolutionist, and one of the founding fathers of the People's Republic of China. Deng was also the paramount leader of China from 1978 to 1989. During the time, he carried out the "reform and opening up" policy in China, which introduces China to the global market and greatly improves the living conditions of millions of Chinese. It was also Deng who carried out the "one country, two system" policy, under which Hong Kong returned to China.

The main attractions in the Deng Xiaoping's Former Residence include:


Deng Xiaoping Bronze Statue Square
Deng's Bronze Statue is surrounded by mountains on three sides which seem to form a natural chair. The statue is 8.2 feet (2.5 meters) high and the pedestal is made of granite blocks. "Deng Xiaoping" sits on the chair, wearing a short sleeve shirt, army slacks and cloth shoes. He is watching his dear hometown with an amiable smile.


Exhibition Museum
With an area of 4,545 square yards (3,800 square meters), the Exhibition Museum consists of a lobby, a movie room, a collection room and three exhibition rooms. There are 408 pictures, 170 cultural relics and over 200 archival documents, vividly presenting Deng Xiaoping's life stories and his dedication to the country's revolution and reform.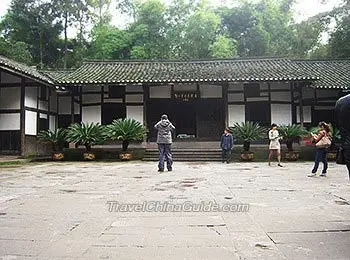 Former Residence of Deng
Memorial Hall
The Memorial Hall in Deng Xiaoping's Former Residence is about 75 yards (69 meters) from the Exhibition Museum and the area is half of it. The design concept of the hall is "going home", showing the daily life of Deng as an ordinary person, and helping you know more about his world, emotions and character.
Former Residence of Deng Xiaoping
Deng spent his first fifteen years here from 1904 to 1919. Hidden in bamboos, his residence is an ordinary farmer's courtyard which has 17 rooms. It was built by three generations of the Deng Family. The north wing-room was built by Deng's great-grandfather, the principal room by his grandfather and his parents built the south wing-room.
Old Well of Deng Family
The old well in Deng Xiaoping's Former Residence was dug by the ancestors of Deng Family in the
Ming Dynasty
(1368-1644). It looks like an ancient bronze mirror in the green paddy field. What is more peculiar is that the well never dries out and the surface of the water is always 2 feet (60 centimeters) higher than the ground, with the water spilling out and trickling continuously. The water is not only clean and pure but also warm in winter and cool in summer.
Imperial Academy Yard
The Imperial Academy Yard is the former house of Deng Xiaoping's ancestor Deng Shimin, a member of the Imperial Academy. After Deng Shimin died, it was turned into a private school. Deng studied here when he was young. It is over 200 years old and has a grand courtyard with 36 rooms, and covers 2,654 square yards (2,219 square meters). The carvings on the eaves, pillars and doors are exquisite.
| | |
| --- | --- |
| Deng's Bedroom | Deng's Personal Items |
How to Get to Deng Xiaoping's Former Residence from Guang'an
Former Residence of Deng Xiaoping is situated at Paifang Village of Xiexing Town in the northern suburb of Guang'an. To get there, you can take city bus 8 or a taxi from Guang'an. A taxi ride costs about CNY 15.
Admission Fee
The ticket is free but you need to get one with your passport at the ticket office.
Opening Hours
Tuesday to Sunday: 08:30-17:30
Closed on Mondays except holidays.
- Last updated on Oct. 30, 2019 -
Questions & Answers on Deng Xiaoping\s Former Residence
Asked by Eric Tan from SINGPAORE | Oct. 26, 2019 21:40

Reply
What is the easiest way to reach Xiexing from Chengdu? Bus or Train?
Answers (3)
Answered by Kira from AUSTRALIA | Oct. 28, 2019 20:39

0

0

Reply
What is Xiexing? You might need to recheck your spelling.
Answered by Eric Tan from SINGAPORE | Oct. 29, 2019 19:41

0

0

Reply
I want to visit Xeng Xiaoping's former residence in Paifang Village in Xiexing Town, Guang'an district in Sichuan. How do I reach there by bus or train?
Answered by Liz from SINGAPORE | Oct. 30, 2019 17:49

0

0

Reply
You can take high speed train from Chengdu East Railway station to Guang'an South Railway station, then take bus No.8 to your destination.