Guangyuan Travel Guide
Guangyuan Facts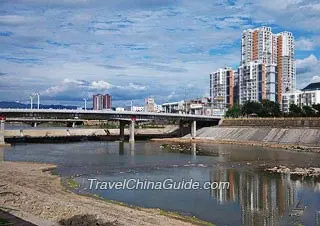 Chinese Name: 广元 (guǎng yuán)
Population: 2,988,600
Area: 16,319 square kilometers (6,301 square miles)
Location: in the north of Sichuan Province, southwest China
Administrative Division: 3 districts (Lizhou, Yuanba, Chaotian); 4 counties (Wangcang, Qingchuan, Jiange, Cangxi)
Area Code: 0839
Zip Code: 628017
GDP (2019): CNY 94.185 billion (USD 13.652 billion)
A significant Channel to Sichuan & Hometown of Empress Wu Zetian
Situated in the north of Sichuan Province, Guangyuan City is bordered by Gansu and Shaanxi provinces to the north and Nanchong, Mianyang and Bazhong to the south, west and east. Guangyuan has been an important channel to Sichuan since ancient times. Jianmen Shu Road connected Shaanxi and Sichuan, leaving a lot of historical sites. The section of the road in Guangyuan is the most amazing and precipitous, with Jianmen Pass, Cuiyun Corridor with tens of thousands of ancient cypresses, ancient plank road sites and Thousand-Buddha Grottoes Cliff as the highlights. The Thousand Buddha Grottoes cliff built in the Northern Wei Dynasty (386 - 534) are stacked like beehives with nearly 7,000 exquisite statues standing inside the niches.

Guangyuan is also the birthplace of the only Empress Wu Zetian of the Tang Dynasty (618 - 907) in Chinese history. Visitors can know some historical stories about Wu Zetian and see the only statue in China showing her innocent appearance in Huangze Temple.
Guangyuan Attractions - Things to Do

Jianmen Shu Road (Jianmen Shudao): It is also known as the ancient plank road, was the main pass from Central China to Southwest China through Shu (old name for Sichuan). The pass runs from Hanzhong City in Shaanxi to Chengdu. The plank road is total 450 kilometers (280 miles) long with a history stretching back two thousand years. Jianmen Shu Road refers to the section of the ancient plank road near the Jianmen Pass. The Ancient Plank Road in Mingyue Gorge that was first built by the Qin States in Warring States Period is the starting point of the ancient Jianmen Shu Road.



Huangze Temple: It was built on the bank of Jiangling River as a place for the cults which favored Wu Zetian, the only female emperor in the Chinese history. The temple is also famous for the stone carvings in its caverns.



Thousand-Buddha Cliff: Located 5 kilometers (3 miles) north of downtown on the east bank of Jialing River, it is home to the largest grotto in Sichuan. About 1,500 years ago, numerous Buddha statues and niche caves was chiseled on the long cliff, which measures about 45 meters (148 feet) tall and 200 meters (656 feet) long. Dayun Cave is the largest in scale among these grottoes with a total of 234 statues. The Thousand-Buddha Cliff is easily attainable from the Ancient Plank Road in the south and stands facing the Huangze Temple on the other side of the River.

Other Scenic Spots: Tiantai National Forest Park, Yuntai Scenic Area, Gucheng Mountain
| | |
| --- | --- |
| Zhaohua Ancient Town | Jianmen Pass |
How to Get to Guangyuan
Guangyuan Panlong Airport is located on the Longpan Mountain, 14 kilometers (9 miles) from downtown( Lizhou District). Flights to Beijing, Guangzhou, Jiuzhaigou, Shenzhen, Hangzhou, Jinan, Kunming, Nanning, Urumqi are available.
Guangyuan is a big stop to Sichuan from the north. Through the Chengdu-Guangyuan Expressway, one can reach Chengdu Zhaojuesi Bus Station in northern Chengdu in about three hours.
Main bus stations:
Nanhe Bus Station: 54, Shumen Nan Lu, Lizhou District
Shangxi Long-Distance Bus Station: beside the railway station in Shangxi Development Zone
Jialing Long-Distance Bus Station: 15, first section of Shumen Bei Lu, Lizhou District (operating buses to Jiuzhaigou)



See more about Xi'an to Guangyuan Trains
Weather
-
The city enjoys a subtropical humid monsoon climate with four distinct seasons and moderate weather. Guangyuan weather has abundant rainfall and its annual average temperature falls around 16℃ (60.8℉). It is suggested to tour around the city in spring and autumn.
Guangyuan Travel Tips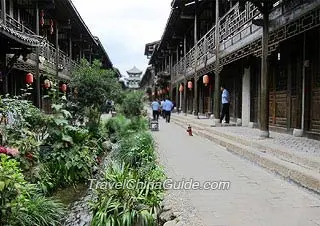 Qingxi Ancient Town

History: From the Spring and Autumn Period (770BC-476BC) to the Warring States Period (476BC-221BC), this city was the capital of Ju Kingdom. The Chinese named it 'Lizhou' in the Tang Dynasty (618-907), because it is the birthplace of the only female emperor in Chinese history, Empress Wu Zetian. The name of the city was changed from Lizhou to Guangyuan during the Yuan Dynasty (1271-1368) and it is still been used as the name of the district where the city government is seated.



Physical Features: It is the point of convergence for the Micang Mountains, the Longmen Mountain and the low mountainous area in northern Sichuan Basin. To the north the area is mountainous, while the south is hilly with a lower altitude.



Special Local Products: Jianmen bean curd, Cangxi Snow pear, Baihua (White Flower) Stone carvings.
- Last updated on Aug. 24, 2020 -
Questions & Answers on Guangyuan Travel
Asked by Celesta from NETHERLANDS | Apr. 13, 2018 05:22

Reply
Hi! I'm currently travelling in China and want to go to the Tangjiahe National Reserve.
There is little information available online. What is the cheapest way to get there from Guangyuan? Are there any buses going to Qingchuan/Qingxi? And any buses to the park itself? Can we arrange a guide from one of these places? Or can you go by yourself? What is the entrance price of the park? Thank you!
Answers (1)
Answered by Linda from CANADA | Apr. 16, 2018 01:04

0

0

Reply
Yes, there are buses from GY Bus Station to Qingxi Town at 7:20, 10:20 and 14:20. After arrival, you need to take a taxi to the park. The entrance fee us 55yuan.
Asked by george ciao from USA | Dec. 28, 2017 21:32

Reply
what is the fastest way from Chengdu to Guangyuan? fast train? and then to Gongxian?
I plan to leave Chengdu on Feb 7, 2018. Stay GY for two nights, then leave to Gongxian, Sichuan on the 9th of Feb. Please let me know what is the fastest way for me to get around. Money is not an issue. Thank you!
George
Answers (1)
Answered by Lisa from CANADA | Dec. 29, 2017 01:04

1

0

Reply
It is best to take a high speed train from Chengdu East Station to GY in 1.5-2h.

May I know if you refer to the Gongxian County in Yibin Cty? if so, take the only bus for Yibin at 10:00. Then change to another bus to ur destination.
Asked by jose from SPAIN | Jun. 22, 2017 04:52

Reply
Can l take a bus from Longnan to Guangyuan? Which bus station and depart schedule and price tickets?
Answers (1)
Answered by Rita from NORWAY | Jun. 27, 2017 02:17

1

0

Reply
As I know, you can take a bus from Wudu Bus Station to Guangyuan. It departs at 11:00 and 15:30. The ticket fare is CNY80/person. The duration is around 3 hours.
Asked by Pairut from THAILAND | Apr. 17, 2016 23:59

Reply
In Chongqing I can take bus go to Guangyuan depart schedule ,travel time and price ? tks Pairut
Answers (1)
Answered by Candi from GERMANY | Apr. 18, 2016 01:41

0

0

Reply
You can take a bus from Chongqing Bus Station at No. 6, Caiyuan Road, Yuzhong District. The bus departs at 9:30, and the trip takes about 6 hours. The fare is CNY153.

Or, you can take a bus from Longtousi South Bus Station on the southern square of North Railway Station. The bus departs at 10:10, and the trip takes about 6 hours. The fare is CNY150.
Asked by Pairut from THAILAND | Apr. 08, 2016 11:05

Reply
Can l take a bus from Guangyuan to Longnan? Which bus station and depart schedule and price tickets?
Answers (1)
Answered by Johnson from GERMANY | Apr. 09, 2016 02:12

1

0

Reply
Yes, you can take the direct long-distance bus from the Main Bus Station amd get off at Wudu District, Longnan. The bus schedules are 08:00, 11:00 and 13:30. The ticket fare is CNY 87 per person.