Jianmen Shu Road Scenic Area (Jianmen Shudao)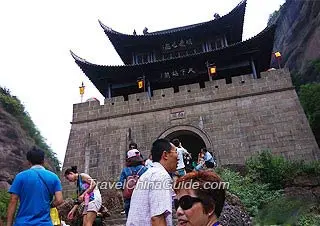 Jianmen Pass
Guangyuan Jianmen Shu Road (Jianmen Shudao), 450 kilometers (280 miles) long, starts at Ningqiang County of Shaanxi Province in the north and ends at Chengdu City of Sichuan Province in the south. It was first used in the Western Zhou Dynasty (1046-771 BC), and still remains a famous scenic route.

As Jianmen Pass has always been one of the main passes into Sichuan Province, it has had such an important military role that many rulers in the past have fought to control. It lies at a gap between two mountains surrounded by steep cliffs. As the peaks and cliffs around look like swords, the pass is named Sword Gate Pass (Jianmen Pass). Shu Road was an important communication route between ancient Chang'an (Xi'an) in Shaanxi Province and Chengdu in Sichuan Province. In the past, Shaanxi was called Qin and Sichuan was called Shu; thus the road was named Qin Shu Road, for short, Shu Road. Due to these names, the whole scenic area is called Jianmen Shu Road.

The Jianmen Shu Road takes Jianmen Pass as the center, covering abundant attractions including steep mountains, deep valleys and many places of historical interest along plank roads. The entire scenic area covers two major tourist areas: Jianmen Pass and Cuiyun Corridor.
Jianmen Pass Scenic Area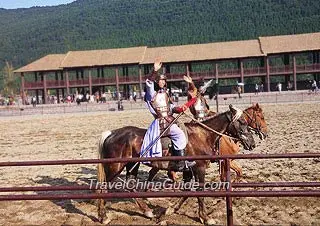 Zhaohua Ancient Town
Jianmen Pass, Sword Gate Pass in Chinese, is around 15km (9mi) away from southern Jiange County of Sichuan Province. Standing upright in the ridges, steep cliffs tower on both sides of the pass, with 72 peaks rising into clouds like sharp swords. In the 500 meters (546.8 yards) long deep valleys inside the pass, tourists can admire some stone inscriptions such as 'No.1 Pass' and 'the most magnificent pass in China'. Many mountain paths and plank roads were built against the sheer mountains to accommodate soldiers and military supplies. The nearby attractions are Jiange pass, Jiange Post House, Seventy-two Peaks, Small Sword Hill and others.

Memorial Hall of Jiang Wei (a famous general during the Kingdom of Shu (221-263), also royally titled Ping Xiang Hou) was first built in the Ming Dynasty (1368-1644). There is a front yard and backyard in the memorial hall and a Sitting Statue of Jiang Wei lies in the backyard. Some other attractions about Jiang Wei can be found at Jianmen Pass Scenic Area, such as Jiang Wei Appointing Troops Terrace, Jiang Wei's Tomb and Jiang Wei Spring.

Liangshan Temple lies at the top of Dajian Mountain at Jianmen Pass between the Peach Peak and Careless Peak. Its main hall is Mahavira Hall, in which status of three Buddha sit. In the right of Mahavira Hall is a depositary of Buddhist Scriptures.

Other great scenic spots are the Memorial Hall of the Red Army Conquering Jianmen Pass, Jianmen Pass Guarding Bridge, Golden Ox Valley, Precipice Corridor, Emperor Passing Cave and Jianmen Pass Geological Museum. There is also a 4D cinema in the scenic area displaying a film named Jianmen God Bird telling a legend of the pass.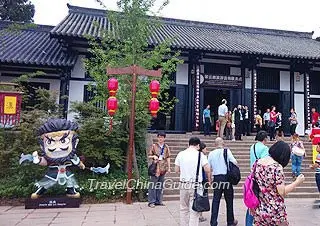 Cuiyun Corridor Tourist Center
Cuiyun Corridor
Between Jianmen Pass and Jiange County, thousands of ancient cypresses grow on the ancient Shu Road and Sichuan-Shaanxi Highway to make a corridor. Exuberant cypresses seen in the distance scrape the sky like a verdant cloud, so it is named Cuiyun Corridor, a section of old Shu Road, extending about 150km (93mi). The cypresses grow into different shapes over many years, so people give them some interesting names accordingly, such as Sisters Cypress, Mandarin Duck Cypress, Arhat Cypress, Stone Ox Cypress and Fairy Lady Cypress.
In this scenic area, you can visit other attractions like the Stone Carving of Zhang Fei (a famous general during the Kingdom of Shu) Planting Cypress, Zhang Fei Well, Cuiyun Tower and Three Feet Pavilion.
Other recommended attractions near Jianmen Shu Road Scenic Area: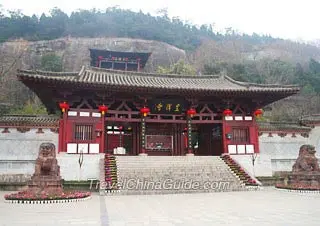 Huangze Temple
Huangze Temple, in the west of Guangyuan city, is not only the Memorial Hall of Wu Zetian (the only empress in Chinese history), but also preserves 1,203 Cliffside Buddha Images, erecting among 6 caves and 41 shrines during the Northern Wei and Qing Dynasties (386-1911). The major buildings at present are Two Saints Hall (Hall of Emperor Gaozong and Empress Wu Zetian in the Tang Dynasty (618-907)), Big Buddha Cave, Five Buddha Pavilion and Bell and Drum Tower.

Thousand-Buddha Grottoes Cliff lies around 5km (3.1mi) away from Guangyuan city, just opposite Huangze Temple. This is the largest scale of grottoes in Sichuan. It is records that the grottoes were first made during the Northern Wei period (386 - 534). On the 45 meters (about 148 ft) high cliff were carved many grottoes, in each of which there are many Buddha stone carvings, 7,000 in total.



As the scenic area covers a large area, tourists are recommended to plan an itinerary in advance to catch all the major scenic spots. Here is a recommended travel route:
Day 1: Tourism Service Center – Jiange Memorial Archway – Sightseeing Terrace – Pass Guarding Bridge – Jiang Wei Spring – Statue of Zhuge Liang (the prime minister of Kingdom of Shu) – Ancient Fort – 4D Cinema – Heavenly Ladder Valley – Stone Bamboo Peak - Precipice Corridor – get back to the tourists service center by walking or cable car
Day 2: Cuiyun Corridor Scenic Area – Huangze Temple – Thousand-Buddha Grottoes Cliff



Tips:
1. You can stay in the Jianmen Pass Hotel at the first night. This hotel is in Jiange new county, around 7km (4.3mi) from Jianmen Pass Scenic Area.
2. Free WIFI is accessible in the whole scenic area as well as the nearby attractions like Huangze Temple and Thousand-Buddha Grottoes Cliff.
Admission Fee
Jianmen Pass Scenic Area: CNY105
Cuiyun Corridor: CNY40
Other Fees of Jianmen Pass Scenic Area
Cable car: CNY50 per person for a single trip
Slide way: CNY30 per person for a single trip
Tip: Aside from walking, visitors usually choose to ascend by cable car and descend by slide way.

4D cinema (Jianmen God Bird): CNY50 per person
Sightseeing bus: CNY15 per person
Opening Hours
08:00 – 18:00
Best Travel Season
March to October


Transportation

To Jianmen Pass Scenic Area:
1. At Chengdu Zhaojuesi Bus Station, there are buses to Guangyuan from 07:40 to 18:00 and it takes 3.5-4h. Then Guangyuan Nanhe Bus Station, take a direct bus to get there and only two buses are in service, at 07:40 and 08:40.
2. There are regular buses from Chengdu Zhaojuesi Bus Station to Jiange County (Pu'an) and they are scheduled from 08:00 to 17:30. Upon arriving there, transfer to another direct bus to reach. Buses for this journey are scheduled from 07:20 to 17:00 every 40min.
3. You can also take a train to Guangyuan Railway Station or fly from Beijing, Guangzhou and Huangzhou to Guangyuan. Then transfer to a bus to get there.

To Cuiyun Corridor:
1. There are shuttle buses from Jianmen Pass Scenic Area and the bus fare is CNY3 per person.
2. It is 10km (6mi) or a little farther from Jianmen Pass, so you can rent a car to get there.
- Last updated on Oct. 18, 2018 -