Jinghong Travel Guide
Jinghong Facts: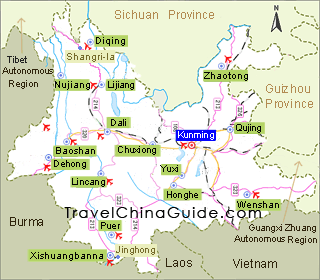 Chinese Name: 景洪 (jǐng hóng)
Population: 547,700
Area: 6,867 square kilometers (2,651 square miles)
Location: in the south of Yunnan, southwest China
Area Code: 0691
Zip Code: 666100
GDP (2019): CNY 29.483 billion (USD 4.274 billion)
Nationalities: Dai, Hani, Jinuo, Yao, Zhuang
Laid-Back City Famed for Tropical Natural Scenery & Dai Customs
Located in the south of Yunnan Province, Jinghong is the political, economic and cultural center of Xishuangbanna Dai Autonomous Prefecture, which is a supernatural oasis in southwest China, while Jinghong is just a bright pearl in the oasis. It is 560 kilometers (345 miles) from Kunming, the capital of Yunnan. Jinghong features charming tropical natural scenery and colorful ethnic customs. The Wild Elephant Valley densely forested and frequented by Asian wild elephants and the Manting Park with beautiful scenery, wonderful performances and bonfire party are highlights. If you want to experience the Dai customs, you should pay a visit to Xishuangbanna Nationality Culture Park with many Dai traditional residences, interesting folk activities, excellent performances and a lively water-splash activity. Temples with distinctive architectural styles in Southeast Asian countries are also eye-catching.
Additionally, there are many cultural and scientific institutes here, including Yunnan Institute of Tropical Craps, Yunnan National Laboratory primate Center of China and the largest butterfly farms of China. The city has the most enchanting tropical landscape. The main scenic spots worthwhile visiting are the Peacock Lake, Chunhuan Park, Manjinglan Tourism Village, Folk-Custom garden, Dai Garden (the village of the Dai ethnic group) and Xishuangbanna Primitive Forest Park.

Manfeilong Pagoda

Manting Park

Octagonal Pavilion

Tropical Plant Research Institute

Xishuangbanna Nationality Culture Park

Wild Elephant Valley
Passengers can take flights to get to Xishuangbanna Airport (Xishuangbanna Jinghong Airport), which is the second largest airport in Yunnan Province. Express highway system is well-developed in the city that can reach Burma and Thailand. Besides, city-buses, bicycle, rickshaw and taxi bring a lot of convenient for tourists to go around the city.
Weather
-
Jinghong Travel Tips

History: This place was named as Jingyong, Jinglong and Cheli in history, where a total of 13 nationalities live together such as Dai, Hani, Jinuo, Bulang, Hui and Yao. The population of the ethnic minorities takes up 66.7% of the total population. In 1180, Payazhen, the leader of Dai people, established Jinglong Kingdom. In 1269 of the Yuan Dynasty (1271-1368), Jinghong Kingdom was changed into Cheli Army and People General Government which was re-changed into Cheli Xuanwei Shisi (pacification office) in 1384 of the Ming Dynasty (1368-1644). In 1570, the commissioner of Cheli Xuanwei Shisi divided its territory into 12 Banna (12 parts). In 1927, Cheli Xuanwei Shisi was made as Cheli County, and then was renamed as Jinghong County in 1958. Finally, it was upgraded as a city in 1993.



Physical Features: Enjoying the fame as 'Green Treasury' and 'Gene Pool of Species', the region keeps a large area of tropical rainforest, including oil palms, coconut palms and mango trees as well as various other tropical plants grown wherever in the parks, on the sides of the streets, in front of or behind the houses.
- Last updated on Sep. 16, 2020 -
Questions & Answers on Jinghong Travel
Asked by Kristy from AUSTRALIA | Oct. 30, 2019 18:30

Reply
How can we make it from Yuanyang Rice Terrace to Jinghong?
Is there a bus? What are the schedules? How long does it take? How much?
Answers (2)
Answered by Nina from USA | Nov. 03, 2019 19:07

0

0

Reply
There is no direct bus you can take. If you don't want to hire a car to Jinghong, you need to go back Yuanyang county first, then take bus from Nansha Coach station at 16:00. It takes 7.5 hours on the way with CNY150.
Answered by Kristy from AUSTRALIA | Nov. 04, 2019 14:34

0

0

Reply
Thank you for your response. We travelled the route a few days ago. It's a direct bus from Nansha Bus Station at 15:30. The ticket costs CNY195 arriving at Jinghong closer to 23:00.
Asked by Beewinny from THAILAND | Oct. 31, 2017 11:07

Reply
Is there any direct bus from Jinghong to Yuanyang Nansha ?
What schedule?
How long does it takes?

Thank you.
Answers (1)
Answered by Juana from CANADA | Nov. 01, 2017 02:27

1

0

Reply
I am afraid there is no direct bus. Then you can take a bus at JH Bus Station to Yuanjiang first with CNY127. It takes 5-6h. Only one schedule is available for this route at 10:40. Then change to another to Yuanyang Nansha.
Asked by Maro from SPAIN | Nov. 19, 2016 07:26

Reply
How can we make it to Yuanyang Rice terraces from Jinghong?
Hello!

Is there a bus or train? and how long does it take?
Should we plan for a night in the rice terraces?

Thank you for all the info!

Answers (4)
Answered by Edgar from GERMANY | Nov. 20, 2016 03:30

0

0

Reply
Hello, you may go in this way: take a bus from local Long-distance Bus Station to Yuanjiang in 5h. Then transfer to another bus to Yuanyang. Perhaps the bus won't take you directly to the rice terrace, so you may need to hire a car to reach. You can surely plan an overnight stay there for a better experience.

Have fun!
Answered by Maro from SPAIN | Nov. 27, 2016 04:00

0

0

Reply
Hello Edgar,
Many thanks for the information!
Do you know whether it is easy to rent a car and do you maybe have any recommendations where we can spend the night in the rice terraces?

Thank you!
Answered by Edgar | Nov. 30, 2016 03:28

0

0

Reply
It is easy for you to rent a car. There are many hotels and hostels at the rice terraces. For instance, the Timeless Hostel is highly recommended. It is located at Pugaolaozhai, Duoyishu, Xinjie Town. The hostel provides clean environment and nice service. It costs CNY 150 to 200 per night. Have a try!
Answered by Maro from SPAIN | Dec. 07, 2016 16:00

0

0

Reply
Hi again Edgar, many thanks for your help!
Asked by Patty from NETHERLANDS | May. 13, 2016 05:33

Reply
How can I purchase an online bus ticket from Jinghong to Laos (Luang than nha)?
I need the ticket in advance for my visum for China.
Answers (1)
Answered by Lucas from AUSTRALIA | May. 13, 2016 21:33

0

0

Reply
I'm afraid there is no such a media to buy the tickets in advance. I know the bus departs from South Bus Station. Maybe you can call the hotline for help: 0691-2137105.
Asked by Paul from AUSTRALIA | Apr. 15, 2015 03:06

Reply
Is there a good limousine service anyone can recommend in Jinghong?
Hi, I do not speak any Chinese and am worried about airport transfers. Sometimes taxis can be unreliable.
Answers (1)
Answered by James from RUSSIA | Apr. 16, 2015 03:37

1

1

Reply
Hey, the local airport is about 3.1 mi (5 kilometers) to the downtown. If you take official taxi in the airport. It would be safe and reliable. Or you can rent a car online by eHi Car Service. It would be reliable.