Dehong Travel Guide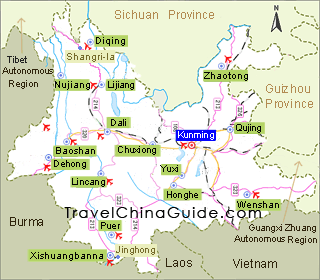 Dehong Facts
Chinese Name: 德宏傣族景颇族自治州 (dé hóng dǎi zú jǐng pō zú zì zhì zhōu)
Population: 1,300,000
Area: 11,526 square kilometers (4,450 square miles)
Location: in the west of Yunnan, southwest China
Area Code: 0692
Zip Code: 678400
Administrative Division: 3 counties (Lianghe, Yingjiang, Longchuan); 2 county-level cities (Ruili, Mangshi)
GDP (2018): CNY 38.106 billion (USD 5.759 billion)
Nationalities: Dai, Jingpo, Achang, Deang, Lisu
A Jadeite-Trading Center near Myanmar
Situated in the western boundary area of Yunnan Province, Dehong Dai and Jingpo Autonomous Prefecture neighbors Baoshan to the east and northeast, and shares a boundary of 504 kilometers (313 miles) with Burma in the south, west and northwest. Dehong has close trade relations with Myanmar and locals live in harmony with the Myanmar people. Jewels such as jadeite and other special commodities from Burma as well as local goods can be bought at Jiegao Port and Ruili Border Trade Street. Beside the No.71 Border Pillar, a Dai village is divided into two parts by the border line where the Chinese and Burmese villagers live together, sharing the same language and customs. There is a swing beside the border line. You can reach Burma in an instant by swinging.
Attractions - Things to Do

Yunyan Pagoda: It is an important Buddhist tower of Hinayana of Yunnan situated in the Yunyan Hill in Yingjiang County. Near the pagoda, there are the symbolic buildings of Munao Festival of Jingpo and Water--Splashing Festival of Dai. A large stretch of banyan trees is adjacent to the pagoda. During the festivals, the square around the Yunyan Pagoda is filled of the locals.

Tree-Wrapped Pagoda: It is a miraculous pagoda in Youyi Lu of Luxi City. The solid brick pagoda had become wrapped and gradually covered by the roots of the big banyan; it is said to be the earliest Buddhist pagoda built by local Dai people. After visiting the Tree-Wrapped Pagoda, the Bodhi Temple can be reached by foot. This temple is not large, but it stores a great number of murals, sutras and art treasures of the Dai ethnic group for three or four hundred years.

Jiegao Border Trade Zone: Located at the southeast bank of Ruili River, there are no less than fifteen trade streets in this area. Zhongmian Jie is the largest one. In Ruili City, there is another border street well known as Bianmao Jie or Xingshi Jie. Merchants here are almost border residents. Visitors can find distinctive articles of both Burma and local Dai ethnic group in Ruili. Nightscape of the bazaar is especially beautiful, being a famous night street of Ruili City.

Other Scenic Spots: Dadenghan Dai Village, Daying River, Foguang Temple, Mengbanaxi Garden (Mengbanaxi Zhenqiyuan), Ruili River
How to Get to Dehong
1. Luxi City is called Mangshi by locals. Dehong Mangshi Airport is situated 6.5 kilometers (4 miles) from the city proper. Many flights are opened to cities such as Beijing, Shanghai, Shenzhen, Xi'an, Changsha, Chengdu, Chongqing, Wenzhou, Hengyang and Jieyang. Passenger can take airport shuttle bus and city bus travel between airport and downtown.
2.Visitors can complete travel procedures at the frontier inspection stations in Luxi, Ruili and Wanting Development Zone of Ruili, and apply for the permission to have a one-day tour on the Sino-Burma border area. Visitors can get to the Muse of Burma. For the shopping loci, Jiegao Border Trade Zone and Bianmao Street are the first options.
3. Address of Ruili bus station: 8, Munao Lu; Address of Luxi central bus station: 252, Tuanjie Da Jie, Mangshi Town
Weather
-
The region enjoys a subtropical monsoonal climate without winter chills nor intense summer heat. It has clear dry and humid seasons, with good rainfall. Its annual average temperature is around 18-20℃ (64.4-68℉). Temperatures vary greatly during the day, and it can reach 25℃ (77℉) in daytime during winter. It is warm here in winter. So winter (the dry season) is a perfect season to visit there, but Dehong's scenery is attractive all year round.
Dehong Travel Tips

History: The first kingdom in Dehong was established by the ancestors of Dai ethnic minority in present Ruili City after 424BC. During the 4th Century BC, Sino-India economic trade began, benefiting from the opening of the Southwest Silk Road. After the Western Han Dynasty (206BC-24AD) exploited the southwest region of China, the region was brought into Yizhou Shire. During the Tang (618-907) and Song (907-1279) dynasties, it respectively belonged to the Nazhao State (738-937) and Dali State (937-1257).



Physical Features: Situated in the southwest section of the Hengduan Mountains, the city lies in the west of Gaoligong Mountain in the gorges of western Yunnan. The terrain is high and deep in the northeast, while the southwest region is lower and slopes gently. Lofty mountains and great rivers constitute the main frame of the prefecture.

Local Highlights: Festivals of the Achang and Jingpo ethnic minorities are all derived from folk legends, and people sing and dance to express the origin of their cultures, to celebrate their harvest and express best wishes. Munao Songs Festival is the grandest traditional feast of Jingpo; that is usually held in the fifth day of the first lunar month, while Huijie Festival and Woluo Festival of Achang are important celebrations of Achang.

Special Local Products:
Handicrafts: fossil jade, embroidery and brocade articles of ethnic minorities, gems, jade articles
Foods: Huilong Tea of Lianghe County, dried beef
- Last updated on Sep. 10, 2020 -
Questions & Answers on Dehong Travel
Asked by Scott Eccles from U.K. | Aug. 28, 2016 10:28

Reply
Lijiang - Dehong - Xishuangbanna
Hi,
We are planning to travel from Lijiang to DH then on to Xishuangbanna in Sept/Oct this year and was wondering what the transport is like during this period? Many thanks
Answers (2)
Answered by Kelly from AUSTRALIA | Aug. 28, 2016 22:28

1

0

Reply
Hello Scott. As I know, there is only one direct bus at Lijiang Bus Station is schduled for Mangshi/Dehong. It departs at 09:00, taking 8-9h and costing 180RMB per person. Also only one bus gets to Xishuangbanna/Jinghong from Manshji Passenger Transport Center. I have no idea of the timetable, but I heard it is the pass-by bus departing from Ruili. Just go there early in the morning or consult in advance. Hope you won't miss it!
Answered by Scott from UK | Aug. 29, 2016 07:30

0

0

Reply
Thanks Kelly, that's good to know.!!
Asked by Sarah from CHINA | Jun. 22, 2016 02:59

Reply
How can I get to Dehong from Dali? Is there a train route?
Answers (2)
Answered by Ali from GERMANY | Jun. 23, 2016 01:17

3

0

Reply
I am sorry that no train service is available. You can take a bus to DH Mangshi from Xingsheng Road Gaokuai Passenger Transport Station at No. 41, Xingsheng Road. The trip takes about 6 hours in usual time. The buses depart at 10:30, and 18:00, and the fare is CNY 103 or 112.
Answered by Sarah from CHINA | Jun. 23, 2016 10:26

0

0

Reply
Thank you :)
Asked by Louise Mellor from BURMA | Feb. 16, 2016 00:25

Reply
Do you know the dates of the Jingpo Munao festival in Dehong Mangshi in February 2016?
Here are some details - it might be around the 21st to 22nd February. It would be great to get more details. Thanks

Many thanks
Answers (3)
Answered by Tom from CANADA | Feb. 16, 2016 03:11

2

0

Reply
Yes, the information you found is correct. This festival is held on Jan.15 in Chinese Lunar Calendar every year. So the corresponding date is Feb.22 in Gregorian Calendar. :)
Answered by Louise Mellor from UK | Feb. 16, 2016 05:05

0

0

Reply
Thank-you very much. Do you know if the 22nd is the first day? And also do you know how many days it goes on for? Is there traditional dancing everyday or is just the first day, or last day etc etc?

Many thanks
Louise
Answered by Tom from CANADA | Feb. 16, 2016 20:00

1

0

Reply
Generally speaking, it will start from Feb.22. And the festival will last 4 to 5 days. You can see the traditional dance every day during that period of time. Have fun!