Wenshan Travel Guide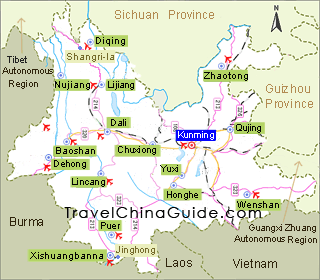 Wenshan Facts:
Chinese Name: 文山 (wén shān)
Location: Lying in the southeast of Yunnan Province, Wenshan Zhuang and Miao Autonomous Prefecture neighbors Baise in the Guangxi Province. It is bounded on the south by Vietnam. Wenshan County, the government seat of the prefecture is about 310 kilometers (193 miles) from Kunming.

Population: 3,372,000
Area: 31,456 square kilometers (12,145 square miles)
Nationalities: Han, Zhuang, Miao, Yi
Administrative Division: 8 counties (Wenshan, Yanshan, Xichou, Malipo, Maguan, Qiubei, Guangnan, Funing)
Seat of the city government: No.44, Dongfeng Road, Kaihua Town Wenshan County
Useful Telephone Numbers:
Tourist Complaints: 0876-2151632
Weather Forecast: 121
Zip Code Inquiry: 184
Bank of China: No.138, Kaihua Road (Middle), Kaihua Town
China Post: Post Bureau Building, Puyang Road, Kaihua Town
Attractions - Things to Do

Puzhehei in northwest Qiubei County is a fairyland from which visitor can have a panoramic view of clear lakes and pond full of lotus, emerald mountains and enchanting karst landscape. This charming country is also an ideal place to view the pomp in festivals of the Yao, Miao, Huang and Yi minorities. July to August is the best time to admire the most beautiful country landscape of Puzhehei, because the lotus blossoms are in their florescence.



Bamei Village of Guangnan County has become a must go scenic spots while traveling here. Before entering the village, villagers should first pass through the watercourse in a karst cave. For most of Chinese people, this is exactly the Xanadu, a bucolic land outside the world.



Other Scenic Spots: Dulong Border Fair, Babao Scenic Area, Laojunshan Scenic Spot, Yuxian Lake, Xihua Park
1. Wenshan Puzhehei Airport stands 5 kilometers (3 miles) south of Yanshan County, 23 kilometers (14 miles) from Wenshan County. At present, it has flights to Kuming, Nanning and connecting flight to Guangzhou through Nanning. There are several ticket booking offices in counties of the prefecture. 120 minutes before take-off, airport buses will send passengers booking tickets at these offices to the airport from Jinmeng Hotel. Usually, ninety minutes ahead of time is suggested to reach the airport.
2. Road is the backbone of local transportation. There are three main bus stations in the county:
Wenshan Prefecture bus station: Zhongling Street
Nanqiao bus station: Nanqiao Road
Beiqiao central bus station: Beiqiao Road
3. It is about four hours' drive from Kunming to Puzhehei. Visitors can make an excursion of the Puzhehei by a 20-kilometer-long (12-miles-long) watercourse. Bamei Village can be reached from Guangnan County by public bus for about forty minutes.
Weather
-
The prefecture enjoys a plateau monsoon climate at low altitude having distributions of six climatic types, ranging from the north subtropical zone to the middle temperate zone. It has clear dry and humid seasons. May to October is the rainy season gathering over eighty percent of local's rainfall throughout the year. Most of the region has a favorable climate without winter chilliness and summer heat. Average temperatures in January and July are respectively 6.5-13.5

C (43.7-56.3

F) and 17-28.5

C (62.6-83.3

F). May to September is the best season to visit the prefecture, but umbrella and one or two wraps are necessary in case the weather changes.
Wenshan Travel Tips

History: Administrative division of this area in history initiated during the Western Han Dynasty (206BC-24AD), when the emperor launched the exploitation of southwestern border area. Kingdoms set up by local ethnic minorities were conquered and replaced by counties and shires newly established by the court.

Physical Features: This area stands in the southeast of the Yunnan-Guizhou Plateau backed by the Qinghai-Tibetan Plateau in the northwest. Mountainous region occupies nearly ninety-five percent of the prefecture's territory. The total area under cultivation only accounts for a proportion of seven percent.

Special Local Products: pseudo ginseng (Panax notoginseng), capsicum, bamboo shoot, Zhuang brocade, Zingiber striolatum (a kind of unique vegetable in Xichou County), green tea

Local Highlights: This place is a place inhabited by eleven ethnic minorities. Therefore, celebrating the festivals altogether with local minorities in the most interesting thing. Danu Festival is the grandest festival of the whole for the Yao ethnic minority. In addition, lotus festival, torch festival and many other local traditional celebrations are undoubtedly temptations for visitors.