Deqin, Yunnan
Deqin Facts
Chinese Name: 德钦 (dé qīn)
Population: 67,000
Area: 7,596 square kilometers (2,933 square miles)
Location: in the west of Diqing Tibetan Autonomous Prefecture, Yunnan Province, southwest China
Area Code: 0887
Zip Code: 674500
GDP (2017): CNY 3.11 billion (USD 0.47 billion)
Nationalities: Tibetan, Li, Han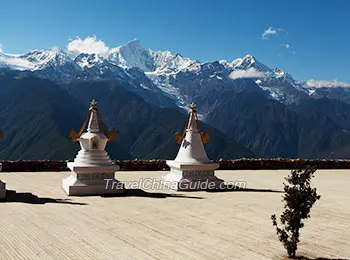 Meili Snow Mountain
Superb Hiking Base with Snow Mountains
Located in the northwest of Yunnan Province, Deqin is under the jurisdiction of Diqing Tibetan Autonomous Prefecture. It is adjacent to Tibet to the northwest and Sichuan to the southeast. Deqin Yunnan has remarkable tourist resources as it is situated in the hinterland of the Nujiang River, Lancang River and Jinsha River and the southern end of Tibetan Plateau. The stretching and undulating snow-capped mountains are definitely the highlights, especially the majestic Meli Snow Mountain whose main peak is 6,470 meters (22,113 feet) high. It is easy to find the crystal and clear lakes, beautiful meadows, splendid canyons along the way. There are also magnificent temples, mysterious Tibetan Buddhist culture and diverse national cultures. Many tourists explore this place by hiking from Shangri-La and Lijiang.
​Best Places to Visit & Top Things to Do in Deqin
Viewing Snow Mountains

Meili Snow Mountain
Meili Snow Mountain, also known as Taizi Snow Mountain, is the most spectacular snow-capped mountain group in Yunnan. The main peak, with an altitude of 6,740 meters (22,113 feet), is the tallest mountain in Yunnan and has not been commercialized yet. At its foot, endless glaciers are sparkling. Meili Snow Mountain is famous for the rare and beautiful "Golden Snow Mountains" scenery. It mostly occurs in the early morning and afternoon of a sunny day when the sunshine suddenly cast the golden light on the top of the mountains for about 20 minutes.

Tips: The best time to visit Meili Snow Mountain is from October to April when the mountains are more visible. And the Feilai Temple and Wunongding observation platform are the best viewing places.



White Horse Snow Mountain
White Horse Snow Mountain stands in Yunnan and Tibet traffic arteries and is known as the kingdom of animals and plants. In summer, from June to August, a large scale of azaleas can be seen everywhere on both sides of the road. When enter into autumn, from September to November, the whole hillside looks as colorful as a palette, very spectacular and eye-catching. Viewing platforms on the sides of the road enable visitors to enjoy the beauty of the snow-capped mountains.

Tips: It should be noted that the roads will be closed for the heavy snow from December to March. It is necessary to prepare oxygen bottles and drugs to prevent altitude reaction and bring enough warm clothing as the altitude of White Horse Snow Mountain is high.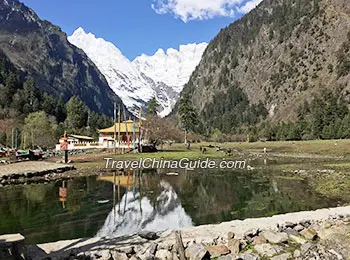 Yubeng Village
Located at the east foot of Meili Snow Mountain, the sparsely-populated Yubeng Village is a paradise of hikers to enjoy the picturesque scenery. There are only 2 post roads from Xidang and Ninong reaching Yubeng Village and the former one is more convenient. Yubeng Village is divided into upper and lower villages. The upper village leads to Xiaonong Pasture and Ice Lake, while the lower one leads to Holy Waterfall and Holy Lake. Hikers will pass through primitive forests along the way. Xiaonong Pasture was the base camp of the Sino-Japanese joint mountaineering team in 1991. The waterfall has always been a holy place of Tibetan Buddhism.


Tips: The best time to hike through the Yubeng Village is in autumn and winter when the village is colorful and dreamlike.
Best Time to Visit Deqin
The best time to visit Deqin Yunnan is from June to November when visitors can view the most beautiful scenery in pleasant weather. The climate is greatly affected by altitude. The higher the altitude is, the lower the temperature is and the more the precipitation is. It is snowy and cold and the lowest temperature can drop to -12℃ (10℉) in winter, from December to February. The weather gets warmer and drier during the spring time of Deqin Yunnan. The summer, from June to August, is the hottest in Deqin as the temperature can be as high as 23℃ (73℉). After entering autumn, from September to October, the temperature and precipitation will decrease. The rainy season of Deqin Yunnan is from May to October.
Deqin Weather Forecast
-
Transportation
Deqin is 800 km (497 mi) from Kunming, the capital of Yunnan Province and 167 km (104 mi) from Shangri-la, the capital of Diqing Tibetan Autonomous Prefecture. The nearest airport to Deqin is Diqing Shangri-la Airport which connects to major cities like Beijing, Guangzhou, Chongqing and Lhasa. Visitors can take a flight to Diqing Shangri-la Airport and then take a coach from Shangri-la Bus Station to Deqin Yunnan, taking 5 hours. However, most flights need to stop over in Kunming or Chengdu. There is only one coach from Lijiang to Deqin at 7:30, taking 8 hours. At Kunming West Bus Station, one coach departures to Deqin at 19:00 every day, taking about 15 hours.

The public transportation depends on buses and taxis in Deqin Yunnan. It takes about CNY5 to Deqin Bus Station and CNY40 to Feilai Temple from the central area by taxi. Renting a car to visit Deqin is also a good choice and it costs CNY600-700/day.
Best Deqin Food to Try
Highland Barley Wine, Kasai, Guoben Hot Pot, Corn Porridge, Yak Milk are local specialty foods.



Kasai
Kasai is a kind of Deep-fried Dough Stick. Deep-fried the auspicious knot-shaped dough made by flour, butter and sugar until done. It is often served for hospitality and festivals.
- Last modified on Sep. 25, 2020 -
Questions & Answers on Deqin, Yunnan
Asked by Nachphop from THAILAND | Jan. 02, 2020 22:30

Reply
Please tell me about bus schedule from Shangri-La to Deqin (Meili snow mountain) on 29 Feb 2020
and from Deqin (Meili snow mountain) back to Shangri-La on 1 Mar 2020

Travel time around 29 Feb 2020 - 1 Mar 2020

Thank you
Answers (2)
Answered by Jackson from USA | Jan. 05, 2020 19:27

0

0

Reply
To Deqin, the bus departs at 8:50, 10:30, 12:30, 14:30 and 17:20. Back to Shangri-La, it departs at 7:30, 8:30, 9:30 and 12:00.
Answered by Oli | Sep. 25, 2020 15:03

0

0

Reply
Hey just a heads up as a westerner you can hitch hike anywhere for free, certainly in Yunnan and Sichuan (I did it for 6 weeks) including to Deqin. (you don't even need to speak any Chinese the people are lovely.)