How to Collect a Train Ticket In China
Overseas passengers can collect their China train tickets at the ticket counters of any railway stations in China any time after booking online successfully, by showing valid ID certificate like passport used for booking and pickup number. If you are going to pick up tickets on the day of travel, get to the station at least 1.5 hours before departure.

To save time, you are recommended to use the ticket delivery service if the booking agency offers it.

Kind Reminder: Passenger can enter more and more China railway stations with their ID certificate used for booking the e-ticket, saving time collecting the paper ticket. But they need to bear the carriage number and seat number in mind, or just print out the e-ticket in advance.

See
How to Buy China Train Ticket Online
What do I need to pick up a China train ticket?
Original document used for booking like passport, and ticket pickup number are required for collection. When picking up for others, you need to have their original documents and pickup number, too.

When can I pick up my China train ticket?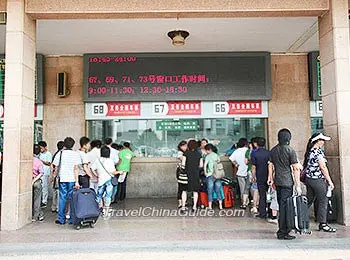 Ticket Counters at Beijing Railway Station
It can be collected any time after you receive the pickup number.

If you book from an agency like TravelChinaGuide, do not mix the order number with pickup number. An order number just tells you have successfully put an order with the agency while pickup number indicates your tickets are ready to be collected.

If you plan to collect the ticket on the day of travel before boarding, you'd better get to the station at least 1.5 hours prior to scheduled departure time, as there may be a long queue of passengers waiting there, especially during Chinese public holidays like National Day holiday from October 1 to 7, Chinese New Year usually falling between January and early March, and summer vacation from the end of June to early September.

Where to collect a train ticket in China?
Usually, tickets can be collected from any railway station in Mainland China.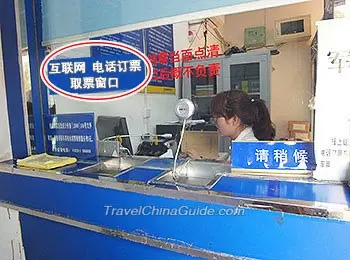 Special Counter for Ticket Collection
Currently, most stations have special counters for tickets collection, in Chinese characters 取票窗口 or 取票专口, which save you much time. If the station does not have a special counter, go to any of the regular counters to pick up your ticket.

Do not use the self-service ticket machines at the stations, or ticket outlets in town, as they only accept Chinese ID card for collection. Some big stations like Shanghai Hongqiao Railway Station are installed with self-service ticket machines which can print tickets for passengers holding Mainland Travel Permit of Hong Kong, Macau and Taiwan.

4 Tips on How to Collect a Train Ticket in China
1. If you have booked multi-trip tickets, it's better to collect them all at the first departure station to save time.
2. Opening time of ticket counters at railway stations: Generally, there is one or more ticket counters in railway stations open 24 hours a day and 7 days a week. However, in some stations, all counters are closed at late night if there is no train arriving or departing. For instance, stations specializing in bullet trains, which usually stop running at late night, such as Beijing South Railway Station, whose ticket counters are open 06:00 - 23:00. Another kind is the relatively small and remote stations, like Jishou Railway Station close to Phoenix Ancient Town, ticket collection only opens 08:00 - 21:00. But there is no need to worry. The closed counter (s) will be opened 1-2 hours ahead of departure even at late night if there is a departure.
3. It's better to print out necessary information in both Chinese and English, which might be used for collection. It will help you a lot if you speak no Chinese.


See Useful Chinese Phrases for Train Travel
4. If you have any questions concerning ticket collection at the stations, go to the information desk. Almost all stations have an information desk in conspicuous places to help passengers out.

See details of
Blue Magnetic Sample
,
Pink Paper Sample

See also:
China Train Travel - A Beginner's Guide
- Last modified on Sep. 16, 2019 -