Daxingshan Temple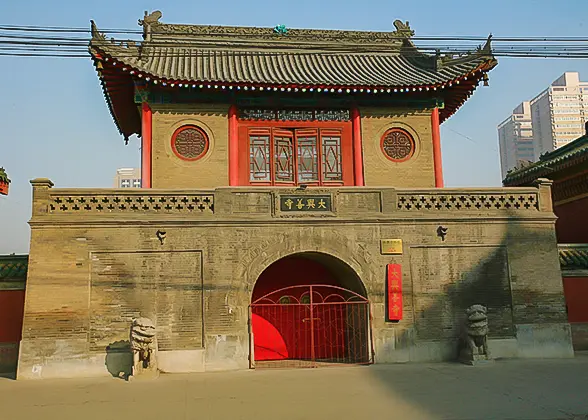 Entrance of the Temple
Situated on West Xingshansi Street in the business quarter Xiaozhai of southern Xi'an, Daxingshan Temple is a pure and peaceful Buddhist space in the prosperous metropolis. Originally built in 265-289 in the
Jin Dynasty
(265-420), this temple is one of the oldest Buddhist temples in China and a birthplace of Chinese Tantric Buddhism (Vajrayana). During the Sui and Tang Dynasties (581-907), Buddhism prevailed widely in Chang'an (today's Xi'an). Many Indian monks translated Buddhist sutras and promulgated Buddhist doctrines here. At that time, the Daxingshan Temple became one of three sutras translation sites, together with
Da Ci'en Temple
and
Jianfu Temple
.
With an area of 8 hectares (19 acres), the Daxingshan Temple has 243 halls and rooms for monks. In the temple, there are some kinds of trees with great value, beautiful flowers, famous paintings and stone tablets which record the restorations of the temple. Because of the wars through dynasties, it was destroyed many times and the present temple was rebuilt in 1955 and 1983. The surviving buildings mainly feature the
Ming Dynasty
(1368-1644) style. They are neatly arranged in a row on a north-south axis.
When you enter the main entrance gate of Daxingshan Temple called Shanmen (a two-story building with a top of nine ridges), you will see a bell tower and a drum tower respectively on two sides. Along the north-south axis, you can see the Hall of Heavenly Kings in your first glance. In its front and behind are separately the Hall of Jingang and Main Hall. Further on, you can find Guanyin (Goddess of Mercy) Hall. In the back yard is Sutras Collection Tower.
Hall of Heavenly Kings
Hall of Heavenly Kings is the most spectacular hall in the north-south axis. On it the statues of the Four Heavenly Kings, also called the Guardians of the Four Quarters, stand on the east and west sides. Inside, smiling and bellied Maitreya is enshrined and behind it is a Ming Dynasty wood-carved Wei Tuo, the guardian angel of the Buddhist temples.
| | |
| --- | --- |
| Hall of Heavenly Kings | Sutras Collection Tower |
Main Hall
Built in the Ming Dynasty, the Main Hall looks quite simple and solemn. When you come into the hall, the first thing to catch your eye is a group of five golden Buddha figures, which represent five directions (east, south, west, north and center). In its two sides are enshrined the statues of arhats in the
Qing Dynasty
(1644-1911). In its front there are two stone tablets which are separately inscribed with Buddhist sutras and an historical record of the temple.
Site of the Zhuanlun Sutras Depository Hall
Situated between the Main Hall and the Goddess of Mercy Hall, there was a Zhuanlun Sutras Depository Hall. Originally built in the
Tang Dynasty
(618-907), it was a place for collecting Buddhist scriptures. 'Zhuanlun' means rolling wheel which symbolizes that the dharma never stops to turn around. Later, the hall was destroyed by the war. The site remains a 15-meter-wide (49-foot-wide) and 1-meter-high (3-foot-high) square earthen platform. More than two dozen big footstones still can be seen on the ground.
Guanyin Hall (Goddess of Mercy Hall)
The grand and imposing Guanyin Hall enshrines Guanyin, or 'Born of the Lotus', a deity known across all Asia as 'the Goddess of Mercy'. In Chinese Buddhism, she is regarded as a personification of compassion, goodness and wisdom, and therefore is worshiped by Chinese people. The golden Guanyin is portrayed as thousand armed bodhisattva with a thousand eyes, which may greatly surprise you. The hall with carved beams and painted rafters is magnificent. In its front, a delicately-carved guardrail made of bluestones is also worthy of your appreciation.
| | |
| --- | --- |
| Buddhist Relics Pagoda | Stone Stele in the Temple |
Sutras Collection Tower
Masters often give lectures on Buddhist classics in Sutras Collection Tower which has a plaque on its gate. The plaque is inscribed with four Chinese characters: 'Jue Wu Zhong Sheng' (it means to enlighten all living beings) written by Guangxu Emperor in the Qing Dynasty. Inside, Vairocana is enshrined. The tower, together with the south God of Mercy Hall, the east Yufo Hall and Wofo Hall constitutes a courtyard where visitors are welcomed by towering and thick cypresses, and a more than 300-year-old Chinese wisteria that was planted near the end of the Ming Dynasty.
After visiting these attractions, visitors can enjoy delicious food in the temple. There is a vegetarian restaurant called Suxiangzhai which is the largest in Xi'an. Their dishes with a touch of meat are very worth tasting. What's more, the restaurant is very quaint. Served with an excellent meal and good wine in such an elegant place, you'll have a wonderful leisurely time.

Tip: Dharma assembly will be held in Daxingshan Temple on March 3, July 15 and September 9 according to the
Chinese lunar calendar
.
How to Get to Daxingshan Temple:

By Bus:
1. Take bus No. 701 and get off at Daxingshansi Dongjie Station. Then walk towards west around 650 m (710 yd).
2. Take bus No. 12, 14, 14 (branch), 26, 36, 215, 215 (branch), 239, 323, 521, 600, 603, 605, 616, 701, 704, Jiaoyu Zhuanxian (Education Special Line) or Tourist Line 8 (No. 610) and get off at Chang'an Lijiao Station. Then walk south around 400 m (440 yd) along Middle Chang'an Road and then turn west and walk around 300 m (330 yards).
Xi'an Bus / Metro Search

By Metro:
Take
Metro Line 2
or
Line 3
and get off at Xiaozhai Station. Get out from Exit A. Walk towards north along Middle Chang'an Road for around 5 minutes, and then turn west and walk for around 5 minutes.
| | |
| --- | --- |
| Admission fee | Free |
| Opening hours | 08:00-17:00 |
Print

Other Temples in Xi'an:


Guangren Temple


Straw Hut Temple


Xingjiao Temple


Xiangji Temple
- Last updated on Apr. 12, 2021 -
Questions & Answers on Daxingshan Temple
Asked by Mr.raja from INDIA | Mar. 30, 2009 11:35

Reply
Hi how do i go from bangkok to xian city, by train or bus, and how long is the journey
Answers (1)
Answered by Ms.Molly | Mar. 30, 2009 20:46

0

1

Reply
Do you mean the capital of Thailand? It is impossible for you to travel from Bangkok to Xi'an by train or by bus directly. Currently, there are direct flights between Bangkok and Xi'an. You may consider it!