Xingjiao Temple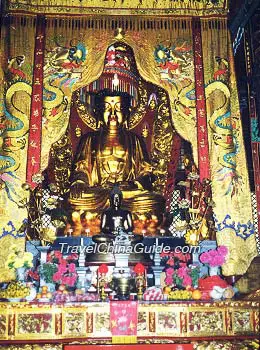 Most visitors to Xi'an will be unacquainted with Xingjiao Temple, but in Chinese history, it is a place of great importance. Literally translated into the Monastery of Flourishing Teaching, it is one of the ancestral courtyards of the Ci'en sect, one of the eight Buddhist sects of Han people. The founder of the Ci'en sect, was the famous Chinese Buddhist monk Xuanzang, has been in repose here ever since together with his two disciples. Only for this, the role of Xingjiao Temple is distinct in Chinese history. On June 22, 2014, the dagoba of Xuanzang and the other two small dagobas of his two disciples in the temple were included in the World Heritage List.

The same as Da Ci'en Temple, Xingjiao Temple and Xuanzang are in very close relationship. Xuanzang translated lections in Da Ci'en Temple when he was alive, after his death, Xingjiao Temple was built up in 669 for his ashes.

It is said that after Xuanzang returned from India, he meticulously translated more than 600 scriptures in Da Ci'en Temple, a life-long labor of love. Xuanzang decided he required an assistant, one who may continue his work. Xuanzang came across a young man, who looking extraordinarily dignified and impressive in appearance. Xuanzang asked the young man to be his disciple, which got the support of Emperor Taizong of the Tang Dynasty (618-907). The disciple studied hard, learned Sanskrit and composed many Buddhist works. After listening to the story, you may find it has some similarities to the famous Chinese novel, Journey to the West. If you have ever been moved by that story, you will find something here.

Xingjiao Temple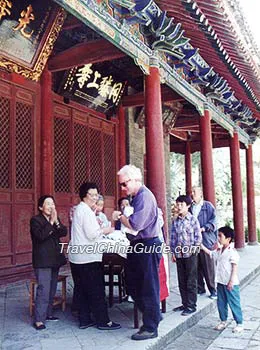 is located on Shaoling Plateau, Chang'an District, about 20 kilometers (12 miles) southeast of Xi'an. It is one of the Eight Great Temples of ancient Fanchuan (a town in south of Xi'an). Emperor Suzong of the Tang Dynasty wrote for it, Xing Jiao (Flourishing Teaching) on the stupa which means that Buddhism would flourish by inheriting Xuanzang's achievement.

The temple was divided into three courtyards, Front Courtyard, East Courtyard and West Courtyard. Structures stand densely in the Front Courtyard; they are Mountain Gate, Bell and Drum Towers, Devajara Hall (Daxiong-baodian) and Preach Hall. Daxiong-baodian is very grand, where a bronze Sakyamuni statue sits in the middle, in front of which is a 2 meters high consummate white jade joss presented by Burma. East Courtyard is Storehouse of Buddhism scriptures which is an ancient attic with double floors. West Courtyard is the Stupa Courtyard. There are dagoba of Xuanzang and two small dagobas of Xuanzang's two disciples.

From the Tang Dynasty, Xingjiao Temple became a place of pilgrimage and a tourist attraction. So Buddhist followers and those who worship the master Xuanzang cannot miss such a place.
How to get to Xingjiao Temple
1. Take
metro line 2
to Hangtiancheng, leave from Exit B, and then walk 2 minutes north along North Chang'an Street, get to Dong Chang'anjie Xikou to take bus 917 to Xingjiao Temple.
2. Take bus 215 or 616 from South Gate of
Xi'an

City Wall
and get off at Dong Chang'anjie Xikou, and then transfer to bus 917 to Xingjiao Temple.
3. Take bus 323 from South Gate to Chang'an Bus Station, and then take bus 917 to Xingjiao Temple.
Xi'an Bus / Metro Search
| | |
| --- | --- |
| Admission Fee | Free |
| Opening Hours | 8:00-17:00 |

Other Temples in Xi'an:

Guangren Temple

Straw Hut Temple

Xiangji Temple

Famen Temple

Temple of the Eight Immortals

Daxingshan Temple
- Last modified on Jun. 12, 2019 -