Guanzhong Folk Art Museum
Guanzhong Folk Art Museum is the first non-government owned museum specializing in the preservation of folk art in China. It is located in Wutai Town, Chang'an District, Xi'an, at the north foot of South Wutai Mountain which was a famous Buddhist shrine in the Sui (581-618) and Tang (618-907) Dynasties and now a part of the Zhongnanshan National Forest Park. It is about 30 kilometers (19 mi) away from the city center of Xi'an. The buildings cover a building area of nearly 11 hectares (27 acres), while the total land area is treble that figure. The sponsor Mr. Wang Yongchao is a representative of the People's Congress and the first enterpriser honored to enjoy the State Council's special subsidy. He spent over 20 years dedicated to the establishment of this museum with an investment that has amounted to CNY 230 million since the middle 1980s.

In the autumn of 1985, Mr. Wang's participance in an ancient building maintenance project gave his first chance to the hinterland of middle Shaanxi Province – the north bank area of the Weihe River. He began to be interested in collecting cultural relics, including delicate stone engravings and sculptures, brick carvings, hitching posts (usually called horse stakes), mangers, woodblock prints, shadow puppets, old furnitures, wooden windows and door with carvings. When he realized impending demise of so many of those significant artifacts, an idea came into his mind – he would try his best to save and collect as much as possible. Through the joint efforts of Mr. Wang and related government agencies, Guangzhong Folk Art Museum was opened up to the public in December, 2008.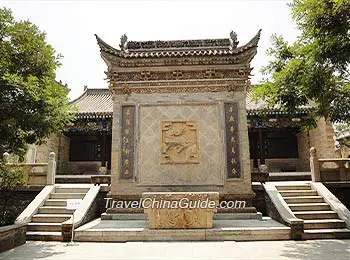 Brick Carving Screen
Nowadays, the museum is home to the display of an eclectic collection of more than 33,600 items since the late 1980s. Upon entering, a magnificent gateway comes first. It is the Zhao's Gateway. The façade of the building is 15 meters (49 ft) wide and 13 meters (43 ft) high. It has a large stone gateway in the middle and two side gates. Behind the gateway building is a carved brick screen, which was a common feature of a gateway in Shaanxi architectures. First built in late Qing Dynasty (1644-1911), this gateway was moved from a village in Baishui County, Weinan City. The original mansion in the village has been destroyed only leaving this gateway. A nearby gate tower moved from Fuping County once formed part of a village's south gate. The inscriptions show and determine its age as 368 years. The bricking carvings on these buildings are very beautiful, reflecting eminent engraving skills and telling a story about the historical prosperity.

Guangzhong Folk Art Museum houses some forty ancient residences of Ming and Qing styles moved and relocated here. Every single brick of twenty courtyards was numbered so that they could be reconstruced from being damaged or torn down. Another twenty courtyards houses were rebuilt by imitating designs. The courtyards are neatly lined up and form an old style street. The Yan's Residence is said to be the most famous one. This residence has two layers of courtyard. Its owner, Yan Jingming (1817-1892) was an honest and upright official in the Qing Dynasty. His mansion was built during the reign of Emperor Xianfeng. The more than a 100 years old yard contains a rich collection of brick, stone and wooding carvings which had been made originally by very skilled craftsmen.

Another magnificent scene is some 8,600 hitching posts with vivid stone carvings and figurines on the top of each rock stake. They date mainly from the Tang Dynasty until the post-Qing era. Most of the figurines on the stake tops are Hu people (Hu was the names of various ethnic groups encountered in Chinese history, mainly appearing in the Tang Dynasty's history books.). They are the witness of the mixed multi-ethnic culture of a thousand years ago.

Besides, there are also natural sights, a sacrificial altar square, a man-made lake, a folk custom museum, exhibition halls and galleries, a theatrical stage, craft workshops, a research center and a cultural relic storehouse. An underground exhibition hall has many pieces of calligraphy and paintings of some active political figures and scholars in Contemporary Chinese History, including Sun Yat-sen, Chiang Kai-shek and his son Chiang Ching-kuo, Kang Yu-wei, Yuan Shih-kai and so on.
| | | |
| --- | --- | --- |
| Horse Stakes | Brick Carving | Gate and Eaves |
In this museum, visitors can also admire the intangible cultural heritage in a courtyard called Li Yuan (literally Pear Garden): a vigorous local opera which has been sung for over 1,000 years ago, as well as vivid shadow puppet plays. Li Yuan implies Chinese opera theaters. This is an allusion from the Tang Dynasty. Li Yuan was a place where opera performers were trained. The old theater in this courtyard is 130 year old.
How to Get to Guanzhong Folk Art Musuem
By Bus:
1. Take bus No. 215, 229 or 323 from the city center to Chang'an Bus Station (or Weiqu Nan, Xizhai). Then change to bus No. 4-04 and get off at Guanzhong Minsu Bowuguan (Guanzhong Folk Art Museum) Station.
2. Take bus No. 500 from
Xi'an Railway Station
and get off at Guanzhong Minsu Bowuguan Station.
By Metro:
Take
Metro Line 2
and get off at Weiqu Nan Station. Get out from Exit A. Walk north for around 4 minutes to reach Xizhai Shizi Station and change to bus No. 500 or 4-04. Get off at Guanzhong Minsu Bowuguan Station.
Xi'an Bus / Metro Search
Admission Fee
Adult: CNY 120
Children under 1.2 m (3.9 ft): Free
Children between 1.2-1.4 m (3.9-4.6 ft): CNY 30
Opening Hours
March to October: 08:00-18:30
November to next February: 08:30-17:30
Recommended
Time for a Visit
One hour
Print
- Last updated on Jun. 28, 2022 -