Banpo Museum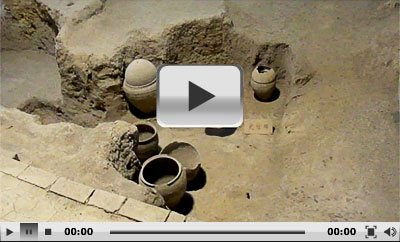 Banpo Museum Pictures
The Banpo Museum is located in the eastern outskirt of Xi'an City, Shaanxi Province. As the first museum at the prehistoric site, it was built at the base of the excavations of the Banpo site. In 1958, it opened to the public formally.
The Banpo Site is a typical Neolithic matriarchal community of the Yangshao Culture dating back about 6,000 years. At that time, the people living here used tools made primarily of wood and stone. Women, the crucial labor force, were responsible for making pottery, spinning, and raising the family, while men fished.
The approximately 4,500 square meters (about 1 acre) exhibit area of Banpo Museum is divided into two Exhibition Halls and a Site Hall.
Two Exhibition Halls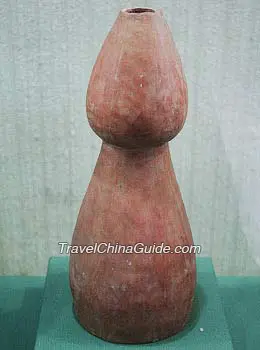 The first Exhibition Hall, consisting of two sections, displays the unearthed relic exhibitions. The showpieces in these two sections are primarily production tools and domestic tools used by the primitive Banpo people, including axes, chisels, sickles, and stone and pottery knives from which we can have a general picture of the production activities of the people thousands of years ago. In addition, artwork and adornments here reflect the social life, culture, art and inventions of the period.
The second Exhibition Hall is primarily used for temporary exhibitions and it also contains two parts. Special shows are held here on ethnology, folklore and the history of art related to the prehistoric culture.
The Site Hall
The Site Hall is about 3,000 square meters (about 0.7 acre) and contains residential, pottery making and burial sections. Among the three, the residential section is the main part of the site, including the huts, kilns and tombs of the primitive residents. All these present us an outlook of the aboriginal village and the hard situations of the forefathers in pursuing the civilization, reflecting the production level and the social systems at that period of time.
The Banpo Matriarchal Clan Community Village
The village is an extension of the museum based on archeological findings. The entire village enriches the cultural connotation of the museum and carries forward the long and splendid history of China at the same time.
How to Get to Banpo Museum:

By Bus:
1. Take bus 105, 269, 406 or 416 and get off at Banpo Bowuguan (Banpo Museum) Station.
2. Take bus 11, 15, 38, 42, 105, 169, 213, 231, 233, 237, 241, 241 (branch), 246, 270, 275, 301, 307, 401, 406, 511, 715 or Shiyuan Line 2 and get off at Banpo Hub Station. Then walk around 600 m (656 yd) towards south.

By Metro:
Take
Metro Line 1
and get off at Banpo Station. Get out from Exit A. Keep walking toward west for around 5 minutes and then turn south to walk for around 2 minutes along Banpo Road.
Xi'an Bus / Metro Search
Entrance Fee
March to November: CNY 55
December to February: CNY 40
Children under 1.2 m (3.9 feet) can enter for free.
Opening Hours
March to November: 08:00-18:00
December to February: 08:00-17:30
Recommended Time for a Visit
2 hours
Print

- Last modified on Sep. 21, 2018 -