Xian Botanical Garden
Xian Botanical Garden has two sites. Now only the newly developed one located in Qujiang New District is open to public. The old site near Big Wild Goose Pagoda was closed in 2016 for renovation and is expected to reopen in late 2018.

Built in 2014, the new garden has been opened to public since October 1st, 2016. It takes an area of 43 hectares (106 acres), double size of the old one. At present, Xian Botanical Garden embraces over 4,000 species and consists of 11 areas: Silk Road Garden, Qinling Garden, Children's Garden, Forgotten Garden, Hundred Flowers Garden, Water Garden, Rose Garden, Vine Garden, System Garden, Herb Garden, and Rock Garden. Besides, high technologies have been used for visitors to know the growth changes of plants visually. Below are the major gardens one shall not miss.
Water Garden
Upon stepping into the west entrance, you will catch sight of the Water Garden, which is surrounded by the clean water and charming cannas. The most popular plant in this area is Victoria amazonica with 3-day florescence. The garden is composed of lotus area, aquatic plant display area and wetland plant cognition area. The elegant waterfront landscape will give you a good impression at first.
Silk Road Garden
The area is a featured garden of Xian Botanical Garden. The garden uses the image of the camel as a model. It has set up the Local Plant Garden for traditional Chinese plants like tea trees, Chinese roses and mulberry trees, Desert Plant Area for kendyr and tamarisks growing along the Silk Road, and Exotic Plant Area for western vegetables, fruits and flowers brought into China through the Silk Road. The three gardens, to a great degree, symbolize the combination of western and oriental culture.
Qinling Garden
It's another featured garden. Qinling Mountain, located in southern Shaanxi, is an important geographical dividing line of China. The mountain has the most diversified and richest plants among all the other areas on the same latitude. The garden mainly cultivates the rare, endangered, and endemic plants in Qinling area.
Children's Garden
It is like a fairytale world. The garden consists of Visual Garden, Tactile Garden and Olfactory Garden, where children can learn the knowledge of plants by watching, touching and smelling. Besides, there are digital plants, which may inspire children's creativity.
Hundred Flowers Garden
Hundred Flowers Garden provides a large area for peony, the national flower of China. As the peony likes dry soil, it is cultivated in a high land. Other flowers are planted around the peony, making it the king of the flowers. The carpets of blooming flowers can be dazzling.
Best Time to Visit: Flower Seasons
According to the different flowering seasons of plants, the garden holds a variety of flower shows each year, such as Tulips Show in spring, Lotus Show in summer, Chrysanthemum Show in autumn, and Plum Flower Show in winter, when it is the great time to appreciate the sea of flowers.
How to Get to Xian Botanical Garden: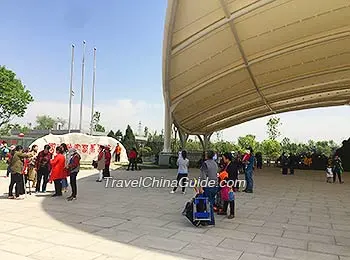 Entrance to the Botanical Garden

By Bus:
1. Take bus 37, get off at Botanical Garden Station and then enter via West Gate.
2. Take bus 270, 602, 607 and get off at Changming Road – South Third Ring Hub Station. Walk east in around 4 minutes to the East Gate of Xian Botanical Garden directly.
3. Take bus 701 and get off at Miaojiazhai Station. Then walk toward east around 1 km (0.6 mi) to the West Gate of the garden.



By Metro:
Take Metro Line 3 and get off at Yanxingmen Station. Get out from Exit C and change to bus 351. Get off at Shaanxi Science and Technology College. The stop is just next to the East Gate of the garden.
Xian Bus / Metro Search



By Taxi:
Take a taxi from the city center and it will cost CNY 25 or so.
Admission Fee

Usual days: CNY 10
During flower shows: CNY 20

Opening Hours
08:00-18:00
Note:
1. Kids younger than 6 (included) or under 1.2 m (3.9 ft, included) can enter for free.
2. Teenagers between 6 (not included) to 18 (included) are entitled to half price.