Visit a Local Courtyard in Xian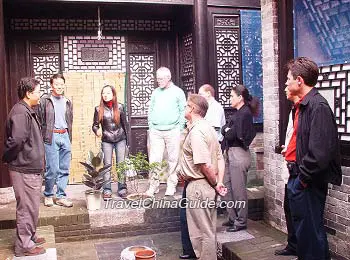 You may be interested in the culture and life of Chinese courtyard (Siheyuan), right? And now with the host's permission, you can visit the traditional courtyard of a typical Chinese family in Xian. Hence, you can enjoy the peculiarities of a Chinese home and admire the increasingly rare exquisite architectural carvings.

From the history spanning thousands of years, the Chinese developed their own thoughts and ideologies. These are reflected in their splendid architecture including their works of architectural decoration. They created abundant decorative figures, designs and carving themes by using pictograph, trope and analogy, etc. This art form became a medium through which they realize their pursuit of happiness, good luck and wealth. In the past, the design was different according to the host's social status, allowing you an idea of the family's social standing. The attractiveness of Chinese architectural carvings in their elegance is such that we believe you will not tire of enjoying this folk art.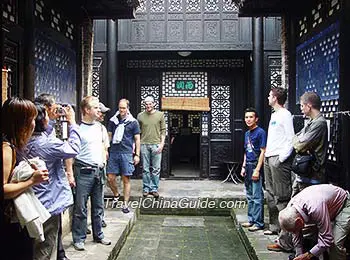 Perhaps you are curious about a local's daily routine in a courtyard. Travel China Guide offers you this special opportunity to interact with the locals and ask anything to satisfy your curiosity. While chatting with the host of the courtyard, you may sample snacks and tea, and even help out with housework as if you were a member of the family. In this congenial atmosphere, you will forget yourself and the hurly-burly outside world for a while.

You may find that there are a few modern equipments, such as computer, wide-screen television, top-grade refrigerator, etc. All these show that the Economic Reform and Open policy brought a tremendous change to Chinese minds and material life.

This is a common courtyard going through typical life in China. The harmony and happiness emanating from this family is your unforgettable experience of China. By visiting a local courtyard, we hope you will enjoy yourself and get to know more about the Chinese.



Note: You can join our tours to have a family visit in Xian. Go to Xian Family Visit and choose your favorite tours. If you are interested in Chinese food, you can even join a Chinese food cooking class during the family visit, before which do learn to observe the family visit etiquette.