Beijing Great Wall Map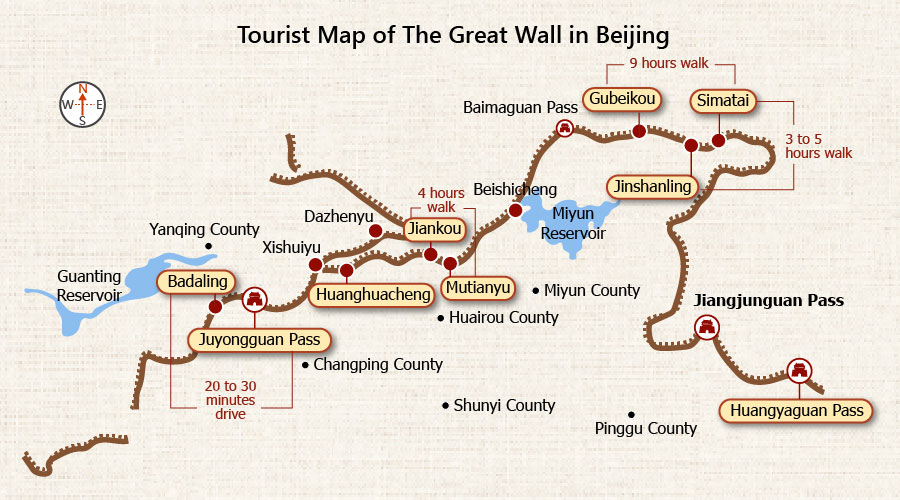 The Great Wall was built across six districts or counties in Beijing, such as Pinggu, Miyun, Huairou, Yanqing, Changping and Mentougou from east to west. Forming a half hoop shape, it protected the safety of this city. It measures about 1,258 li (391 miles). The repaired part is only 58 li (18 miles), comprising about 5% of the full length. The famous sections of
Beijing Great Wall
include
Badaling
,
Mutianyu
,
Jinshanling
,
Simatai
and
Jiankou
.
Ralated Links:

Recommended Tours including the Visit to Beijing Great Wall:
- Last modified on Apr. 22, 2019 -
Questions & Answers on Beijing Great Wall Map
Asked by SHMUEL WEIS from ISRAEL | Apr. 21, 2019 05:26

Reply
Is it possible to visit Mutianyu and Badaling from Beijing at the same day? is it Worth the effort
Answers (1)
Answered by Anne from USA | Apr. 22, 2019 01:18

0

0

Reply
The time is tight and there is no necessary to visit both in one day. Choose either one is available since there is no large difference between them.
Asked by Joanna from POLAND | Jan. 08, 2019 05:07

Reply
How to get from PEK airport to Great wall?
Answers (1)
Answered by Betty from CANADA | Jan. 08, 2019 17:20

0

0

Reply
Hi, which section of the Great Wall would you like to visit?
If you want to go to Badaling Great Wall, then you can take shuttle bus line 18 first to Shuiguan Xincun first and then transfer to the bus line 68 to Beihaozhuang. Walk west about 20m to take Bus Line 879 to the Great Wall. The taxi from the airport to there is around CNY260.

If you prefer to the Mutianyu Great Wall, you can take the Bus Line 3 to the Shunyi Maliandian and then transfer to Bus Line 916 to Huairou North Avenue. After that, walk north about 20m to take Bus Line H23 to Xinying, and then you will get there. The taxi fare is around CNY200.
Asked by Pat Banting from CANADA | Apr. 15, 2018 17:59

Reply
Staying at Ibis Hotel in Beijing. Nearest Great Wall section and how to get there pls! English only.
Answers (1)
Answered by William from NETHERLANDS | Apr. 16, 2018 03:01

0

0

Reply
Well, there is more than one Ibis Hotel in Beijing. Would you mind provide the detailed information about the hotel address? By the way, Badaling and Mutianyu Sections are most popular ones.
Asked by Arshad from CANADA | Oct. 24, 2017 14:55

Reply
How to reach to Badaling Great Wall from Howard Johnson Paragon Hotel?
Answers (2)
Answered by Lilian from AUSTRALIA | Oct. 24, 2017 21:01

5

0

Reply
You can walk southwest around 350 meters to get to Beijing Railway Station. Then take metro line 2 to Jishuitan Station, Exit C. Walk west along North 2nd Ring Road around 750 meters to find Deshengmen Bus Station. After arriving, take bus no.877 and get off at a bus stop close to the pulley car lower station, which is about 10 minutes' walk to the entrance.
Answered by Arshad from CANADA | Oct. 26, 2017 06:56

3

0

Reply
Thank you Lilian, I would certainly help me
Asked by Susan M Kuo from UNITED STATES | Dec. 26, 2016 11:08

Reply
Best way to visit Beijing for 2 days from Tianjin Cruise Port.
My husband and I will go by train early in the morning from Tianjin Cruise port (we are taking a cruise form Shanghai) to visit BJ for 2 days. Will stay over night at Bestay Hotel at10 Fahua Nan Li, Dongcheng. What is the best way to go to BJ and come back to the cruise port in Tianjin the next day at night? How and what should we visit in BJ? We would like to visit Great Wall, Tiananmen Square, Forbidden City, Temple of Heaven, and other places of interest. Please advise us how we should visit all those places in two days by public transportations. I can speak Mandarin. Thanks for help!
Answers (6)
Answered by Danny from USA | Dec. 26, 2016 22:00

6

0

Reply
You may take a taxi to Tianjin Railway Station from Tianjin Cruise Port for about CNY 170 to 180. Next, take a bullet train to BJ South Railway Station (about 40 minutes). Then, take a taxi to your hotel for about CNY 25.

There are many Great Wall sections, and Badaling Great Wall is highly recommended owing to the easy access and magnificent appearance. Public transport is quite convenient at the city. You can easily get from one place to another. After sightseeing, you can follow the same route back to Tianjin Port.

You may arrange the itinerary this way:
Day 1: Badaling Great Wall- Ming Tombs- Shichahai
Day 2: Temple of Heaven- Tiananmen Square- Forbidden City

To Badaling Great Wall, take bus line 877 from Deshengmen Station. Then, take bus line 879 to Dagongmen Station, and you can see the Ming Tombs. Afterwards, take bus line 872 from Dagongmen Station to Deshengmen Station, and switch to bus line 5 to Drum Tower, where you can walk to Shichahai.

Walk westwards for about 500 yards from your hotel to the Temple of Heaven. After visiting, you may take bus line 2 or 120 from the west gate of Temple of Heaven to Tiananmen East Station. After that, walk north to the Forbidden City.
Answered by Susan M Kuo from UNITED STATES | Dec. 27, 2016 10:11

4

0

Reply
Great Job! Thank you, Danny! Will you please give me another Itinerary for Day 1 from BJ South Railway Station without stopping at the Hotel first since we have only a backpack? I also will need direction to go to the hotel at the end of the 1st day. If time allows, we would also like to visit Summer Place, Olympic Park, Hutong or any other site. Can we buy a Two-Day Pass to travel in BJ? Any suggestions for the public transportation card in BJ for two days?
Answered by Danny | Dec. 27, 2016 19:04

5

0

Reply
Okay, I see. You may plan Day 1 in this way: Badaling Great Wall- Summer Palace- Shichahai. If time permits, you can go to see Olympic Park on Day 2 after visiting Forbidden City.
Upon arrival at BJ South Railway Station, you may take metro line 4 to Xuanwumen Station, and change to metro line 2 to Jishuitan Station, Exit B2. Walk east for about 700 yards to Deshengmen Station, and take bus line 877 to Badaling.
After that, still take bus 877 back to Deshengmen, and change to sightseeing bus line 3 to Beigongmen Station. Then, you can see the grand imperial palace. After that, take sightseeing bus line 3 to Gulou and turn west into Shichahai, which is famous for housing crisscrossing hutongs. After visiting, take a taxi to your hotel for CNY 25 or 30.
I am sorry that there is no two-day pass. You are advised to buy Transportation Smart Card, which can be applied on buses, metros, etc. Pay CNY 20 as the deposit, and add some value to it. :)
Answered by Susan Kuo from USA | Dec. 29, 2016 08:01

4

0

Reply
Thank you very much for such a detailed instruction, Danny. It is going to help us a lot. Now, for two people do we buy 2 Smart Cards or one to share? According to your itinerary, how much value per person should we add to the card/s? More questions:
We are taking a Celebrity cruise from Shanghai on 3/25. We will arrive at PVG around 11:00am of 3/23 and stayed at SH Celadon Theme Hotel at 153 Chao Zhou Road, Huangpu, SH 200010 for 2 nights.
1. How do we go to the Hotel from the airport and from the Hotel to the Cruise Terminal?
2. Will you please give me the itinerary for the 1st day (Half day), 2nd day (full day) and 3rd day (morning)? You did a wonderful job on BJ, I am sure you can do SH also. Thanks a lot! Susan
Answered by Danny | Dec. 29, 2016 18:56

5

0

Reply
You need to buy two cards. Each of you may add around CNY 30 to the card.

To the hotel: take metro line 2 from PVG to People's Square Station, and change to metro line 8 to Laoximen Station, Exit 3. Walk southwest for about 350 yards to the hotel.

To the Cruise Terminal: take metro line 8 from Laoximen to Hongkou Football Stadium. Next, change to metro line 3 to Baoyang Road, Exit 3. Then, take bus line Baoshan 3 from Tongji Road, Baoyang Road Station to Wusongkou Road, Baoyang Road Station. Upon arrival, you can see the cruise terminal.

You may arrange the itinerary this way:
Day 1: Yuyuan Garden- City God Temple- Xintiandi
Day 2: Disneyland- the Bund (Oriental Pearl Tower, Jinmao Tower, Huangpu River Cruise).
Day 3: SH Museum
Answered by Susan Kuo from USA | Dec. 29, 2016 19:37

5

0

Reply
The itineraries you provided for both SH and BJ sounds wonderful. We will save a lot of time and money, I am sure. Thanks a million! Happy New Year! Susan Kuo