Code: GW24
Hiking around Yanhecheng Great Wall & Longmenkou Valley
Yanhecheng was built at the bottom of a valley with the Yongding River flowing by, and under the jurisdiction of Zijingguan Great Wall in history. Actually, it was not connected to the Great Wall, because of its special location, and more like a border city in ancient times.
This hiking itinerary will lead you to hike around it and the famous "A Thread of Sky" in the nearby Longmenkou Valley.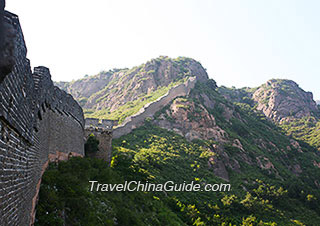 Get to Yanhecheng from Beijing Downtown
→ You are suggested to take subway line 1 to reach Pingguoyuan Station.
→ Get out from Exit A and walk westwards for a few meters to find the stop of bus no. 892.
→ Take that bus and alight at Zhaitang.
→ Then transfer to bus no. M33 or hire a local car to Yanhecheng Village.

Note: You are advised to reach Pingguoyuan subway station before 08:00, so as to leave enough sightseeing time.
Visit Yanhecheng Great Wall
Upon getting off from bus no. Mi33, you will see the Yanhecheng Great wall not far away. The border city is 420 meters (460 yards) long from west to east and 300 meters (330 yards) long from south to north. It has West and East two gates. An old opera stage and some buildings inside also keep their original lookings. Climbing up to the ramparts, you can have a full view of the small village and look around the continuous mountains.
Admire 'A Thread of Sky'
After that, go southwest from Yanhecheng to the rift valley at Longmenkou Village where you can admire the unique scenery of "A Thread of Sky". It takes about 50 minutes to complete the hiking route of about 4km (2.5mi).

Rolling mountains seem to be cleaved at this place. While walking through this narrow crack, you will feel yourself very small with cliffs by your side reaching to the sky. Because of the special landscape, it has become a famous shooting place for battle scenes of TV series and movies. You can see a few stone residences as film sets at the foot of the valley. As you head deeper, you will also have a chance to see rare frozen waterfalls hanging on the precipices.
Get Back to Beijing
Then, walk to the nearby Longmenkou Village Bus Stop to take bus no. Mi33 to Zhaitang and then transfer to bus no. 892 back to Beijing downtown. If the bus no. Mi33 is out of service, hire a local private car to Zhaitang.
Extended Hiking Itinerary to Guanting Reservoir
If you are not in a hurry to go back, you may go back to Yanhecheng Village and stay one night there. The next day, take a hiking tour from Yanhecheng Village all the way to the north to reach the Guanting Reservoir via Jiuzhuangwo Village. The hiking route runs along a clear river with surrounding trees and mountains reflected on the water. Although it takes about 7 hours to finish this route of about 45km (30mi), the refreshing scenery can definitely relieve the fatigue of the trip. This is a very famous hiking route in the suburb of Beijing.

After, take bus no.880 from Guanting Town to Xibazi and then change to bus no. 919 back to Beijing.

More Great Wall Hiking Routes:
Badaling Hiking: Explore Badaling in one day
Simatai Exploration: One day hike tour to Simatai and Gubei Water Town
Gubeikou Hiking: with accommodation and transportation tips
Shanhaiguan with Laolongtou: itinerary to Laolongtou, Shanhaiguan and Jiaoshan
Juyongguan Hiking: itinerary and tips for Juyongguan section



More Beijing Independent Packages:
Forbidden City: 4 routes to discovery the world's largest imperial palace