Cuandixia Village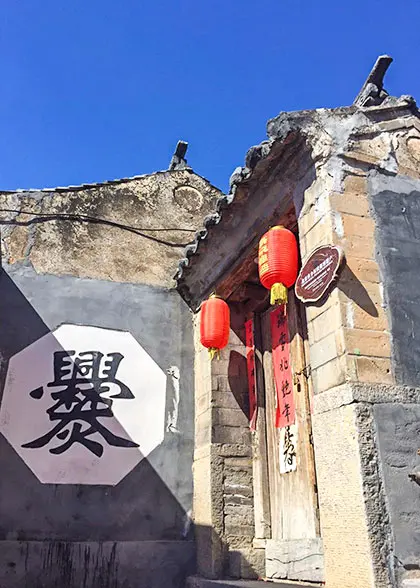 Beijing Cuandixia Village
Situated in Zhaitang Town, Mentougou District, Cuandixia Village (or Chuandixia Village) is about 56 miles (90 km) west of downtown Beijing. Traditional dwelling complexes, colorful historical relics, and unique folk customs characterize this ancient village, surrounded by mountainous landscape.
History
The village has a history of over 500 hundred years, which can be dated back to the
Ming Dynasty
(1368 - 1644). It used to be prosperous, but today, only 76 courtyards have survived natural erosion and gunpowder. In total, 29 families still inhabit the village. Although bereft of past glamour, the primitiveness and simplicity of the village has attracted more and more visitors in recent years.
Name Origins
There are many legends about the village's name. The most convincing one is that the village was located below an important military pass, Cuanli'an Pass, hence the name Cuandixia, meaning village below Cuanli'an Pass. Another legend has it that Cuan (爨) in ancient Chinese means stove; the villagers named their dwelling as 'a place under stove' to help them stay away from coldness. All villagers' surnames are Han (韩), a Chinese character homophonic with the character 寒, which means coldness; their ancestors gave them the name to defend against the cold days.
Village Layout
The village was built following the terrain of Longtou Mountain slopes, and is 'sycee' shaped from a bird's eye view. From the top point of the mountain range, the courtyards were arranged in a radial direction down to the foot. Flat ground was very limited, all the houses are crammed in anywhere, and everywhere possible. People took full advantage of every strip of mountain land to build their dwellings so that more land would be given for farming. Those times were ones of post-war famine.
Why the village was built there is related to Chinese
Feng Shui
. According to the rules, an auspicious site should lean against a stable mountain, face a lower mountain with rolling hills on two sides. The location of the village meets these conditions, with Longtou Mountain to rely on, lower Jinchan Mountain in front, and other small hills surrounding. All these were believed to be auspicious factors, which enabled the village to survive natural disasters like floods.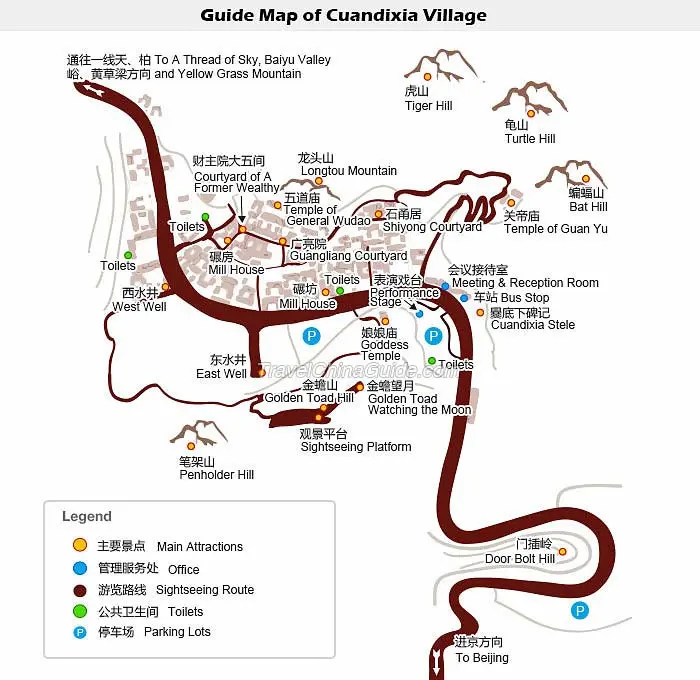 Guide Map of Cuandixia Village
Courtyard
Most of the houses in the village are quadrangle courtyards, which usually consists of main hall to the north side, wing rooms at west and east sides, as well as guest houses to the south; typical of
Beijing courtyards
. They have unique features, but due to space limitation, are smaller than those in downtown Beijing. They are delicate as well, built on mountain slopes, and limited by the local terrain. They may not be exactly square and are more flexible in shape; the houses were built with local materials like wood and stone. In addition, most the houses' outside corner, fence wall, stylobate, and gate pier are in cambered shape, which improves flood control. They also reduce the flood's damage to the house. In the whole village, there are several well-preserved courtyards worth visiting, such as Guangliang Courtyard, Caizhu Courtyard, Temple of General Wudao, Temple of Guanyu, Goddess Temple and Mill House.
| | |
| --- | --- |
| A Bird-eye View of the Village | Courtyards in the Village |
Decoration
Inside the courtyards, visitors can find many delicate brick, stone, and wood carvings, especially on the roof, eaves, gate pier, wall, and windows. Most carving patterns are flowers, birds, or animals, which indicate the local people's desire for a tranquil life. The decorations vary a lot from one courtyard to another, and visitors can tell the owner's economic status by the finery and intricacy of decorations. In Cuandixia Village, Guangliang Courtyard is the most renowned.
Folk Customs
Cuandixia Village is an interesting place to experience during
Chinese New Year
. It retains all the original customs, such as eating dumplings, setting off fireworks, and striking the New Year bell. There, visitors can bathe in a denser festival atmosphere than in modern cities. When the
Lantern Festival
comes, villagers will offer sacrifices to gods, and send colorful lanterns as boats or balloons for good luck. The
Qingming Festival
is a very special day for local people, when the most popular activities are honoring the memory of ancestors, and have a ride on swing. In leisure time, villagers will hold story-telling and ballad-singing activities; most of them quoting from classical literature, local Chinese Opera, or historical novels. Their traditional culture and art are inherently associated with daily life in a beguiling and interesting way.
Nearby Scenic Spots
About 0.7 miles (1,127m) walking distance to the village, there is a natural beauty spot named Yixiantian, which means a thread of sky, which can be viewed through two closely-located mountains. Baiyu Village, an old village with several hundred years' history, is about 3 miles (5km) to the west of Cuandixia Village.
How to get to Cuandixia Village
Take
Subway Line 1
to Pingguoyuan Station. Then take bus M11, M22 or 892 to Zhaitang Xikou Station, transfer to M12 to the village.
Note that M11 departs at 6:55, 12:30 and 17:00 every day at Pingguoyuan Subway Station, and M12 departs at 6:20, 9:20 and 14:00 at Zhaitang Bus Station.
Tips:

Admission Fee: free

Opening Hours: 24 hours open

Accommodation: The courtyards in the village provide rooms for visitors at the price of CNY100-200.

Shopping:
Before leaving, one can buy souvenirs or local specialty. Here are some popular ones.
Souvenirs: Mini tile, lanterns, paper cut, tile carving, wood carving.
Local Specialties: walnut, almond, camellia tea, honey, dried fruits.

Other Attractions in Mentougou, Beijing:

Mount Miaofeng

Tanzhe Temple

Jietai Temple

Lingshui Village

Lingshan Mountain

Western Hills Forest Park

Weekend Trips from Beijing

10 Non Touristy Things to Do in Beijing

7 Unusual Things to Do in Beijing Especially for Return Visitors
- Last updated on Jul. 19, 2023 by Gabby Li -
Questions & Answers on Cuandixia Village
Asked by Alan Crinson from ENGLAND | Jan. 16, 2019 04:10

Reply
Travel from Beijing to Cuandixia
Hi,

I would like to visit Cuandixia village on a day trip from BJ in September and was wondering if there is a direct bus service from BJ to Cuandixia.
If someone can e-mail me with details of times, outward and return and other relevant details I would be grateful.

Many thanks,
Alan.
Answers (1)
Answered by Celia from CANADA | Jan. 23, 2019 00:04

0

0

Reply
Well, as I know, there is no direct bus. From downtown area, you can take subway line 1 to Pingguoyuan Station. Then take bus 892 and get off at Zhaitang Station. Next, take a taxi to reach the entrance of Cuandixia Village.
Asked by Poeti Roberto from ITALIA | Sep. 28, 2015 09:17

Reply
from Beijing Pingguoyuan to Cuandixia and vice-versa
Hello
I'll go for the trip and run back in the same day .
1) Can you tell me the bus schedule from Pingguoyuan to Zhaitang and run back and number of bus ?
After I take a taxi from Zhaitang to the village and run back.
2) Is it taxi all day to Zhaitang - the village round trip ?
3) If I lose last bus in Zhaitang , what is the price of a taxi to Pingguoyuan ? Is it the taxi all day ?
Answers (2)
Answered by Larry from IRELAND | Sep. 29, 2015 03:55

2

0

Reply
1. From Pingguoyuan to Zhaitang, bus no. 892 can be used. It is scheduled from 06:30 to 17:50. For the return trip, the schedule is 06:00 - 16:00. The bus runs every 25-35min.
2. Generally, taxis are available all day for the trip. Besides, many private cars or vans operated by the local also serve the short trip and their charge is reasonable too.
3. Taxi fare from Zhaitang to Pingguoyuan is CNY180-200. Taxis are easy to take. Don't worry!
Answered by Brussels_bries from BELGIUM | Feb. 20, 2016 20:11

0

0

Reply
The last bus, leaving from Zhaitang to Pingguoyuan, is at 5 pm. I took a bus around 4.30 pm. Chuandixia is not that special honestly. Most houses are hotels or restaurants these days. I finished the village in 20 minutes. I went on a winter's weekday without any other tourists. The environment and view from the mountains around the village are great though. Maybe consider visiting other less touristic villages, like lingshui.