Hefei Attractions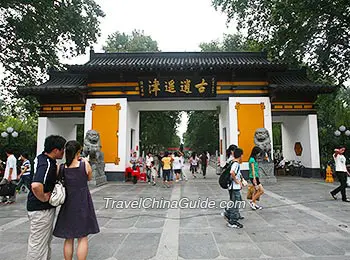 Xiaoyaojin Park

Chao Lake

Memorial Temple of Lord Bao

Sanhe Ancient Town
Situated in the center of Anhui Province, Hefei is a hinterland city which is in the vicinity of Chaohu Lake and between the Yangtze and Huaihe Rivers. Thanks to the water surrounding it, the city is proud of its enticing natural scenery.
Natural Landscape
The well-known Chao Lake is located in the city and is one of the five largest fresh-water lakes in China covering an area of about 800 square kilometers (about 309 square miles). There is an abundance of aquatic produce in the lake, amongst which the whitebait, the shrimp and the crab are known as the three treasures of Chaohu Lake. The lake is embraced by surrounding green mountains - layer upon layer of ridges and peaks. The 'moonlit night of the Chaohu Lake' and the 'morning glow of the four peaks' are two of the ancient eight top scenic spots in Luyang (present day Hefei).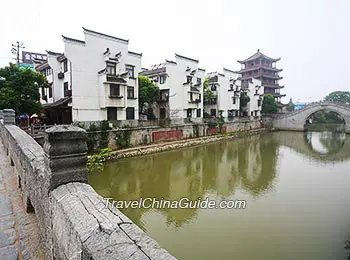 Houses along the riverside
With the assiduous support of the Parks' Horticulture Department, there are many parks built around the City including Xiaoyaojin Park, Shushan Forest Park, Wild Animal Park, Arboretum and Huancheng Park which is the biggest among these parks covering an area of 137.6 hectares (about 340 acres). This open park connects six scenic areas which form a beautiful image of a 'Jade Necklace'. These six scenic areas are Baohe Scenic Area featuring the culture of Lord Bao; Yinhe Scenic Area featuring a waterscape; Xishan Scenic Area featuring animal sculptures; Hupotan Scenic Area featuring entertainment items, Huanbei Scenic Area featuring natural environment and wildlife and Huandong Scenic Area with a visitors' service area to enhance the garden visit. All the scenic areas contribute to the city ranking as one of the three 'National Park Cities' along with Beijing and Zhuhai. So, a visit to the city is a must - a wonderful experience resembling visiting a pleasance.
Human Cultural Landscape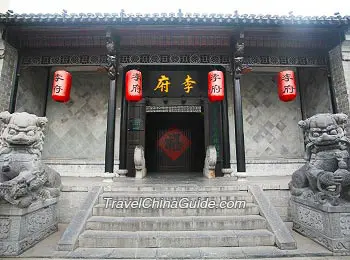 The former residence of Li Hongzhang
Perhaps Hui Garden, located in Economic and Technological Development Zone, is a window through which you can best learn about Anhui Province culture. It covers an area of 20 hectare (about 49 acres) around which the Yangtze and Huaihe Rivers flow. It is mainly divided into two garden areas: Wanbei area featuring Imperial gardens and Wannan area featuring the world-famous Hui Architectural Style. There are many symbolic man-made constructions in corresponding sections such as the beautiful Huangshan Mountain, the Chaolu Lake, the Di Garden, etc. Never miss the opportunity to explore Hui Garden.
If cultural scenery is more suitable to your taste, then a visit to the historical and cultural landscapes of the city beckons. The most famous one is called Memorial Temple of Lord Bao which is located south of the city center in Baohe Park. It is built to the memory of Bao Zheng, a well-known honorable officer of the Northern Song Dynasty (960-1127). The Memorial Temple of Lord Bao is a typical architectural complex built in the Qing Dynasty (1644-1911).
As a result of its important historical strategic position, it is an area of contention among the local powers. Another cultural destination worth a visit is 'Xiaoyaojin (Leisure Ford)' a famous battlefield of the Three Kingdom Period (220 - 280) and can best elaborate its strategic importance. In this scenic area there is the Xiaoyao Lake, the Bridge of the Flying Cavalier, the Three Isles in the lake, and the Cangyou Garden.
The Former Residence of Li Hongzhang is another cultural destination which is a well preserved former home in the city. It is a typical residence of the south during the Qing Dynasty. Li Hongzhang was born in the city and held a civil and military position in the Qing Government. Here you can examine detailed materials that give comprehensive information of this eminent historical person.
| | |
| --- | --- |
| The memorial hall in Lord Bao's tomb | Mingyue Pavilion |

You may like: Top 8 Things to Do in Hefei
- Last updated on Apr. 15, 2021 -
Questions & Answers on Hefei Attractions
Asked by Alex from HEFEI ANHUI PROVINCE | Apr. 19, 2020 21:17

Reply
A place in Hefei we can spend our wedding anniversary for the weekend
Hi there, are there any nice places my husband and I can go for our wedding anniversary. I prefer maybe a hot water springs.
Answers (1)
Answered by Ainsley from CANADA | Apr. 26, 2020 22:50

0

0

Reply
The Golden Peacock Hot Spring Resort is highly recommended. It is located at Waijing Avenue, Tangchi Town, Lujiang County. But I am not sure whether if it is open during this period of time.
Asked by ABDUL KARIM CHAM from RADIO-61 | Oct. 10, 2019 21:22

Reply
is there any local markets in Hefei apart from shopping malls?
Answers (1)
Answered by Asha from GERMANY | Oct. 11, 2019 19:45

0

0

Reply
Yes, there are several vegetable markets, clothes markets in the city. Which kind of market do you want to know?
Asked by Suwan Poopoksakul from THAILAND | Mar. 05, 2019 06:23

Reply
We will be in Hefei the first week of April this year.
We want to visit Sanhe. How far is it from the city? Are there buses from the city to Sanhe and how long will they take? We hope to go in the morning and return the same day. Hope this is possible.
Answers (1)
Answered by Sydney from UNITED KINGDOM | Mar. 07, 2019 18:08

0

0

Reply
The distance is around 55km. Yes, you can take the direct coach from Passenger Transportation Center to Sanhe. The bus schedules are from 09:00 to 17:40 every 60mins. The ticket fare is CNY18/person. The duration is around an hour.
Asked by Andrea from MALAYSIA | Jan. 03, 2018 23:49

Reply
Places of interest in Hefei
Im travelling there next weekend 12 Jan to 14 Jan 2018, arriving on Friday and departing on Sunday.I will be staying at Holiday Inn. Are there any placesof interest around the hotel?
Answers (1)
Answered by Mona from SINGAPORE | Jan. 04, 2018 01:06

2

0

Reply
The former residence of Li Hongzhang is within 3km away. Li Hongzhang held a civil and military position in the Qing Government. If you are interested, go and visit. Others are a little far, and I know the safari park and botanical garden are both around 10km away.
Asked by Vashish from MAURITIUS | Jan. 29, 2017 19:19

Reply
Can anyone tell me how to go to hefei wanda park?
Thanks
Answers (2)
Answered by Ava from USA | Jan. 29, 2017 20:14

2

0

Reply
Do you refer to Wanda Cultural Tourism City? If yes, from downtown area, you can take metro line 1 to Bingzipu Station, Exit D. After arriving, walk northeast to the theme park directy. Hope helpful!
Answered by Vashish from MAURITIUS | Jan. 30, 2017 00:22

2

0

Reply
Thanks Eva