Hefei Dining
Anhui Cuisine is one of the famous 'Eight Cuisines' of China and in the capital, Hefei, the authentic flavors can be tasted. Due to its geographic advantage, it has assembled many of the surrounding areas' flavors but still maintains the flavor of ancient Luzhou Cuisine. Visitors to the city can still taste the four special dishes - Luzhou Roast Duck, Lord Bao Fish, Caocao Chicken, and Li Hongzhang Hodgepodge Cuisine.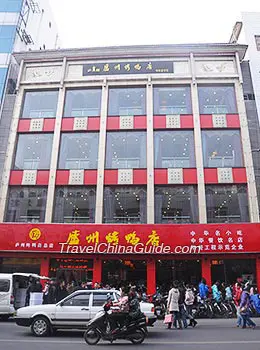 Luzhou Roast Duck Restaurant
For those who have been to Beijing they have never forgotten the good taste of Beijing Roast Duck. Now when you come to the city, the Luzhou Roast Duck must be the first recommended cuisine by the local tour guide. Luzhou Roast Duck originally was served to the royal court as the imperial dish. Until the period of Ming Dynasty (1368 - 1644) this cuisine could be found being cooked by local families. You will be attracted by the Duck's golden yellow shininess, crisp skin and tender meat. Compared to Beijing Roast Duck, it has moderate fat and salt, rich taste, and plentiful nutrients. Find the famous Luzhou Roast Duck Shop at No.107, Suzhou Road, and No. 1072 East Changjiang Road.

Lord Bao Fish is another well-known dish. This fish was originally found in a moat called Lord Bao River; hence it got the name Lord Bao Fish. This cuisine is a traditional cold dish - tender meat and dark reddish crisp skin. Caocao Chicken also called 'Xiaoyao Chicken' was said to have been liked by the Wei Emperor Caocao during the period of Three Kingdoms (220 - 420). The chicken is made with medicinal herbs, thus is good for health. These two dishes can be found in most restaurants in the city.

The last specialty dish called Li Hongzhang Hodgepodge Cuisine is also very delicious. It is said that this dish was an invention of the Li Hongzhang's cook once when Li Hongzhang (a minister of Qing Dynasty who was in charge of foreign affairs) treated some American guests. The raw materials in this cuisine include holothurian (sea cucumber), sleeve-fish, chicken, ham, pig liver and spinach which are all braised with chicken soup, thus it smells fragrant and tastes delicious.

In addition, Honggao (baked cake), Mabing (sesame cake), Baiqie (white sesame slices), Cunjin (sesame cookie) are recommended high quality specialties, made with refined, shelled sesames along with choice white sugar, flour and sesame oil, and treated with a special technique. Crisp, sweet, and fragrant are these cookies' characteristics.

Local Restaurants:
Hui Cuisine Restaurant is of course the first kind of recommended restaurant:
Huangshan Hui Cuisine Restaurant
Address: located at No.1178 Changjiang Road (East)
Getting there: Take No. 6 bus to arrive.
Small Hui Cuisine Restaurant
Address: located at No.534 Meiling Avenue
Getting there: Take the No.124 bus to arrive.

If you feel like eating seafood, the following restaurants are for your choice:
Nanyue Seafood Restaurant
Address: located at No.73 Rongshida Avenue
Getting there: Take bus No.4, 5, 10, 14, 104, 105, 106, 112 and 121.
Jinyuan Seafood Restaurant
Address: located at No.30 Xiyuan Road
Western-style Restaurants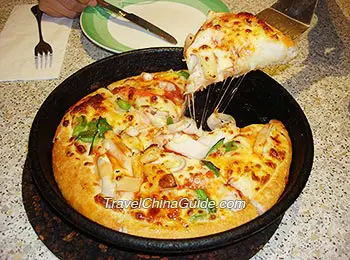 The pizza tastes good!
There are many western-style restaurants you can find along the streets in the city. For those who are not used to Chinese cuisine, these are the best places to go. The following two are recommended. New York Western Restaurant located near the Big Bell Tower on Meiling highway provides excellent western food. You can take No.124 bus to arrive there. Another one Brazil Barbecue situated on Hongxing Road is also an exotic restaurant.

Fast Food
Pizza Hut
Address: Xiaoyang Square No.77 Huaihe Road
Getting there: Take bus No. 123 to arrive.

KFC
Huitong Shop
Address: No.337 Changjiang Road (Middle)
Getting there: Take bus No.1, 3, 9, 10, 46, 101, 103, 106, 113, 114, 116 and 118.
Jinhualian Shop
Address: No.1090 Jinzhai Road
Getting there: Take bus No.10, 12, 13, 16, 18, 101, 105, 110, 112, and 113.
Tianchen Shop
Address: No.244 Huaihe Road
Getting there: Take No.123 to arrive.
| | |
| --- | --- |
| A KFC restaurant | Order meals at the counter |
- Last updated on Apr. 15, 2021 -
Questions & Answers on Hefei Dining
Asked by Corey from UNITED STATES | Jun. 07, 2016 17:13

Reply
I will be moving to Hefei at the end of the year and love dumplings.
Any recommendations for good dumpling restaurants?
Answers (1)
Answered by Iris from FINLAND | Jun. 08, 2016 02:18

0

0

Reply
Oh, Harbin Dumpling Restaurant and Guandong Chinese Dumplings are good choices for you. You can taste delicious & different kinds of dumplings there. And the prices are reasonable.
Harbin Dumpling Restaurant: No.17, Susong Road, Baohe District
Guandong Chinese Dumplings: 3F, GOOCOO Plaza, Sanli'an, West Changjiang Road
Hope you like.
Asked by Chandra from INDIA | Apr. 17, 2015 02:44

Reply
is there any indian resturent in Hefei?
Answers (1)
Answered by Wendy from THAILAND | Apr. 17, 2015 04:55

2

0

Reply
Yes, as I know there is Yindu Xiaochu Indian Restaurant, located in the Hilton Hotel, No. 99 of Shengli Road, Yaohai District. You can have a try there.
Asked by shabeer from SOUTH AFRICA | Dec. 12, 2014 03:06

Reply
hi can anyone tell me if there's any halal resturants in luyang district hefei
Answers (1)
Answered by Helen from EGYPT | Dec. 12, 2014 03:19

3

0

Reply
Yes, there are halal restaurants in the distict. I know two restaurants.

Aniu Qingzhen Jiangniurou
Located at Suzhou Road

Qingzhen Fanzhuang
Located at Changfeng Road

You can have a try there.
Asked by Neeraj from INDIA | Sep. 21, 2014 03:45

Reply
Please advise an Indian Restaurant in Hefei
Answers (2)
Answered by Erick from GERMANY | Sep. 21, 2014 04:48

0

0

Reply
I just know one Indian Restaurant in the city named Indian Kitchen. It is located on the third floor of Hilton Hotel, No. 199, Shengli Road, Yaohai District.
Answered by Biswadeep D from INDIA | Sep. 14, 2017 19:44

0

0

Reply
There is one called Taj Mahal, Located in 1912 or Little India on 5th floor of MixC. Western hotel also have an Indian chef, if you have penny you can try there